Everything We Know About Todd Chrisley's Feud With Ex Daughter-In-Law Alexus Whilby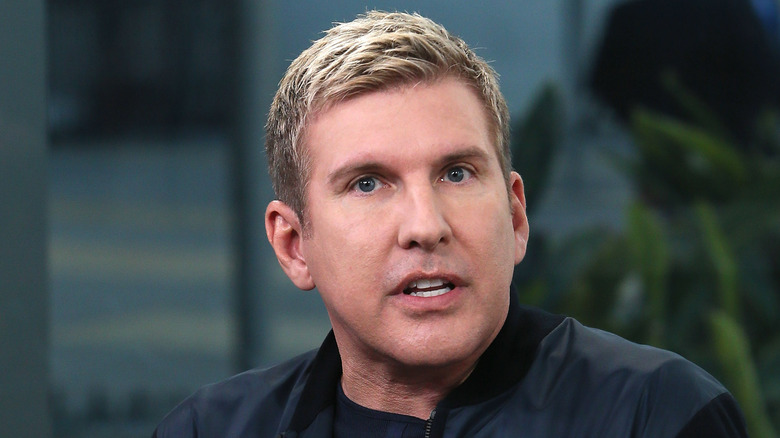 David Livingston/Getty Images
"Chrisley Knows Best" patriarch Todd Chrisley may be a devout family man, but that love didn't exactly extend to his former daughter-in-law Alexus Whilby. The two have embarked on a very public feud that seemingly began while she was still married to his oldest son, Kyle Chrisley. On the show, fans saw Todd and Kyle's rocky relationship that reportedly stemmed from Kyle's substance use. According to Whilby, their issues were only heightened with her in the picture.
In an exclusive interview with Hollywood Life in December 2022, Whilby revealed that Todd seemed okay with his son dating her. However, she believes his stance changed when the two decided to get married in April 2014. In fact, Whilby says Todd became so infuriated over their vows that he had them annulled as Kyle's legal adult guardian. That didn't sway the couple, who decided to remarry after the guardianship was lifted later that year. Unfortunately, the damage was already done, and Whilby thinks part of the rift had to do with her skin color. Let's take a deeper look into their messy feud and where the former in-laws stand today.
Alexus Whilby accused Todd Chrisley of being racist towards her
Though reality star Todd Chrisley seems to embrace people of all races, his son's ex-wife, Alexus Whilby, believes otherwise. In 2014, things boiled over on social media between the two after Todd sent out several now-deleted tweets which accused Whilby of trying to extort the Chrisley family (via Daily Mail). According to Todd, Whilby was going to tell the media he was racist unless he paid her $20,000. He claimed he would be filing a lawsuit against her for defamation, though Whilby claimed he never did. In those tweets, Todd resorted to some name-calling that could be perceived as racist.
"Bye you tired ass weave wearing ashy skinned HO," Todd tweeted during his rant, which has now been removed from his profile.
In April 2023, Whilby told the outlet that the prejudice she faced from Todd was discouraging, considering that he and his wife, Julie Chrisley, have custody of their granddaughter, Chloe, who is of mixed race. Chloe is the daughter of Kyle and his other ex-wife, Angela Johnson. "To see a grown man and public figure, who is the grandfather to a beautiful black child, say those horrible things was shocking," Whilby told the site. She said she endured years of bullying from Todd while she was with Kyle. Still, the businesswoman says she supported her husband financially while he was estranged from the famous family.
Alexus Whilby helped with the investigation against the Chrisleys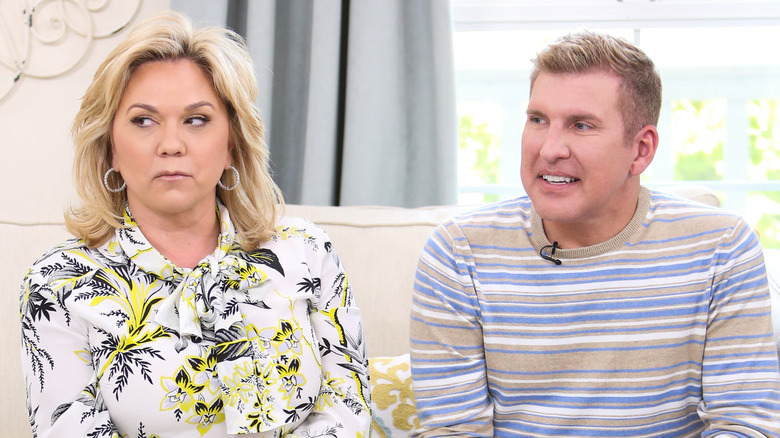 Paul Archuleta/Getty Images
The conflict between Alexus Whilby and Todd Chrisley only worsened with the family's legal trouble. Both Kyle and Whilby gave statements to the Georgia Department of Revenue about Julie and Todd's finances in 2017, per the Daily Mail. The organization held a Skype interview with Kyle and Whilby, where Kyle divulged information about alleged offshore accounts owned by his father and stepmother. Shortly after, Whilby told the authorities that the Chrisleys had a Georgia warehouse filled with luxury furniture. Investigators later searched the property and found boxes of forged documents. According to Whilby, Kyle eventually changed his story to earn his father's acceptance, though she was not willing to do the same.
Since Todd and Julie were sent to prison in January 2023 for fraud and tax evasion, it appears things have been calm between the Chrisleys and Whilby. She did tell Hollywood Life that she felt their sentences — 12 years for Todd, seven for Julie — were lenient. However, she seems to have distanced herself from the situation. Whilby keeps her Instagram account private and steers clear of the spotlight since her 2018 divorce from Kyle. Given that she and Kyle don't share any children, it's possible Whilby may never reconcile with the reality television stars, which may prove best for everyone.