What Todd Chrisley's Relationship With Kyle Is Really Like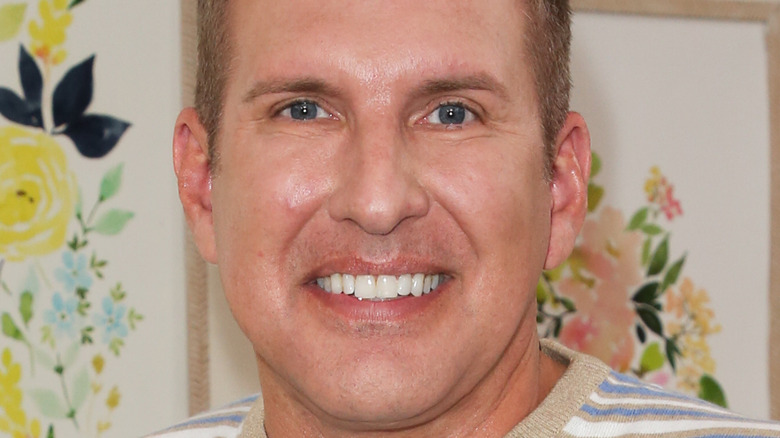 Paul Archuleta/Getty Images
If you're a long-time fan of the USA Network original series, "Chrisley Knows Best," then you're probably aware of the interesting dynamic between Todd and his family.
The show follows Atlanta-based self-made multimillionaire and patriarch of the family, Todd Chrisley, as he navigates life with his wife Julie and their five children while balancing the cutthroat real estate industry (via IMDb). While the family attempts to maintain an illusion of the perfect Southern family, the public knows better – Todd has had quite a tumultuous relationship with various members of his family, most often due to his no-nonsense fathering style. 
It's no secret that his relationship with daughter Lindsie Chrisley has been a challenging one. In fact, Lindsie considers herself to be estranged from her father for many different reasons and has even led to Lindise removing herself from the show (via ET). But she isn't the only Chrisley who left the show due to an estranged relationship with Todd. Die-hard fans can recall that Todd's relationship with the eldest son Kyle Chrisley has been strained for a long time.
So where does their relationship stand today?
Here's when things became strained between Kyle and Todd
Things began to become strained between Kyle and Todd Chrisley when, back in 2014, Kyle allegedly threatened to kill his father while under the influence of drugs (via Radar Online). 
After a period of time in the hospital and a subsequent reveal of bipolar disorder, Todd made the challenging decision to remove Kyle from the show, claiming he simply wanted "what's best for him" (via E! News). But Kyle didn't see it this way, and as a result, took to an interview with the Daily Mail to publicly call his father a "sham," accusing him of "ruining" Kyle and the rest of his children.
Since this drama, however, the two have spent the past few years working on their relationship and appear to have become closer. Kyle's battle with drugs and suicide attempts have appeared to make him closer not only with Todd but with the entire Chrisley family, per Life and Style Magazine. But things are still fragile.
Will Todd and Kyle possibly rekindling their relationship in the new season?
In an exclusive sneak peek of the "Chrisley Knows Best" season finale, a clip shows Todd Chrisley receiving a call from Kyle Chrisley while Todd and his wife Julie Chrisley are in the car. "Hey, this is Kyle, I just wanted to reach out because I'd really like to see you," the estranged son said. "Well, I would like that as well," Todd replies. "Can I call you back when I get out of the car?" he asks, and then says, "Alright, I love you," to which Kyle replies, "Love you," (via People).
Julie asks Todd how he feels about the phone call and if he's ready for a relationship with Kyle again, to which Todd replies, "I want that because you know every day that's lost is a day that you don't ever get back. I want to see him, but I'm not diving all in just to be hurt again."
Only time will tell what the future of Kyle and Todd's relationship holds, and if it'll be addressed in the upcoming seasons of "Chrisley Knows Best."
If you or anyone you know is having suicidal thoughts, please call the National Suicide Prevention Lifeline​ at​ 1-800-273-TALK (8255)​.