Queen Camilla Sheds Royal Etiquette While Greeting Famous Friends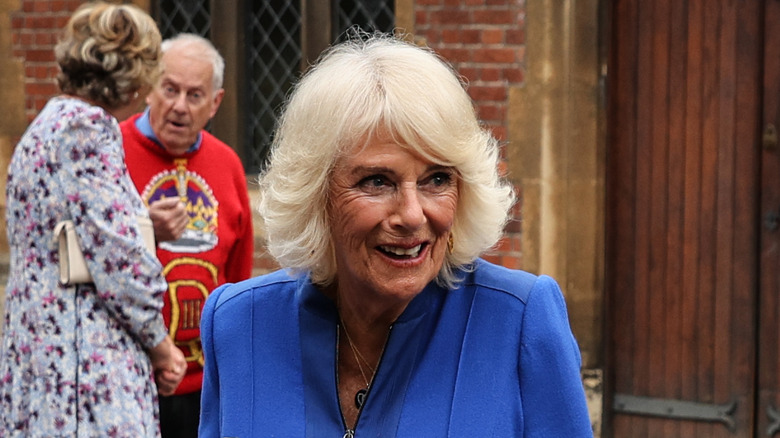 Wpa Pool/Getty Images
Becoming a royal in the modern age poses many challenges, not the least of which is how to remain approachable and human to not only the people of your own nation, but also to the public at large. When Camilla Parker-Bowles was crowned Queen alongside her husband King Charles III in early May, she had already chosen to forgo some long-held traditions of previous British queens in favor of catering to a modern world and modern values. 
For instance, she chose not to wear the Kohinoor diamond, which has long been a symbol of British imperialism, and also chose not to carry a traditional ivory scepter that had been carried by English queens for centuries in light of the horrors of the ivory trade and Prince William's activism to end that trade worldwide. 
Now, Queen Camilla is making headlines for bucking another tradition in the way that she chose to greet friends at a royal reception this week.   
Queen Camilla greets friends like any other person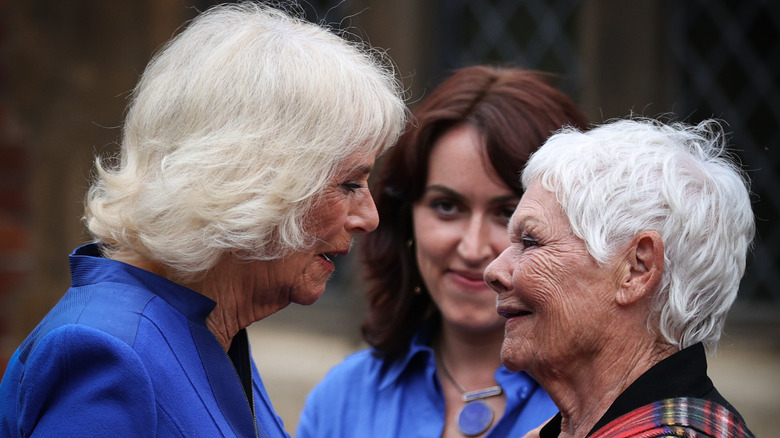 Wpa Pool/Getty Images
While there technically isn't official, obligatory protocol where it comes to how to greet the Queen of England, it is a long-held tradition that ladies curtsy and gentlemen bow. During a royal reception at Hampton Court over the weekend, the recently-crowned Queen Camilla chose to once again dodge royal tradition in the interest of being genuine and human with her dear friends (via Sky News). 
Actresses Dame Joanna Lumley and Dame Judi Dench, longtime friends with The Queen, were in attendance at the reception, and as they approached Queen Camilla, Camilla leaned in to kiss them each on the cheek, as a person often greets their friends, rather than how a queen might expect to greet her subjects. Both Dench and Lumley insisted upon curtsying anyway, giving their friend the respect they seem to feel befits her official station.
In 2019, Meghan Markle, Duchess of Sussex, made headlines for a similar choice when she stopped Kate Robertson, founder of One Young World Summit, from curtsying to her so that instead, Meghan could wrap Robertson in a warm hug (via People).