Hallmark's Cameron Mathison And Alison Sweeney Are Back To Work On New Hannah Swensen Mystery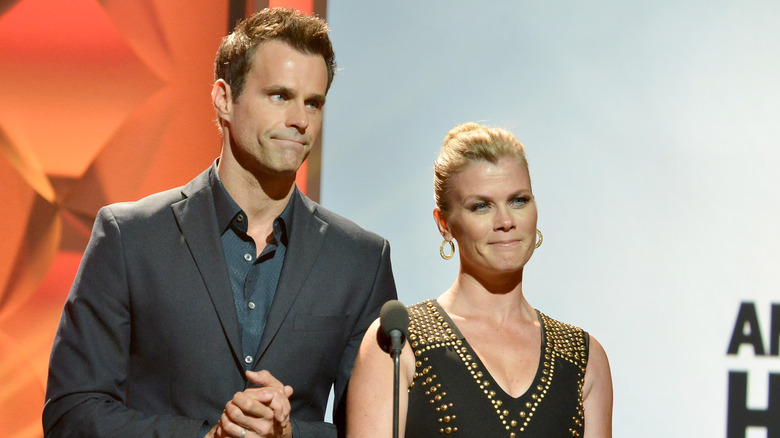 Araya Doheny/Getty Images
Fans adore the Hannah Swensen mystery franchise on Hallmark Movies & Mysteries. The made-for-TV films are based on the book series by author Joanna Fluke and star Alison Sweeney as Hannah, a baker and a crime sleuth who solves murders. Cameron Mathison portrays her love interest, a detective named Mike Kingston. Together, the two have starred in a total of seven Hannah Swensen films: "Murder, She Baked," "Murder, She Baked: A Plum Pudding Mystery," "Murder, She Baked: A Peach Cobbler Mystery," "Murder, She Baked: A Deadly Recipe," "Murder, She Baked: Just Desserts," "Sweet Revenge: A Hannah Swensen Mystery," and "Carrot Cake Murder: A Hannah Swensen Mystery." 
Sweeney and Mathison recently announced on social media that they had started working on the next film for the franchise. On Instagram, Sweeney posted a photo with Mathison and wrote, "Here we go again!! Back on set filming another #HannahSwensen with my friend @cameronmathison!!"
Mathison also made a post on Instagram using the same photo and said, "Here we gooooooooooo! We are back filming our 8th Hannah Swenson movie!! So grateful to be working with this amazing women, and everyone that's a part of this incredible series of movies." This news comes shortly after the May premiere of "Carrot Cake Murder." That month, Sweeney revealed that the franchise's latest installment is called "A Zest for Death."
What we know about A Zest for Death
According to CinemaBlend, "A Zest for Death: A Hannah Swensen Mystery" is based on "Lemon Meringue Pie Murder" by Joanna Fluke. This is the fourth book in the Hannah Swensen Mystery series. Alison Sweeney set the scene for the brand-new Hannah Swensen flick (via Variety). She explained, "I love this book from Joanne Fluke and its adaptation for TV because the mystery really leans into Hannah's family dynamics, her sleuthing skills, and her romantic relationships." 
Sweeney also discussed "A Zest for Death" further with TV Insider. She told the publication what fans can expect in the new film and provided insight into her character, Hannah. Sweeney said, "She just has a way about her really picking up on the little details, the nuances. And I think this next mystery is going to have some fun elements like that that are there for the audience to notice, too, if you pay attention. So at the end you'll be like, "Oh, it's right there in front of me and I didn't see it!"
Moreover, Sweeney noted that while Hannah is usually the one to come across a murder victim, her mother, Delores Swensen (portrayed by Barbara Niven), will be the one to do so in "A Zest for Death." At the time of this publication, the release date for the film is unknown.
Alison Sweeney on working with her Hannah Swensen costars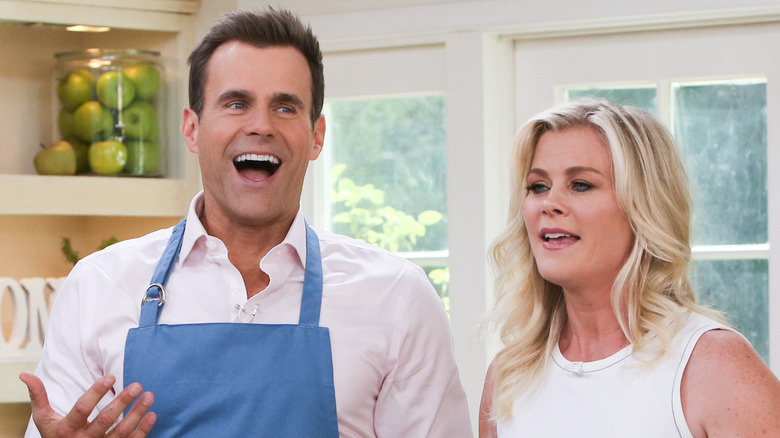 Paul Archuleta/Getty Images
What you might not know about Hallmark star Alison Sweeney is that she's also an executive producer of the Hannah Swensen film franchise. At one point, it was unclear if there would be another film after the release of 2017's "Murder, She Baked: Just Desserts." However, Sweeney explained to TV Goodness that "Sweet Revenge: A Hannah Swensen Mystery" came to fruition in 2021 thanks to a change in executives and production team. This also led to the franchise's name change from "Murder, She Baked" to "A Hannah Swensen Mystery."
While promoting "Carrot Cake Murder," Sweeney told Media Village that the future is bright for the franchise. She said, "All I can say is I think the fans will be very happy with what's in store." That said, Sweeney had nothing but love for her longtime costars, Cameron Mathison and Barbara Niven. She told Media Village, "They're just so funny." 
Sweeney added, "You have this shorthand with each other and a familiarity that helps you get into character. Cameron and I have such a great working relationship, and good chemistry and a good vibe. He's genuinely the nicest person in television, so he makes it easy to come to work every day."