The Mary Jane Is Getting A Trendy Revamp With These Bold Twists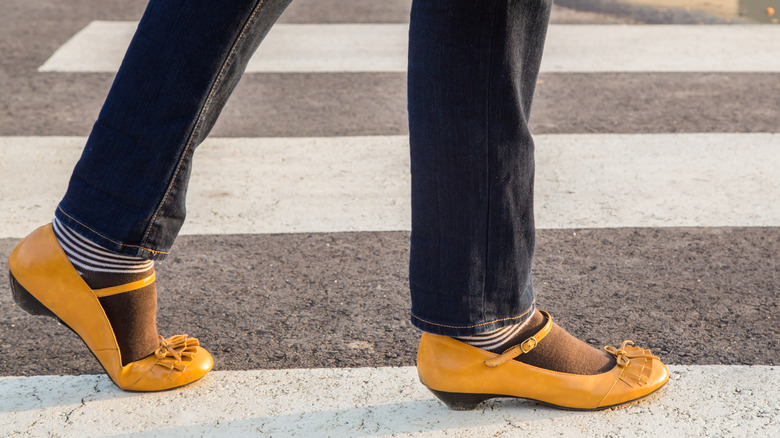 Zygomatic/Shutterstock
Mary Jane shoes have been a wardrobe staple for decades, but before they were called Mary Janes, they were aptly called "bar" shoes, referring to the characteristic strap across the top of the foot. But thanks to some wildly successful branding, they've been known as Mary Jane shoes for over a hundred years. The Brown Shoe Company capitalized on the popularity of the "Buster Brown" comic strip in the early 1900s, and they licensed the name Mary Jane, one of the characters in the comic, for their bar shoes, since the character wore a similar-looking style. And the name clearly stuck!
The versatility of a Mary Jane is one of the big reasons that the shoe has stuck around for over a century. It's one of those shoes that will never go out of style. And while it's a popular style for school uniforms, the Mary Jane is so much more than that. Here are some bold, trendy twists on the classic Mary Jane that will have you wearing them for just about any occasion.
Go for a chunky heel or a platform for maximum Mary Jane trendiness
A bold shoe can elevate your look, and the latest iterations of Mary Jane shoes definitely fit the bill. If you need something for the office that's a little bit more classic, but still trendy, chunky platform heels will elevate — literally! — your Mary Jane shoe style. 
You can go for a platform heel to really amp up the look, and Larroudé has a black patent leather chunky heeled platform Mary Jane that will bring some edge to your ensemble. Larroudé co-founder Marina Larroudé told Harper's Bazaar about how Mary Janes are the ultimate wear with anything shoe, even with their trendy iterations: "Mary Janes have that utilitarian feel, while also being flirty and fun."
The dressier version would be a pair of Isabella pumps by Coach, still just as shiny and with a stylish platform, but with an open heel. If you want the Mary Jane look but not quite as much height, a block heel style is the way to go. The Laney shoe by TJIN has the strap over the top of the foot paired with a square toe and a chunky heel. Bonus! — it comes in four different colors and the uppers are made from recycled knit material!
Look for unexpected details and patterns with your Mary Janes
There's also the double or even triple strap option for your Mary Janes. The seemingly effortlessly stylish Amal Clooney was spotted out and about in New York City in a black patent leather heeled Mary Jane with two straps by Prada (via Who What Wear). So if they're good enough for Clooney, they're definitely good enough for you! Butiti makes a triple strap chunky heeled platform Mary Jane combining multiple trends into one.
You can also look for unexpected textures and/or patterns for your Mary Janes for maximum trendy chic. Zara has a double strap animal-print block heel that is definitely on trend while still maintaining that Mary Jane classic feel to it. If you want something more delicate and without the heel, and if fishnet is more your style, the Tremaine Ballet Flat by Piferi was made for you; it's an easy slip-on style with mesh fishnet uppers that will match just about any outfit and stay in style for a while.
Or you can channel your inner Dorothy from "Wizard of Oz" with some sparkly Mary Janes. They may not be ruby red, but the silver Charles & Keith sequinned Mary Jane are perfect for a night of dancing. So go big and go bold with your Mary Janes and you'll be both trendy and timeless at once.