How Chrissy Teigen And John Legend Met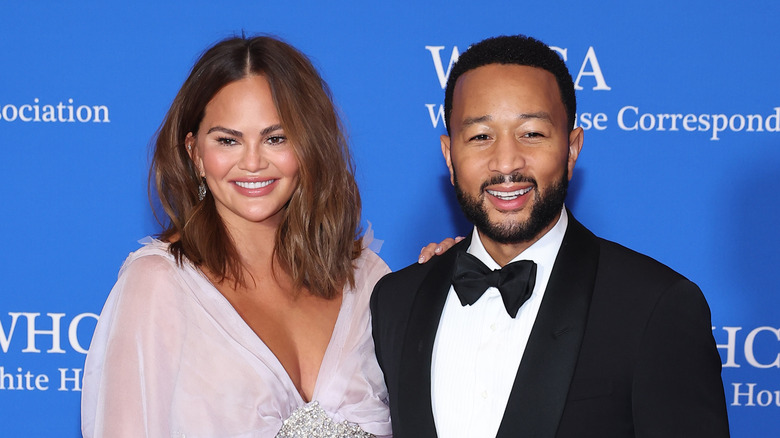 Paul Morigi/Getty Images
It is an understatement to call Chrissy Teigen and John Legend one of the world's biggest power couples. The pair manage to juggle parenthood, their marriage, and their busy careers; Legend credits much of his success to his wife. While Legend made a name for himself in the entertainment industry as a singer and musician in the early 2000s, Teigen first entered the spotlight as a model. This ultimately led her to her future husband. In September 2006, Teigen starred in Legend's music video for his song "Stereo." Teigen landed the job thanks to a friend she had in common with Legend.
The sultry music video features Teigen, who was then 21, wearing close to nothing while she canoodles with Legend. In 2014, she discussed her first encounter with Legend to Cosmopolitan and said, "I walked into John's dressing room to meet him, and he was ironing in his underwear." She revealed, "I said, 'You do your own ironing!?' He said, 'Of course I do.' I gave him a hug."
Teigen has not been shy in discussing what happened after the video shoot. She told Cosmopolitan, "I'm not going to lie. We hooked up." The pair began a relationship but briefly broke up in 2007. In 2011, Legend proposed to Teigen during a trip to the Maldives. Teigen ended up walking down the aisle not once but twice.
Chrissy Teigen and John Legend's dreamy Italian wedding
To make their union official, Chrissy Teigen and John Legend planned a destination wedding in Lake Como, Italy. However, four days before their grand Italian wedding, the pair married at a New York City courthouse. Teigen told E! News that this was a bureaucratic decision and that model Irina Shayk acted as their witness. Their actual wedding took place on September 14, 2013, at Villa Pizzo, a stunning historical venue. Teigen wore three Vera Wang gowns for the occasion. Guests included Kim Kardashian, Kanye West, and Stevie Wonder, who performed at the wedding. Legend also sang his hit song written for Teigen, "All of Me."
The pair ended up filming the music video for the song in Lake Como, which was released shortly after their nuptials. Teigen and Legend chose to get married in Lake Como for a specific reason. In 2016, Teigen wrote on Instagram that she and Legend first visited Lake Como in 2007. In her caption, she disclosed, "A boat tour guide took us to a little spot on the lake and told us to make a wish. I asked for this to be the man I marry and have children with." Teigen noted that her wish eventually came true.
The pair suffered a pregnancy loss in 2020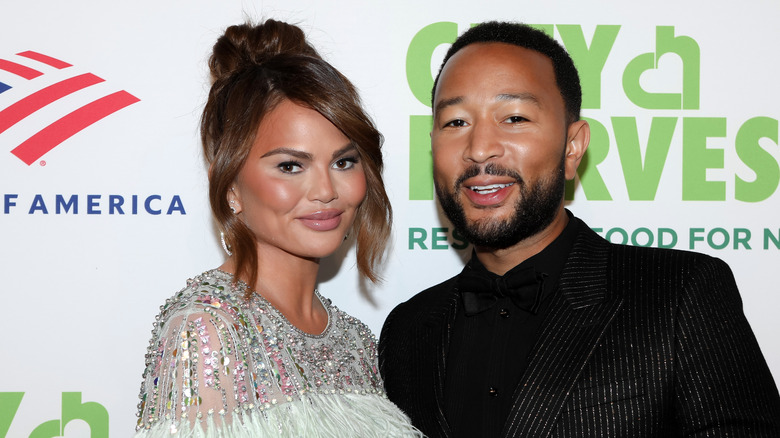 Hippolyte Petit/Getty Images
Chrissy Teigen and John Legend, who was born John Roger Stephens, are the proud parents of three children. Their first child, daughter Luna Simone Stephens, was born in April 2016. Teigen and Legend have publicly discussed their fertility journey. Teigen disclosed to People that she went through in vitro fertilization (IVF) to conceive their daughter and specifically chose a female embryo. In May 2018, Teigen gave birth to Miles Theodore Stephens. Like Luna, Teigen used IVF to become pregnant with Miles. The pair announced devastating news on Instagram in September 2020; Teigen was pregnant and had miscarried a son they named Jack.
Teigen later revealed on Medium that she had suffered a partial placenta abruption at 20 weeks. Per The Hollywood Reporter, Teigen spoke at the "A Day of Unreasonable Conversation" summit in 2022, where she revealed that her miscarriage was an abortion and that she needed to undergo the procedure to save her life.
That same year, Legend dedicated his song "Wonder Woman" to Teigen. Speaking about the song, Legend told Yahoo! Entertainment, "We ask women to bear so much in this world, and I want to be part of the change that makes this a better world for my daughter and everyone else's daughters as they grow up." A then-pregnant Teigen is featured in the music video. In January 2023, Teigen gave birth to their rainbow baby, Esti Maxine Stephens.