Ivanka Trump's Wedding Look Cost A Staggering Amount Of Money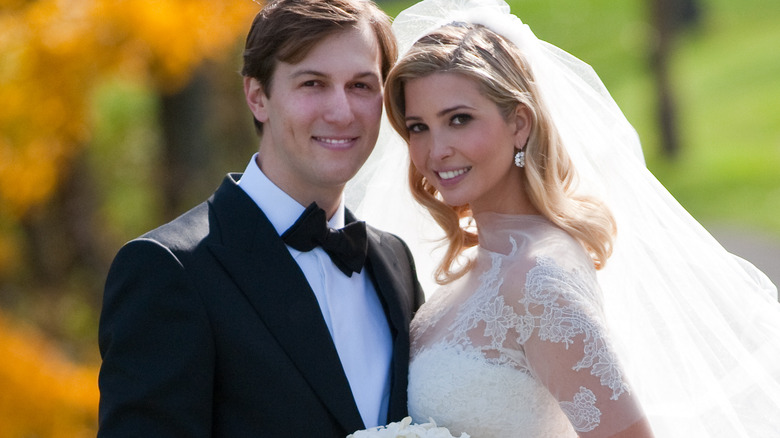 Handout/Getty Images
Ivanka Trump and her now-husband Jared Kushner first met at a business lunch in 2007, and seemed to really hit it off. They started dating, but Jared broke things off fairly early on. "I know he loved Ivanka dearly, but the religious thing was important to him," Jared's friend Nitin Saigal told The New Yorker in 2016. 
Jared, who is of Jewish faith, wanted to be with someone who had the same background and beliefs that he did. It didn't take long, however, for Ivanka and Jared to reconnect, and she ended up converting to Judaism. In 2009, Jared proposed to Ivanka, and she shared the exciting new on Twitter. "I got engaged last night. Truly the happiest day of my life!!!" she wrote. Then, the wedding planning began. 
All eyes would be on Ivanka, the daughter of wealthy businessman and future president of the United States Donald Trump, and ex-wife Ivana Trump. While people could have assumed just how elaborate and expensive Jared and Ivanka's wedding would be, some didn't quite expect the bride's overall wedding look alone to cost hundreds of thousands of dollars.
Ivanka Trump wore a custom-made gown and was dripping in diamonds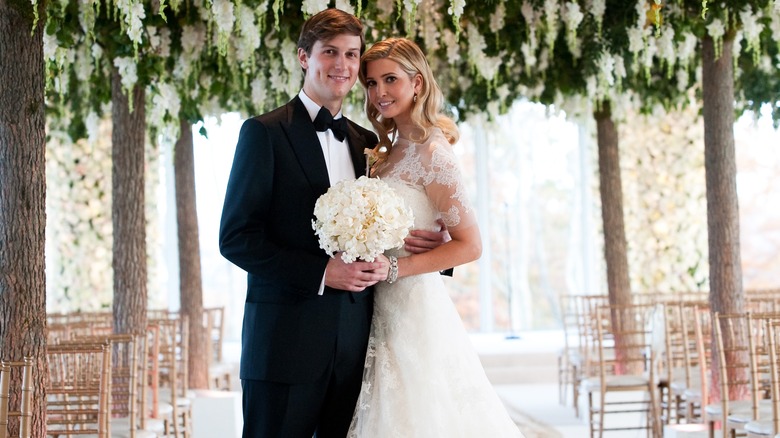 Handout/Getty Images
In October 2009, Jared Kushner and Ivanka Trump exchanged vows at Trump National Golf Club, located in Bedminster, New Jersey — and owned, of course, by the bride's father. For her big day, Ivanka wore a white, A-line gown that was custom-made by Vera Wang, according to PopSugar. 
The delicate dress featured a lace overlay that flowed across her chest and over her shoulders to create a short-sleeve. The lace came to a "V" on her back and flowed over a set of fabric-covered buttons. To accessorize, Ivanka wore some-$220,000 worth of diamond accessories when she said "I do" to Jared.
People magazine did more of a money breakdown when it came to Ivanka's pricey wedding style. She wore a platinum headpiece that was encrusted in diamonds worth $45,000, diamond clustered earrings worth $130,000, and an "Art Deco link" bracelet worth $90,000. The pieces of jewelry that complemented Ivanka's classic look were all taken from her own line: the Ivanka Trump Fine Jewelry collection, according to the outlet.
All of the diamonds were in addition to Ivanka's stunning 5+ carat engagement ring, of course — which is said to be worth over $500,000 on its own, according to Express.
Donald Trump said his daughter's wedding was 'great'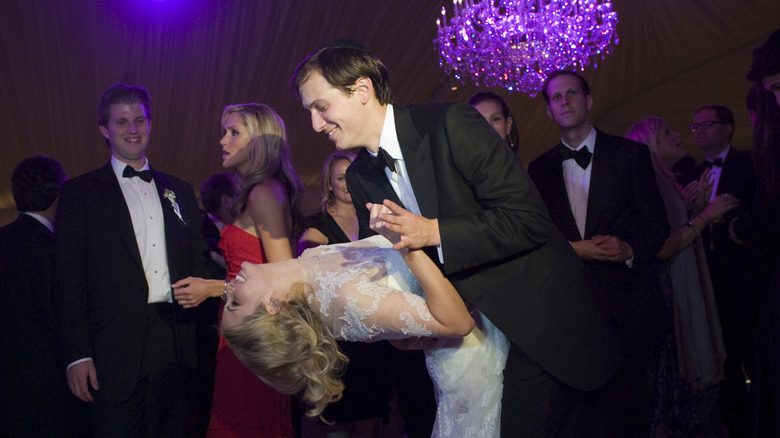 Handout/Getty Images
Aside from Ivanka Trump's pricey wedding attire, her wedding cake also ended up making headlines. The couple hired Sylvia Weinstock to bake and decorate the cake, which was large enough to feed the 500 weddings guests. "The cake was amazing and just beautiful. It was 70 inches on the table with about 13 layers," Weinstock told People magazine.
"Each layer was ringed with flowers. We had lisianthus, roses, peonies, Lilies of the Valley, baby's breath — all in the coloring of whites, creams, pinks ivory and flush tones," she added.
Meanwhile, Donald Trump kept things short and sweet when talking about his daughter's wedding day. "It was a great wedding. I'm very happy. They're really a beautiful, smart couple. I think you'll hear a lot of great things from them in the years to come," he told People following the soiree.
After their elaborate wedding, Jared and Ivanka traveled to Africa for their honeymoon, though they waited until December 2009 to make the trip. The reason? Both Jared Kushner and Ivanka had business to tend to, including the opening of Trump International Hotel & Tower Waikiki in Honolulu, Hawaii, which Ivanka had been working hard on. Jared and Ivanka, who now have three children together, will celebrate their 14th wedding anniversary in October.