King Charles Plans To Revive Decades-Old Horseback Riding Tradition At Trooping The Colour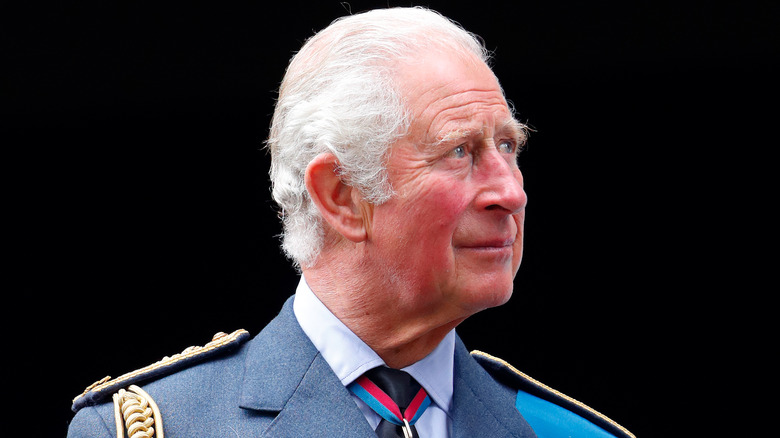 Max Mumby/indigo/Getty Images
Trooping the Colour is the annual celebration of the U.K. monarch's birthday. It's a tradition that goes back hundreds of years, and it's held in June, regardless of when the monarch's actual birthday is. This year will be the first official birthday celebration since King Charles III became king, and, as noted by the Royal Family website, it will feature more than 1,400 soldiers on parade as well as 400 musicians and 200 horses. If you want to tune in for all the excitement, you can — here's how to watch the 2023 Trooping the Colour without a cable subscription.
The royal family will also be a part of the parade. We caught a glimpse of William, Prince of Wales in his parade regalia as he completed the Colonel's Review of the King's Guard, basically the final dress rehearsal before the big event; Prince William's military uniform before Trooping the Colour signifies his new royal role as honorary colonel of the Welsh Guards. The prince will be on horseback during the parade, and in a return to a decades-old tradition, so will King Charles.
King Charles will be on horseback leading the Trooping the Colour parade for the first time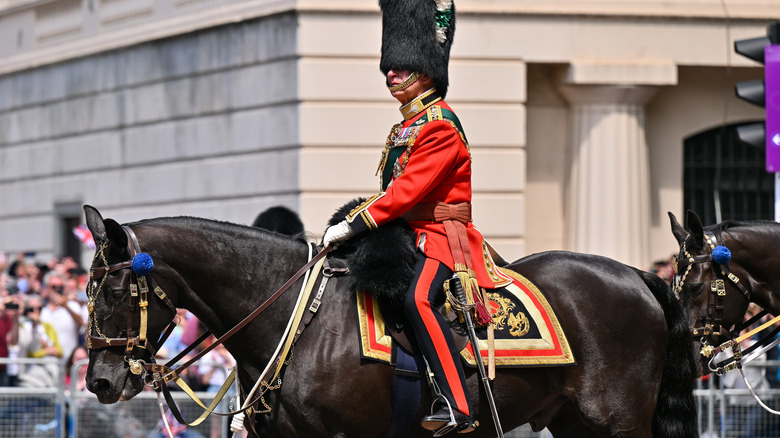 James Devaney/Getty Images
Buckingham Palace confirmed that King Charles III will be riding a horse in his first Trooping the Colour parade as sovereign, as reported by People. This will be the first time a monarch has led the parade on horseback in a long time. For over 30 years, Queen Elizabeth II led the parade in a horse-drawn carriage. Before that and since 1969, she'd ridden the same horse, a black mare named Burmese that was gifted to her by the RCMP of Canada, to lead the Trooping the Colour parade. But Burmese was retired from riding in 1987, and rather than ride a new horse, the queen opted for the carriage. Prince Philip eventually joined her in the carriage in 2003; previously he'd been on horseback as well. King Charles will likely be riding Noble, also a black mare and also gifted by the RCMP of Canada, for the parade, per The Times.
Hopefully King Charles won't face the same scary situation that his mother did during the 1981 Trooping the Colour parade when someone in the crowd shot six blanks at the queen as she rode by. Burmese and Queen Elizabeth were both noticeably (and understandably) startled by the noise, but the queen was able to get her mare under control and they continued with the parade. Other royals riding during the parade will be Prince William and, most likely, Princess Anne.