Prince William's Updated Military Uniform Before Trooping The Colour Signifies His New Royal Role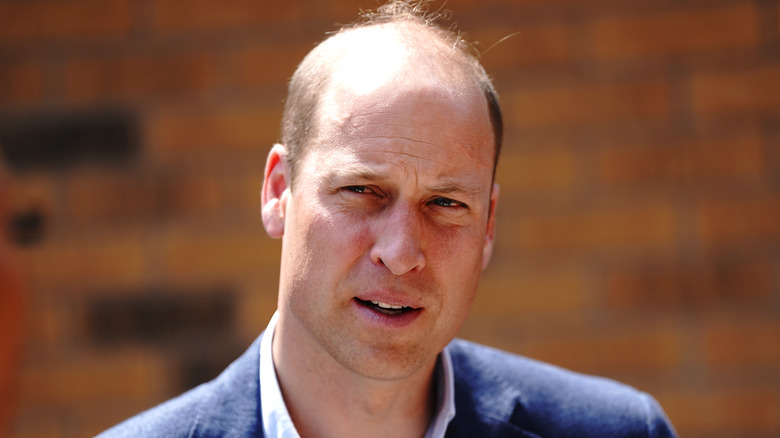 WPA Pool/Getty Images
One of the more iconic images of the royal family is when they're all together on a balcony of Buckingham Palace. It's where royal couples wave to fans after their weddings, and often share a kiss. And when there's young kids in the royal family, the balcony appearances nearly always give us some sweet and/or hilarious moments, like when Prince Louis stole the show at the Platinum Jubilee, making all kinds of funny faces, or when Princess Charlotte had to step in and remind older brother Prince George to stand up straight.
One of the annual events that always marks a Buckingham Palace balcony appearance for the royals is Trooping the Colour. And if you're wondering exactly what Trooping the Colour is, it's the June celebration of the birthday of the monarch, which goes back hundreds of years. Trooping the Colour takes place in June regardless of when the monarch's birthday actually is: Queen Elizabeth's birthday was in April, and King Charles' real birthday is in November. But the big birthday bash comes in June, and it involves pomp and pageantry, including a huge parade. Leading this year's parade on horseback will be William, Prince of Wales. And he'll be wearing a military uniform that eagle-eyed fans will notice has been updated to show one of his new royal titles.
Prince William is sporting symbols of the Welsh Guards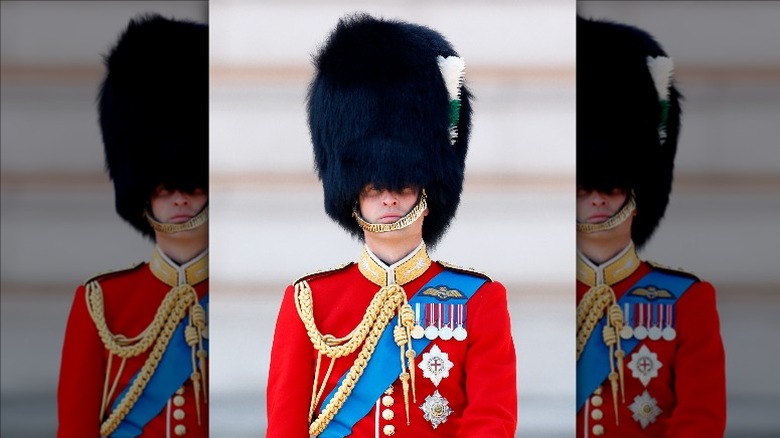 Max Mumby/Indigo/Getty Images
Prince William was spotted on horseback at the Colonel's Review, the final dress rehearsal for the Trooping the Colour parade. He was wearing the red military uniform he's worn many times before, but with small, yet significant updates since the last Trooping the Colour. The changes indicate his new role as honorary colonel of the Welsh Guards, including the updated embroidered leek motif at the collar, as reported by People. William's bearskin cap also reflects a change; it now features a white and green plume, symbolizing the Welsh Guards. Considering William became Prince of Wales last year, it makes sense! William was also sporting four medals, with one from the Queen's Platinum Jubilee; at last year's Trooping the Colour, he'd had just two, per Hello! Magazine. And on his shoulder are cyphers for both Queen Elizabeth and King Charles.
When Prince William was honorary colonel of the Irish Guards, the collar featured a shamrock, and the hat plume was St. Patrick's blue. Princess Catherine snagged the title that once belonged to her husband and is the new honorary colonel of the Irish Guards. 
The parade rehearsal didn't go quite as smoothly as it could have. With temperatures in the upper 80s and soldiers wearing wool and fur, a number of soldiers fainted, as reported by CBS News. William tweeted his thanks to the participants after the review: "Difficult conditions but you all did a really good job."