The Reason You Don't See Every Room In Home Town's Renovation Reveals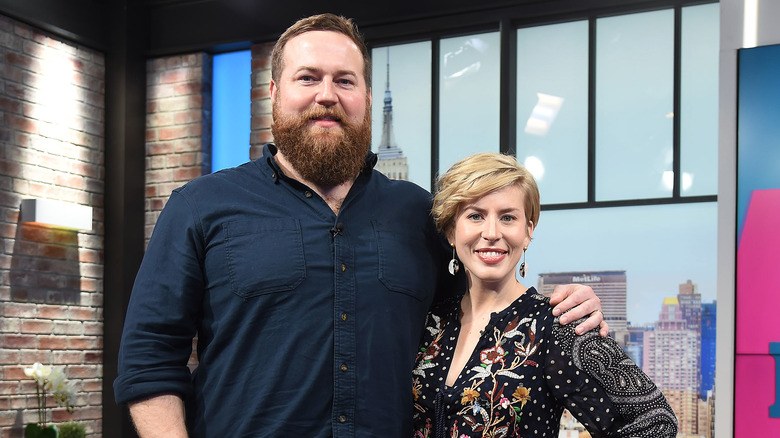 Gary Gershoff/Getty Images
If you're a fan of home renovation shows, you probably have a few questions that float through your mind at the end of each episode — like, 'What really happens to the furniture on "Home Town's" renos'? or 'What's the actual budget of the entire home renovation project?' The big home reveal, which is one of the main reasons fans tune into episodes, could leave you wanting more too.
The look of surprise mingled with sheer delight on the faces of the home owners complemented by the excited commentary of the show's hosts makes it all worthwhile. But as you may have already noticed, there are times when these shows don't reveal the entire picture, so to speak. While you're offered sweeping and detailed views of some rooms in the house, you don't get to see others. HGTV's show "Home Town," hosted by husband and wife duo Ben and Erin Napier, is one of them. 
But it turns out, Erin Napier has an answer to the question. In a 2017 post on her Instagram, Napier addressed the reason. "People often ask us why we don't do bathrooms or why all the rooms aren't shown on the show, and the answer is easy: we design the rooms that our homeowners tell us matter most to them (usually common areas), what their budget will safely cover, and what we have time to do for television since we only have eight weeks and are renovating three other homes in that time frame!" she explained. 
The other rooms didn't need a lot of renovation, revealed Erin Napier
Erin met Ben at Jones County Junior College in Mississippi in 2004, and the couple got engaged in 2007, before tying the knot the following year. Erin Napier was discovered on Instagram back in 2014 when an executive at HGTV started following her after seeing photos of the couple's house on "Southern Weddings." Napier recalled the moment on her blog (via Laurel Mercantile), "Late at night on July 27, 2014, Lindsey emailed us and said, 'Have you ever thought about doing anything on TV? Would you be interested in that?' to which we responded, 'we've absolutely never thought of that, but we are interested if you are interested.' I mean, hello!" "Home Town" eventually premiered in January 2016 featuring renovations in the duo's hometown of Laurel, Mississippi. 
The duo is known for their down-to-earth nature, and it seems the pair are being thorough while addressing the question on everyone's lips. While the homeowner's budget is part of the reason, Napier shared that different renovation needs and the owners' DIY talents also dictate why they don't reveal all the rooms in "Home Town." She continued in the Instagram post, "If you don't see a bathroom or bedroom, it's typically because it didn't need much work or our handy homeowners are weekend warriors who take it on themselves on a budget and with ample time." 
The couple's own living room wasn't featured on the HGTV show
When the hosts took to renovating their own country house near Laurel, Mississippi in the season 6 premiere, it's safe to say the couple was more than just a little stressed. Erin Napier candidly told House Beautiful, "We know too much about what's possible. I didn't sleep at all for like two months before we finally finished. I would wake up in the middle of the night worrying about it."
But just like with their other episodes, fans were left wondering why the living room didn't make the cut when it came to the big reveal. Clearing doubts yet again, the TV personality shared on Instagram, "Why didn't we show the living room on #HGTVHomeTown? Because it didn't need renovation! We just updated the cream paint to show off the woodwork and replaced the light fixtures." 
The country house renovation made the couple ask themselves some tough questions about what they really loved about the place and therefore wanted to keep. Napier shared on Instagram that one of the items they decided to hold on to was her mother's old sofa. She wrote, "The oatmeal colored sofa is 25 years old, the greatest sofa my mama ever owned that was passed down to us when we got married. I had it reupholstered by our buddy Matt at @preservation_upholstery in a linen blend performance fabric that's easy to clean and now mama wants it back."