What Really Happens To The Furniture On Home Town's Renos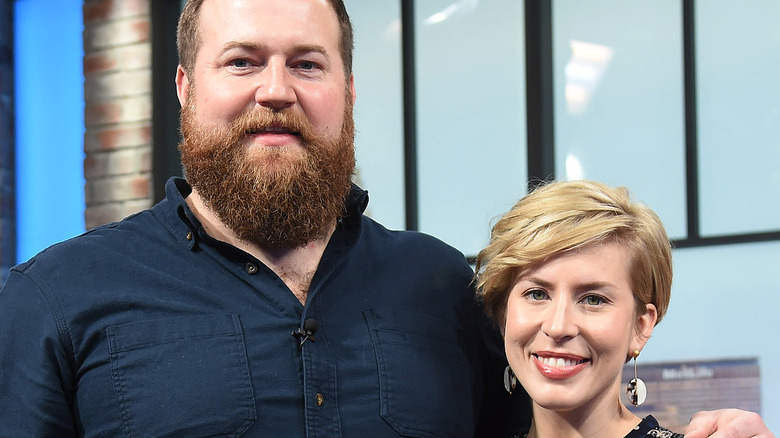 Gary Gershoff/Getty Images
Ben and Erin Napier, stars of HGTV's "Home Town," are used to being busy. The beloved couple juggled filming their hit show in Laurel, Mississippi, with fronting spin-off "Home Town Takeover" in Wetumpka, Alabama. As Ben quipped to People, "The last six months of 2020 really, you know, it was rough. It's all a blur." 
The reality stars and home renovation experts were also expecting a baby at the time, adding considerably to their stress. "We were like, 'Ooh, this is going to be tough, but we can do it,'" Erin said, adding, "We don't remember anything, but I'm glad somebody was filming all of it."
"Home Town" began in 2016, with the Napiers' goal of shining a light on small-town life carried over to "Takeover," even if it's not technically their own hometown. "It's too bad that small towns are so often undervalued because you can live a beautiful life in them," Erin noted in a press release (via People). Ben and Erin are known for taking under-appreciated properties and revealing their true potential. To do so, many different elements come into play, including their own talents as woodworker and designer respectively. When it comes to the featured furniture they use, the Napiers are characteristically upfront.
Do homeowners get to keep all that gorgeous stuff or not?
The question of what happens to the furniture on home renovation shows, from "Fixer Upper" to "Property Brothers," is hotly debated among HGTV fans. When it comes to "Home Town," however, hosts Ben and Erin Napier are more than happy to explain exactly what the deal is. So, do homeowners get to keep all that gorgeous stuff or not? According to the talented designer, it depends. As Erin explained on Instagram, "The homeowners' budget usually does allow for lots of pieces they get to keep and the custom pieces @scotsman.co builds for each home," referencing their own homewares company. She added that they also use the homeowners' stuff too, wherever possible. 
For everything else, the Napiers source supplies from their favorite local spots in and around Laurel. According to Erin, the homeowners are then given a "catalogued binder of everything we use that shows the special price our shop owners offer" and have the opportunity to buy it all, which the "Home Town" stars see as something of a welcome package to their beloved town. Erin acknowledged her style may appear "maximalist or cluttered, but I say it's real life." Erin defended her right to fill properties with beautiful things by stating emphatically they are "the pieces that comfort us on a stormy night (literally and figuratively) and welcome us home when we walk in the door." Purchasing them, meanwhile, is up to you.