Melania Trump Won't Be Speaking Out About Donald's Indictment (But She Supports His Legal Fight)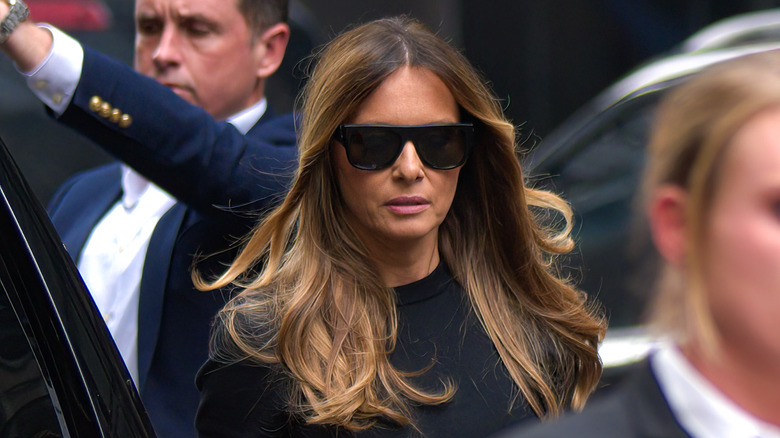 James Devaney/Getty Images
History was made on June 8, 2023, when Donald Trump became the first former president to be indicted on federal charges. He appeared in a Miami court to plead not guilty to the 37 charges brought against him on June 13, then returned to his Bedminster golf course in New Jersey in time to deliver a speech to his supporters. His oldest son, Donald Trump Jr., has been the family's most outspoken critic of the arrest; the night before his father appeared in court, Don Jr. hosted a new episode of his "Triggered" podcast, titled "The Destruction of Equal Justice." He has also tweeted frequently about the "BS" charges.
Other family members are more subtle in their backing. Although oldest daughter Ivanka Trump hasn't commented on the indictment, she did give her dad a shoutout on her Instagram Stories for hosting a bat mitzvah party at Mar-a-Lago for her daughter, Arabella, a few weeks earlier. Son Eric Trump has retweeted comments such as, "Sad day for America." But quietest of all has been former First Lady Melania Trump. While Donald was appearing in court, she was spotted entering her Trump Tower home, looking "stone-faced," as the New York Post put it. Is this a hint she's finally had enough? A source says: No — at least not yet.
The Trumps are still showing a united front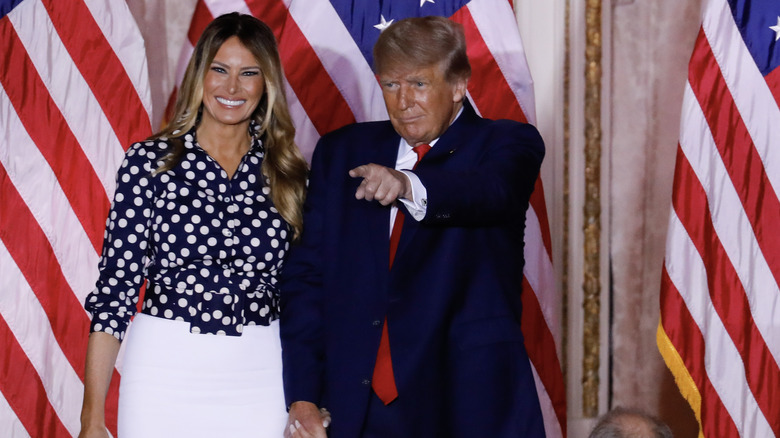 Bloomberg/Getty Images
People magazine has spoken to sources who insist that Melania and Donald Trump's marriage is secure, despite the latest scandal surrounding the former president. She simply prefers to stand by her man by standing to the side. "She doesn't want anything to do with any of it," the outlet's insiders say, adding, "[S]he prefers to stay away from making many comments as some of the recent evidence, especially in the Mar-a-Lago documents case, is quite damaging."
This reaction is typical of the former first lady. Melania has maintained a similar distance from other incidents, including the E. Jean Carroll lawsuit in which Trump was found liable of sexual abuse. She has also notably kept quiet about the events of January 6, 2021, in which insurrectionists stormed the U.S. Capitol building while the president delayed taking any action to quell the chaos. Melania did, however, respond to reports she wasn't happy about her husband's third run for the White House. She made a statement in May 2023, saying, "He has my support, and we look forward to restoring hope for the future and leading America with love and strength" (per Fox News).
While People's sources affirm Melania is "fed up with all the legal issues," she's sticking to what she knows best: minding her own business. "She continues moving ahead," an insider tells the magazine. "In her own way, she is strong."