Meet Judge Judy's Husband, Jerry Sheindlin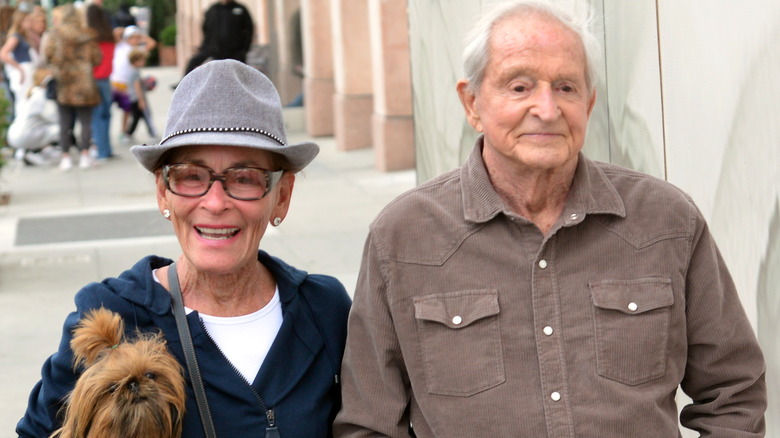 Photology/Getty Images
Think back to your after-school television viewing days — watching Judge Judy command a courtroom was probably a staple of your routine. In fact, "Judge" has become such a part of Judy Sheindlin's name that it's easy enough to forget the court TV star even has a surname. But she does, and it's courtesy of her beloved husband of almost 50 years, Jerry Sheindlin.
Judy and Jerry tied the knot in 1977 after both having been married long before Judge Judy's current level of fame. Both had children with their first spouses and, as a result, the couple now shares five adult kids between them. Their long-lasting marriage seems unbreakable, but at one point Judy found herself in a courtroom for personal rather than professional purposes when she entered legal arbitration in 1990 to divorce Jerry. Fortunately, the two reconciled and were wed again just one year later.
Today, they're still going strong, and Judy claims it's thanks to their good looks, telling People, "We're both very surface people when it comes to that." We have to say, Jerry does look pretty good for an octogenarian. He presumably spends a fair amount of time on physical activity, per Judy's strict rules for health and wellbeing, but outside the gym, the man who stole the tough-talking Judge Judy's heart is fascinating in his own right too. 
He and Judy share more than one profession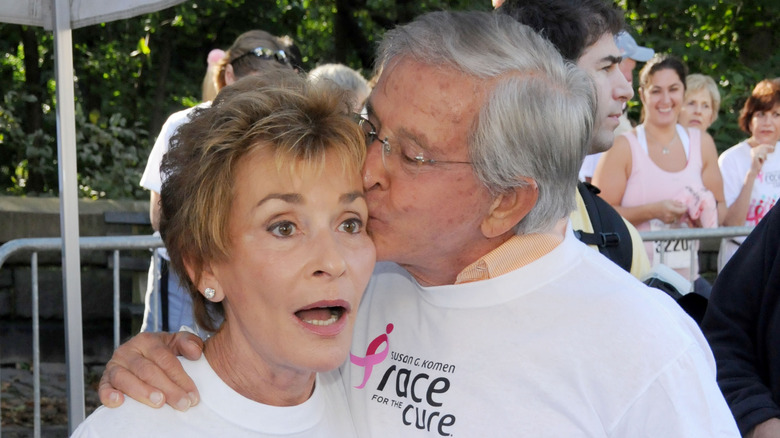 Gregg Deguire/Getty Images
Jerry (Gerald) Sheindlin, a New York City native and Korean War veteran, has a law degree from Brooklyn Law School. He practiced as a criminal defense attorney with Adlerberg & Sheindlin for a while, where he was eventually awarded a partnership. Notably, Jerry had a career trajectory similar to Judy Sheindlin, who also practiced in New York. Both would go on to be awarded a seat on their respective benches; for Jerry, this meant a position as a U.S. administrative law judge in 1980, a criminal court judge in 1983, and a New York Supreme Court Judge in 1986.
Surprisingly, judgeship isn't the only commonality between Judy and her significant other — Jerry was also a television arbitrator, aka a TV judge just like his wife. In 1999, "The People's Court" sought a new presiding judge after Ed Koch vacated the position. Coincidentally, former NYC Mayor Koch was the one who appointed Judy to the bench. Jerry signed on for one season, 1999-2000, and completed most of the 2000-2001 season too. Despite Judy's demonstrable success, Jerry's illustrious criminal law career, which spans two decades, is impressive. 
He also somehow found the time to author two books and appear in another television series in 2012. Nevertheless, Jerry credits Judy with pushing him into the entertainment world, telling the Los Angeles Times that she encouraged him despite the fact it would technically make him her direct competitor. According to Jerry,  "If she had any reservations at all, I wouldn't have done it."
From a bar meet-up to a happily blended family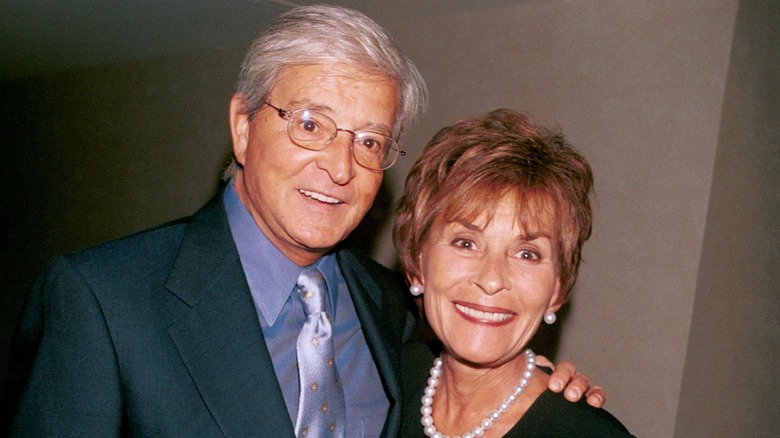 Getty Images/Getty Images
Speaking of Judge Judy calling the shots in the Sheindlin family, her take-no-prisoners attitude was nothing new for Jerry Sheindlin. In their book on marriage, Marlo Thomas and Phil Donahue wrote that Judy divulged to them that Jerry had not intended to divorce his first wife, even though they had been separated for years, so she gave him an ultimatum: "I said, 'I want to see your divorce in the newspaper or don't bother calling again,'" (via People). This was after the couple had been dating since their impromptu meeting in a bar. At the time, Jerry was a defense attorney, and Judy was a prosecutor, the epitome of "law" crossed lovers.
The Sheindlins' brief separation in 1990 was largely attributed to Judy not feeling supported by Jerry after her father's death. Her cutthroat attitude crumbled, and she told Jerry she needed him to take care of her; but after five-plus decades of fulfilling a certain role, he was unsure how to appease the normally stalwart Judy. Still, regrets soon came after their expedited divorce, and in 1991 they remarried.
Today, their blended family has expanded to include 13 grandchildren. Jerry enjoys the spoils of his wife's reality TV stardom at their newest residence in Naples, Florida. After four decades of marriage, the judges are clearly doing something right, though we can only imagine what it's like in the Sheindlin household when an argument ensues because neither of them seems prepared to lay down their gavel.