Why Ashton Kutcher Felt 'Like A Failure' After His Divorce From Demi Moore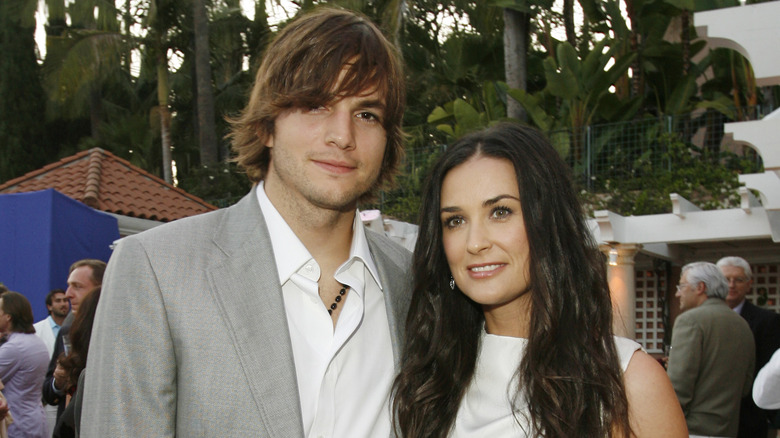 Donato Sardella/Getty Images
Ashton Kutcher and Demi Moore's relationship was one of Hollywood's most unlikeliest couples. The two began dating in 2003 while Kutcher was at the height of his career. That year, he'd just released his hit film, "Just Married," and his prank series "Punk'd" was one of the most popular shows on MTV. He was also the star of a comedy sitcom, "That '70s Show" — this is why he left the series. At just twenty-six years old, he began dating Moore, a woman more than a decade older and a mother of three.
They quickly became a tabloid frenzy and got married in 2005. The couple separated in 2011 and would finalize their divorce in 2013. In Moore's memoir, "Inside Out," she admitted that her excessive alcohol use, Kutcher's infidelity, and trouble conceiving via IVF after suffering a miscarriage drove the couple apart. Kutcher had his own set of regrets for his role in their demise.  When speaking with Esquire in January 2023, Kutcher shared that his being unable to keep his marriage together made him feel like a complete failure.
"Nothing makes you feel like a failure like divorce.  Divorce feels like a wholesale f*****g failure. You failed at marriage," he explained. Even with these feelings, he did admit he was not happy when Moore wrote her life story.
Ashton Kutcher would hear his colleagues bashing him about cheating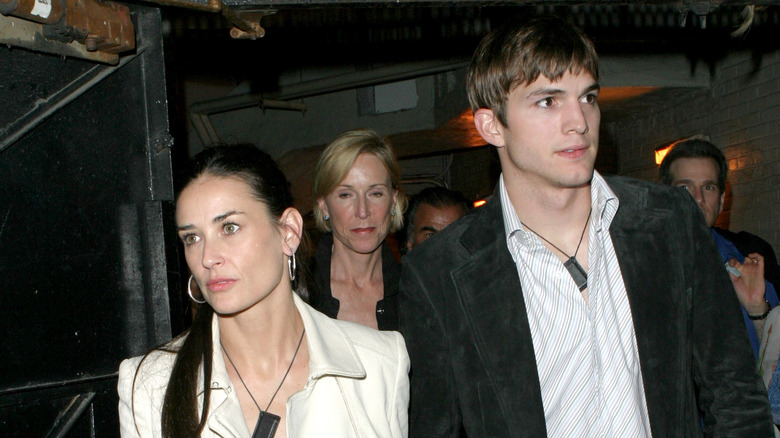 James Devaney/Getty Images
The age gap between Ashton Kutcher and Demi Moore was a topic of gossip, as were the many women that he was allegedly cheating on his older wife with. In "Inside Out," Moore claimed that Kutcher cheated on her with at least two women. The "Ghost" actor said she allowed other women into their bedroom at Kutcher's urging, which "blurred the lines" within their marriage and led to his infidelity.
During his chat with Esquire, the "Valentine's Day" star said he was humiliated to overhear people he respected giving their take on the breakup. He recalled hearing others say, "Can you believe what he f*****g did?" In 2011, the news cycle went wild when a woman named Sara Leal backed Moore's claims, telling Us Weekly that she had a wild California rendezvous with Kutcher during his marriage. Tales such as these followed Kutcher and kept rumors about him alive.
Ashton Kutcher was unhappy about Demi Moore's biography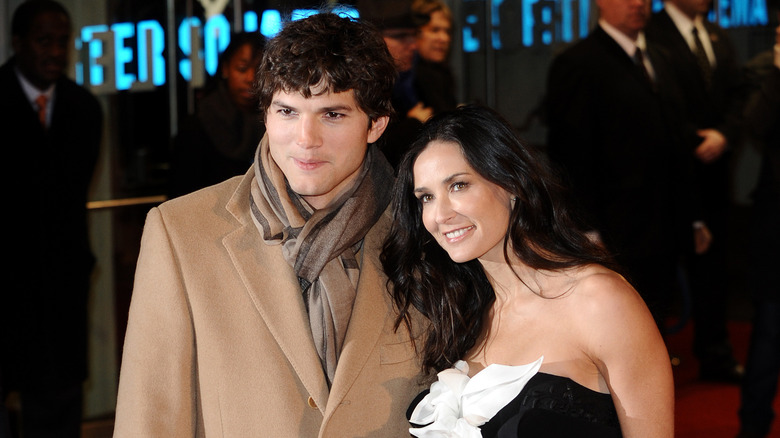 Anthony Harvey/Getty Images
Ashton Kutcher explained that his life with his current wife, Mila Kunis, and their two children was getting back to normal when Demi Moore's book, "Inside Out," was released. Kutcher was no longer a hot topic for the press, and there was no longer an obsession with his love life. For this reason, he is reluctant to speak about his ex these days. However, in his Esquire cover story, Kutcher admitted that he was extremely upset when the non-fiction literature was released. 
"I was f*****g pissed. I'd finally gotten to a place where the press had really laid off me and Mila, and my life and my family. And then the next day, the paparazzi are at my kids' school," he shared.
Both Kutcher and Moore have moved on for the better. Kutcher and Kunis have been married since 2015. Moore's dating life has been mostly private, though she did start seeing chef Daniel Humm in April 2022. The two split in November of that year, and her romantic doings appear to be quiet. Thankfully, Kutcher and Moore have moved on from their rocky love affair amicably.