Why You Won't Hear Savannah Chrisley Talking About Grayson And Chloe Anymore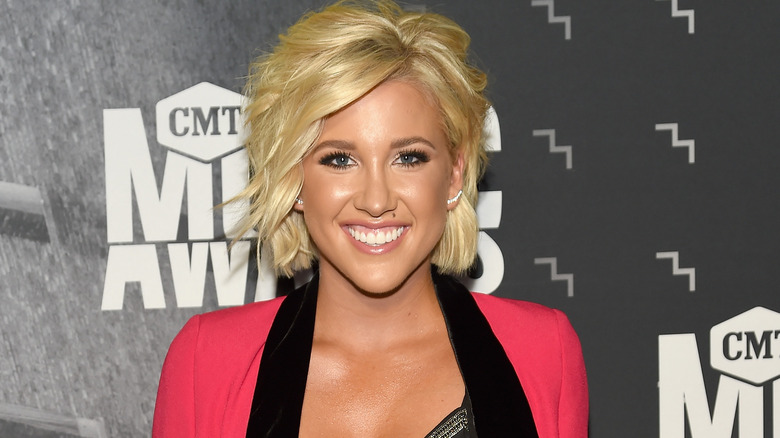 Rick Diamond/ Getty Images
When the reality television series "Chrisley Knows Best" debuted in 2014, the show was an immediate hit. Viewers tune in weekly, eager to see each new episode on USA Network. The show gave an inside look into the life of the successful entrepreneur and real estate developer Todd Chrisley and his wife, Julie Chrisley. Todd Chrisley has two children from a previous marriage, and together, Julie and Todd have had three. In addition, the two care for their granddaughter, Chloe.
The multimillionaire's family leads a seemingly lavish life in the heart of the South. The neighborhoods where the Chrisley family actually lived are in the beautiful and wealthy areas of Atlanta and, in later seasons, Nashville. While the show usually follows the ups and downs of drama within the Chrisley family, in 2022, the family was hit with its most jarring scandal yet.
In June of that year, Julia and Todd Chrisley were found guilty of "bank fraud, tax evasion, and conspiring to defraud the IRS," according to the Associated Press. As one would expect, onlookers have been inquisitive to know how their children Savannah, Grayson, and Chloe are all doing. However, Savannah has recently had a change of heart about sharing this information.
Savannah Chrisley shared too much about Grayson on her podcast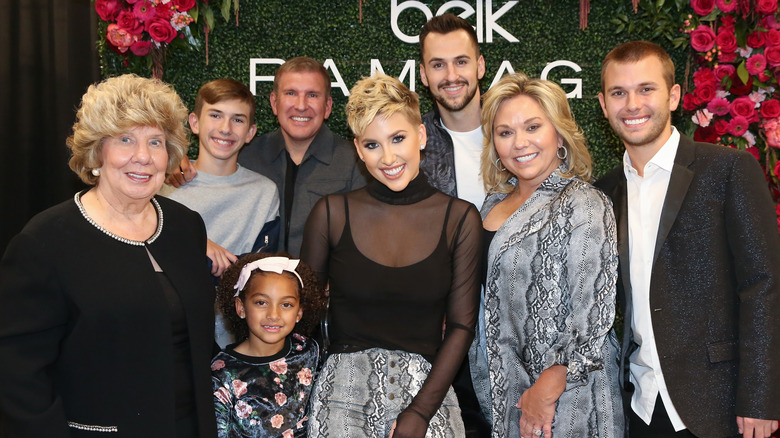 Terry Wyatt/ Getty Images
Todd Chrisley was sentenced to 12 years in prison, while his wife, Julie Chrisley, was sentenced to 7 years. Granted that their children Grayson, 16, and Chloe, 10, are still under eighteen, the two were left at crucial times in their adolescence. As a result, custody of the two minors has been given over to the Chrisleys' daughter, Savannah Chrisley. At just 25 years old herself, she has shared that learning to take care of her younger siblings has been a challenging task. Not only does she have to learn to become a caretaker and role model for them, but she has to do so at one of the most difficult points in their family's history.
On an episode of Savannah's podcast, "Unlocked with Savannah Chrisley," she revealed that though she is trying her best, she doesn't always know exactly how to respond to the devastating deck of cards that the three of them have been dealt. But while unpacking this experience, she mentioned, "Last night, Gray had a breakdown, and he's trying to process my parents and the situation that they're in and how that's not the image that he wants to have of them." Unfortunately, the tabloids picked up this comment and blew it out of proportion.
Savannah Chrisley fears that the tabloids will twist her words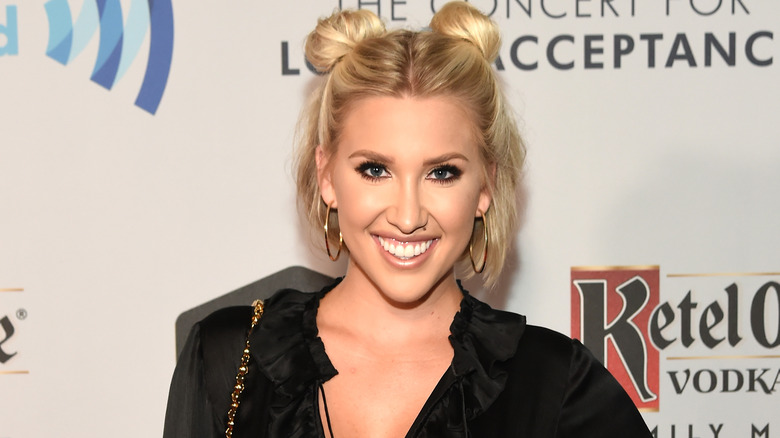 Rick Diamond/ Getty Images
Savannah Chrisley was tearing up and sharing this vulnerable story of Grayson Chrisley's difficulties on her podcast. However, the publication TV Shows Ace transformed this moment into the headline, "Grayson Chrisley Suffers Mental Breakdown Without His Parents." If you can think of yourself at 16, you can imagine how hurtful and embarrassing it would feel to read a news article like this. Not only is Grayson struggling as anyone would with incarcerated parents, but his struggles are being exaggerated and exploited in the public eye.
Defensive over her little brother, Savannah is making sure that this doesn't happen again. In a later episode of her podcast, a fan asked how Grayson and Chloe are doing. Savannah Chrisley responded, "So the last time that we spoke about this, I said that I was not really going to speak about them any further, and I was going to let them tell their stories however they perceive it." Referencing the incident with Grayson, she stated, "I felt bad because so many tabloids like to take things out of context ... One said something about Grayson having a mental breakdown, so I'm like, 'That's not what was said.'" So, in the future, anything we hear about the well-being of Grayson and Chloe will come from them, or at least, it will not come from Savannah.