GH's James Patrick Stuart Couldn't Even Pronounce Valentin's Name When He Landed The Role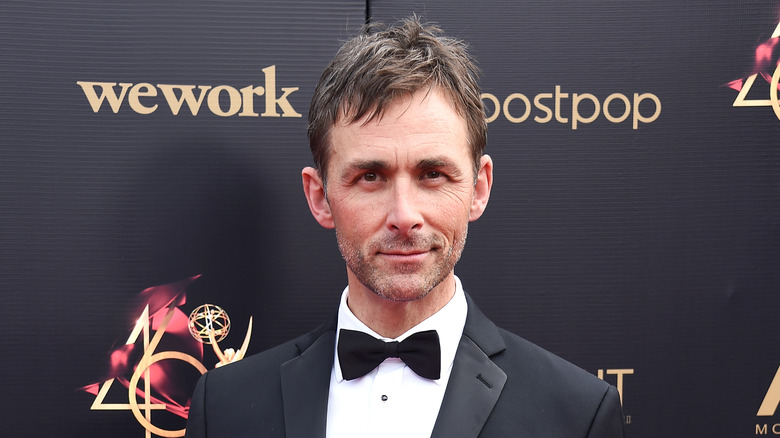 Gregg Deguire/Getty Images
Once considered the most dangerous member of the Cassadine family, Valentin Cassadine (James Patrick Stuart) has grown to become one of the most beloved characters on "General Hospital." Even the vicious Helena Cassadine (Constance Towers) feared him. A former spy, Valentin shares a past with the revered Anna Devane (Finola Hughes) even though when he initially arrived in Port Charles she didn't trust him because of Valentin's criminal reputation. 
The duo had worked together at the World Security Bureau, and over time, Valentin proved himself to be not as evil as the rumors about him would have suggested. Eventually, their long-awaited love scene excited the fans as two characters who were trained to keep secrets for a living were able to comfortably open up to each other. Stuart has become an in-demand actor over the years, from his start as a kid playing the enigmatic Dr. Zee on "Galactica 1980." 
More recently, the soap star had a fun turn as Kraniac on the hit Disney series, "The Villains of Valley View." With a heaping helping of voiceover work as well, Stuart has racked up nearly 160 projects to date and continues to delight us with his highly skilled and enigmatic performances. The actor regaled fans with a hilarious tale about his first time on "General Hospital," and the stupendous blooper that happened as a result.
Stuart's flub briefly halted the taping
During a Q&A session at a recent "General Hospital" fan convention, actor James Patrick Stuart reminisced about his first time on the long-running show. Per Soap Hub, Stuart explained that he'd grown a mustache for his scenes, and was only supposed to work for 10 days. When it came time for Theo to divulge that he was actually Valentin Cassadine, the actor confidently announced, "That's right! I'm Valentine Cassadine!" He had no idea why production suddenly stopped, recalling, "Everyone in the scene is just staring at me." 
Executive producer Frank Valentini could even be heard asking, "Nobody told him how to say his name?" By adding an 'e' at the end of Valentin, Stuart had inadvertently completely changed who the character was supposed to be. Naturally, after realizing his error, Stuart took Valentin to new heights and really made the character his own. He went from someone that was once feared to being the love interest of fellow spy Anna Devane, as well as a doting father.
In 2021, Stuart talked about his fan-favorite character with Soap Central, discussing what it was like to play a villain with hidden depths. "I've said this before, but you don't play a bad guy. Anybody who sets out just to play a bad person is really missing the meat, the main course of the meal," Stuart stated. He went on to note that villains need to have a reason why they are bad, and Valentin's growth has continued to ensure highly entertaining stories.