Soap Stars Celebrate Sasha Calle's Supergirl Premiere With Sweet Y&R Reunion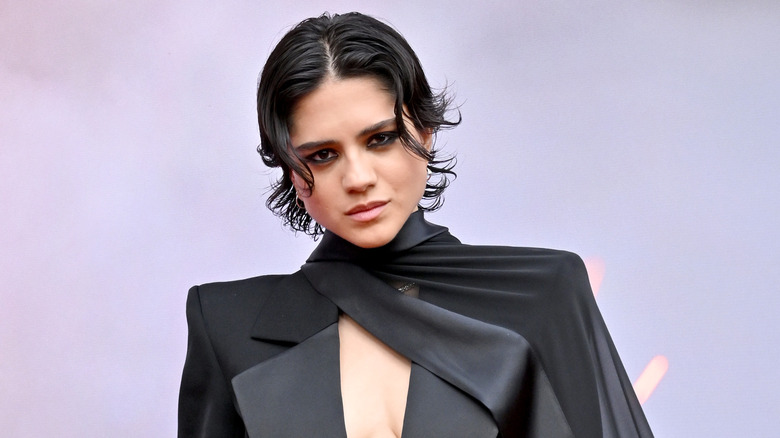 Axelle/bauer-griffin/Getty Images
Many celebrities surprisingly got their start on soap operas, so it should come as no surprise to fans that talented "The Young and the Restless'" alum Sasha Calle has broken away from the pack to join the ranks of vaunted movie stars, playing Supergirl in the upcoming DC Studios film "The Flash." Calle made a splash when her debut as the iconic hero in a trailer for the film appeared as a Super Bowl commercial, sending fans over the moon. The actress became wildly popular playing Lola Rosales on "Y&R," and has broken new ground by being the first Latina actress to play Supergirl. 
Now, as Calle joins the ranks of DC's greatest heroes, she could go on to play the character many times if the film does well at the box office. The actress was so excited when she got the part, she posted on Instagram a selfie of her with a new Supergirl doll in May, captioning it, "There's a [Barbie] that looks like me.. I don't know how to act. I've been taking her everywhere.. flying around and imagining laser eyes haha. Abrazos enormes. Todavía no me la creo. X." The post also had a video of her cheerfully playing with the doll.
When "The Flash" premiered at Ovation Hollywood in Los Angeles, Calle wore a cape to complement her attire, and was joined at later screenings by her former "Y&R" castmates. 
Calle's fans and co-stars were happy to see her in her new role
Former "Young and the Restless" star Sasha Calle recently attended a premiere of "The Flash," in San Antonio, Texas and told The Current that she wanted to be a role model for Latinx youngsters. "You're a Supergirl; you're Supergirl with me. Even if it's not a girl. I don't care who it is — it's all of us up there," she stated. She later went to the movies with her erstwhile "Y&R" co-stars Melissa Ordway (Abby Newman), Bryton James (Devon Hamilton), and Brytni Sarpy (Elena Dawson) to see her new film again. Ordway shared a couple of selfies of the foursome in the theater lobby with the caption: "[Sasha Calle] is SUPERGIRL!!! We love you and we are so proud of you!!! You're a star. CONGRATULATIONS."
Co-stars Lauralee Bell (Christine Blair) and Tracy Bregman (Lauren Fenmore) were quick to respond with applause emojis and a heart. Several fans remarked that they enjoyed seeing the actors together outside of work, and fondly reminisced about Lola Rosales' friendship with Abby. One fan thrilled for Calle responded, "She's about to blow up big time! And she deserves it. All of you are fantastic actors." Many followers congratulated her, and while some wished she were back on "Y&R," others were excited to see Calle in the new film.
We're also excited to see Calle's climb to stardom, and we wish her success!