The Reason Chelsea Clinton Doesn't Listen To Kanye West's Music Anymore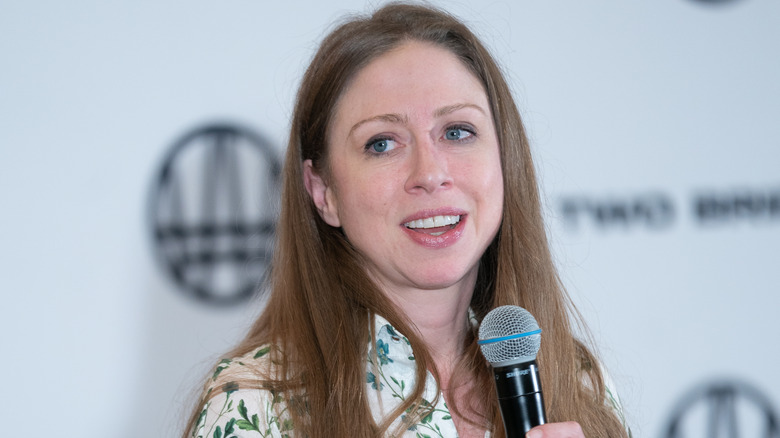 Mark Sagliocco/Getty Images
Chelsea Clinton is the daughter of former president, Bill Clinton, and former first lady and presidential candidate, Hillary Clinton, and she's been in the media since her father took office in 1993. Her name has been in and out of the headlines ever since. One of the recent projects that put her back in the spotlight is the 2022 docuseries that she's taken on with her mother, "Gutsy," in which they interview trailblazing women from different industries. "I think a gutsy woman is determined to make the most of her own life, but also to try to use whatever skills, talents, persistence that she has to bring others along," Hillary told CBS.
For Chelsea, the focus on empowering women translates to life beyond the camera. So much so, it influences large decisions as much as small ones, even if it's as simple as deciding on which music to listen to. She gave up listening to her once favorite musical artist because of his comments on women and has no intention of adding him back to her playlists.
Removing Ye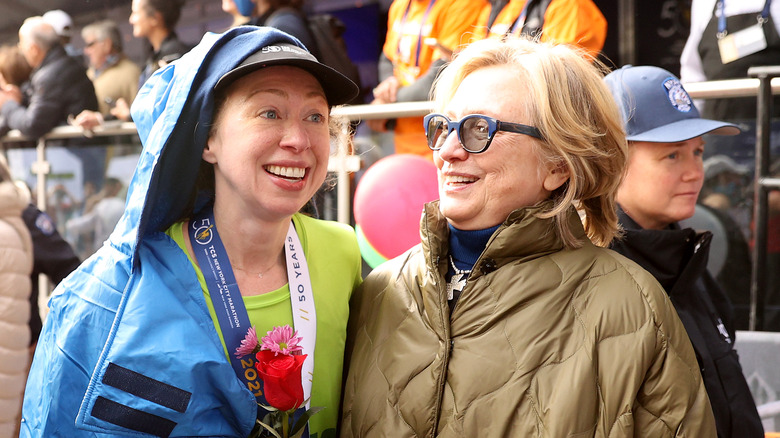 The music of Kanye West, who legally changed his name to Ye, once filled Chelsea Clinton's running playlist. He was one of her favorite artists and she would blast his songs when she went on runs. She remains committed to running, so much so she's run a marathon. Her commitment to Ye's music, on the other hand, is nonexistent. "I've had to let go of Kanye, because it's just, I can't," Chelsea told Entertainment Weekly. "Just the way that he has treated Kim Kardashian, the way that he has talked about women is unconscionable to me. That was some of my favorite running music. And I have removed it from my music library."
Over the years, Ye has been provocative in the public eye. He's said some shocking and problematic things, including matters that made his status and finances take a blow. In a 2022 interview with Tucker Carlson on Fox News, Ye made several controversial statements, ranging from his thoughts on abortion to negative comments about his former wife, to commentary on his design of "White Lives Matter" shirts. This came after his antisemitic post that got his Instagram and Twitter accounts restricted. In addition to celebrities and non-celebrities alike removing him from their playlists, Ye has lost deals with brands like Balenciaga and Adidas.
Empowering women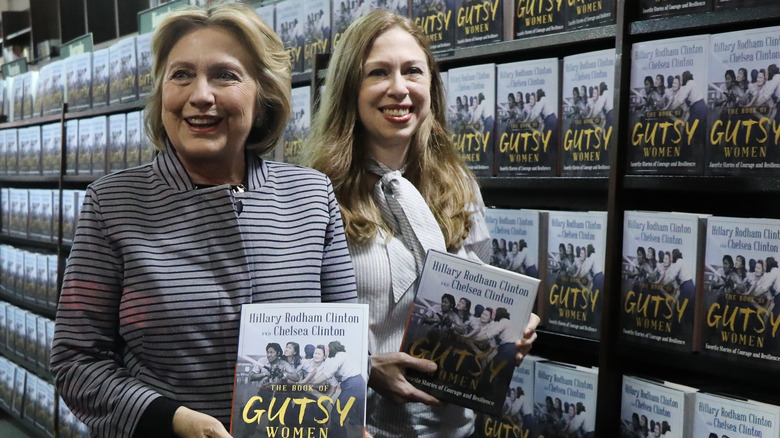 Spencer Platt/Getty Images
As for Chelsea Clinton, she's still focused on uplifting women's voices. In her rejection of Ye, she's embraced his former wife, Kim Kardashian, who was featured on an episode of "Gutsy" where she shared her dedication to reforming the criminal justice system. "I just was really impressed by how not only important this is to her, but how important this is to her definition of who she is," Chelsea told Entertainment Weekly.
Before the show's inception, in 2019 Clinton and her mother released the book, "The Book of Gutsy Women: Favorite Stories of Courage and Resilience," which has a similar goal of highlighting inspiring women. The book was a success and eventually, they created the Apple TV+ show. The first season of "Gutsy" featured eight different women in eight episodes. "I think it's entertaining and earnest together," Clinton told Variety "With the series, we really wanted to spark conversations. And for that to happen, people have to watch it."