The Story Behind Donald Trump's Diet Coke Button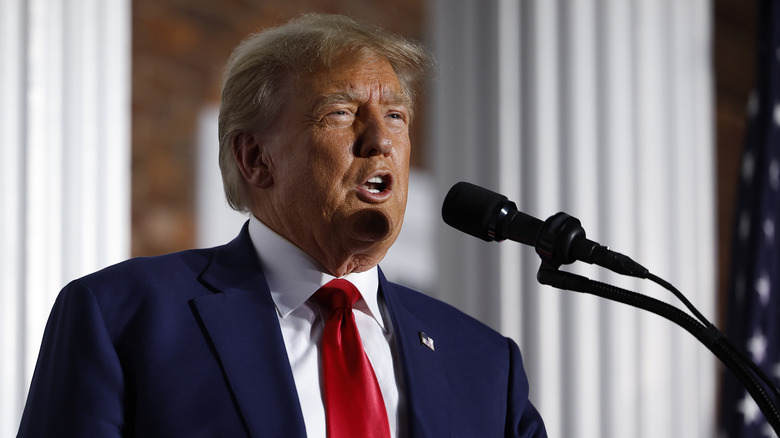 Chip Somodevilla/Getty Images
Donald Trump's presidency from 2017 to 2021 was, at times, filled with disarray and unconventional moments. According to Politico, a former senior administration later compared Trump's administration to the comedy series "Veep." Perhaps nothing illustrates this point better than Trump's Diet Coke button. Located on the iconic Resolute Desk, journalist Tom Newton Dunn explained on Twitter that with a push of the red button, "a butler swiftly brought in a Diet Coke on a silver platter" for Trump. The button was there before Trump took office, and was previously used by presidents to call for assistance.
Trump specifically reworked it for his Diet Coke needs. But not every individual that came into the Oval Office was aware of the button's benign purpose. Per Insider, Mark Meadows, Trump's former chief of staff, wrote in his book "The Chief's Chief" that he was taken aback when he first encountered the red button. He said that it "seemed like something you might use to launch a nuclear missile, or maybe to order SEAL Team Six into action."
When Trump pressed the button, Meadows expected something big to happen, but instead, a Diet Coke was delivered to the president. In 2017, The New York Times reported that Trump drank 12 Diet Cokes a day.
Donald Trump has a well-documented love for Diet Coke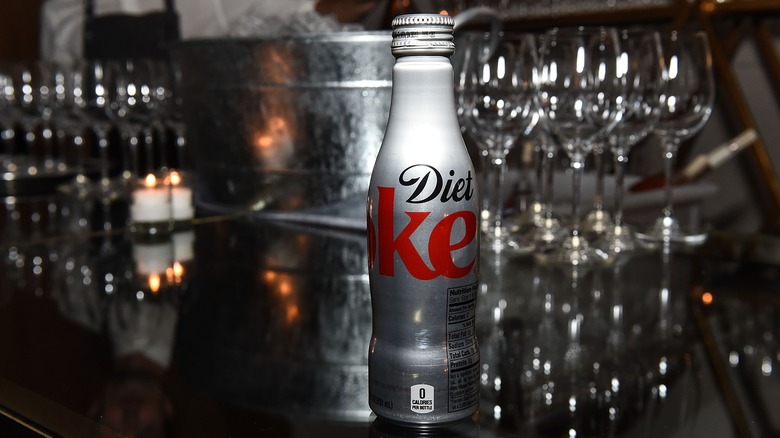 Daniel Zuchnik/Getty Images
Donald Trump's Diet Coke button might not come as a surprise once you learn that the former president has been a fan of the soda for years. While drinking 12 Diet Cokes daily might seem like a lot, this is nothing compared to the gallon he consumed every day amid his 1997 divorce from Marla Maples. 
Of course, drinking drinking Diet Coke everyday has its consequences on one's health. In 2012, Trump himself acknowledged the downsides of his beloved drink in a tweet that read, "The more Diet Coke, Diet Pepsi, etc you drink, the more weight you gain?" In another Twitter post written the next day, he wrote, "The Coca Cola company is not happy with me — that's okay, I'll still keep drinking that garbage." 
In 2018, Trump attended a United Nations General Assembly where he toasted not with wine, but with Diet Coke. A Washingtonian article later revealed that there were specifics when it came to serving Trump's Diet Coke at the BLT Prime restaurant at the Trump International Hotel in Washington, D.C. The many steps included asking if Trump wanted ice or no ice with his Diet Coke, bringing cold bottles of soda on a platter, and opening the Diet Coke in front of Trump, amongst other aspects of the ritual.
What did President Joe Biden do with the Diet Coke button?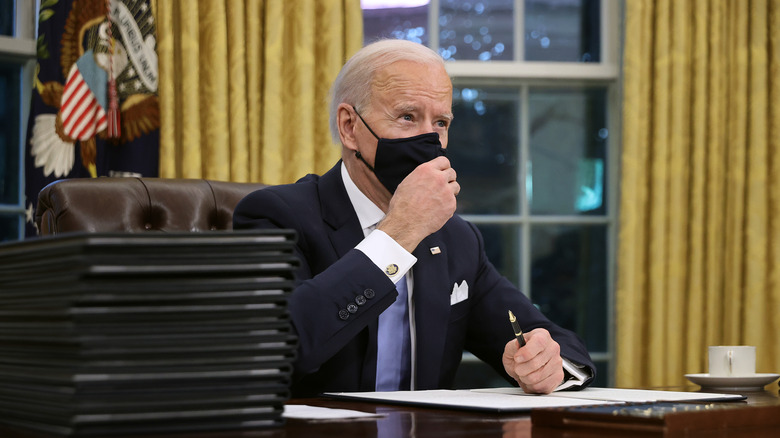 Chip Somodevilla/Getty Images
President Joe Biden took office in January 2021, which left many wondering about the fate of Donald Trump's Diet Coke button. One thing that Joe Biden and Donald Trump have in common is that neither drinks alcohol. However, Biden does not share Trump's love for Diet Coke, but he does like Coke Zero. Nevertheless, shortly after Biden was sworn in, Tom Newton Dunn tweeted, "President Biden has removed the Diet Coke button." As Politico noted, however, this was not quite the truth. A White House official told the publication that the button was still on the Resolute Desk, but there was no word on Biden's plans for the button.
In April of that year, Donald Trump demanded that his fellow Republicans boycott Coca-Cola and what he described in a statement as other "woke companies," per Axios. This spurn came after Georgia passed a voting law deemed racist and unjust, which were not supported by many Georgia-based companies, including Coca-Cola. 
Although Trump called for the boycott of Coca-Cola, the former president did not appear to heed his own advice and was pictured drinking a Coke days after calling out the company. Moreover, several CNN reporters went to various of Trump's establishments throughout the country that month only to find that they were still serving Diet Coke and other Coca-Cola drinks.