How Many Kids Does Hollywood Legend Al Pacino Have?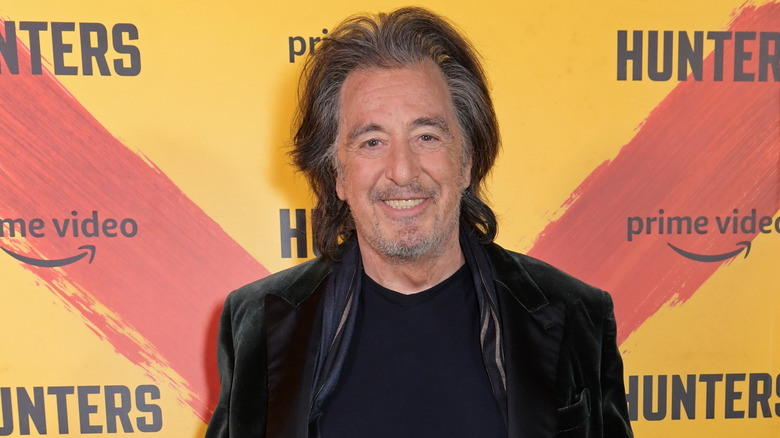 David M. Benett/Getty Images
Al Pacino is one of Hollywood's most legendary actors, starring in films such as "The Godfather," "Serpico," "Dick Tracy," "House of Gucci," and "Scarface." However, the actor is also leaving behind a legacy for his three adult children and the one he has on the way. Pacino's oldest child, daughter Julie Marie Pacino, was born in 1989. Although her father is an acting icon, her mother, Jan Tarrant, is also in the entertainment business working as an acting coach. A talent for show business seems to run in the family, as Julie is an actor, director, producer, and filmmaker.
"As a child I was always making little shorts with my friends and writing stories to act out. I remember visiting film sets as a kid and always being incredibly intrigued by the alternate reality that I was stepping into," Julie told New York Film Academy in 2014. "Making movies and watching movies was always very therapeutic for me. I liked being sucked into a story, falling in love with the different characters and ultimately learning something about my own desires and myself. I feel very fortunate that I knew from an early age that I wanted to work in the film business."
Julie even started her own production company in 2009 called Poverty Row Entertainment. The company focuses on short-format work like commercials and music videos. "It's great to be able to work on something from start to finish," she said. "I learn something new every time."
Al Pacino shares twins Anton and Olivia with actress Beverly D'Angelo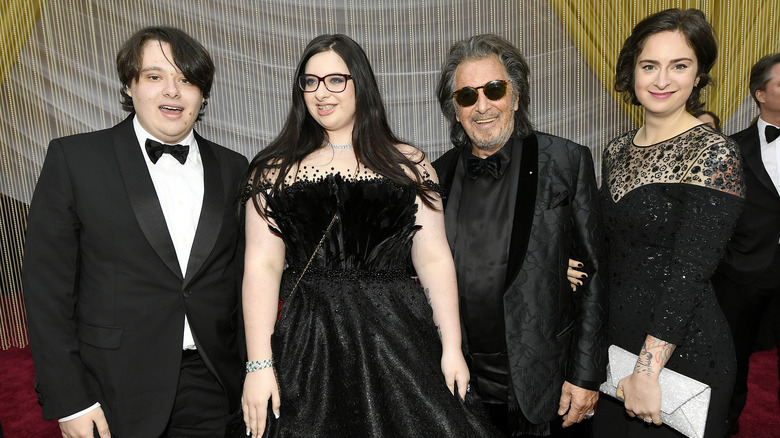 Kevork Djansezian/Getty Images
Several years after the birth of his first child, Julie, Al Pacino welcomed twins Anton and Olivia with his then-partner Beverly D'Angelo. The celebrity couple used in vitro fertilization to conceive the twins who were born in 2001, just two years before the couple ended their relationship. Anton is a bit of an unknown to fans, as he's not in the spotlight like his famous father. Over the years he's kept himself away from the media and has rarely been photographed. He also has very little social media presence, making him even more mysterious to fans (per People Magazine). However, the "Scent of a Woman" star has mentioned his only son in the media, even revealing that he keeps a special painting that Anton made for him near his fireplace (via The New Yorker).
According to Parade, Anton's twin sister Olivia Pacino is much more open about her life. She has a large social media following and doesn't hesitate to gush over her famous parents in her posts, honoring them with sweet snaps and throwback photos from her childhood.
In addition, actor/model Camila Morrone has also become like a stepdaughter to the Hollywood icon, as he spent many years in a relationship with her mother, Lucia Sola.
Al Pacino is expecting his fourth child with Noor Alfallah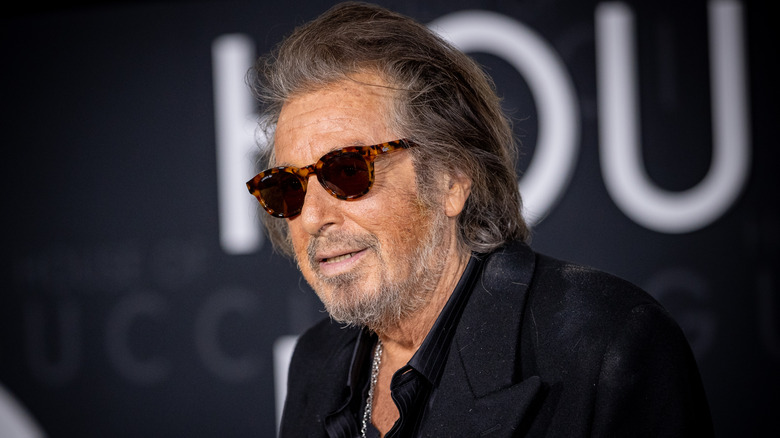 Emma Mcintyre/Getty Images
In June 2023, Al Pacino made headlines when it was revealed that he was going to be a father again at the age of 83. The actor and his 29-year-old girlfriend Noor Alfallah confirmed that they were expecting a child together. When asked by a photographer how he felt about the late-in-life parenting news, the actor revealed that he was excited about the new addition to his family. "It's very special," he said (via The Daily Mail). "It always has been. I've got many kids. But this is really special coming at this time," he added.
Meanwhile, the acting icon has always spoken highly of being a father. During his 2014 interview with The New Yorker, he gushed over how his life changed when his children were born. "It's the missing link, so to speak," he said. "Having children has helped a lot. I consciously knew that I didn't want to be like my dad. I wanted to be there. I have three children. I'm responsible to them. I'm a part of their life. When I'm not, it's upsetting to me and to them," he revealed.
While Pacino may be one of the most famous actors of his time, it appears that one of his greatest roles will also be as a father to his children.