Why You Should Consider Avoiding Skincare Products Containing Talc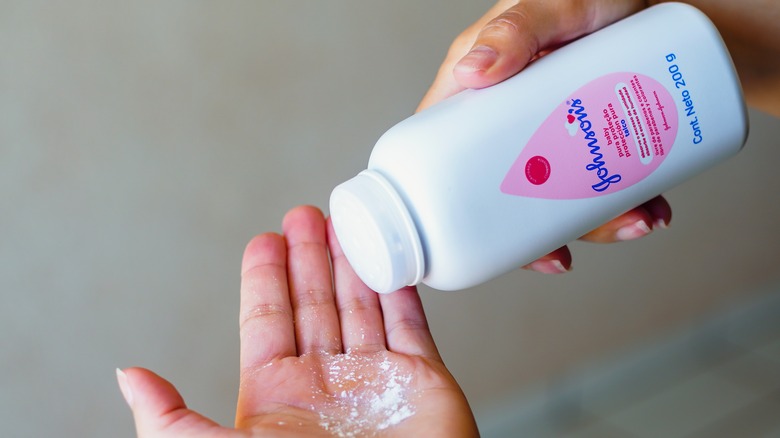 rafapress/Shutterstock
We may receive a commission on purchases made from links.
For years, talc has been used in cosmetic and skincare products. Makeup products such as eyeshadow, foundation, and lipstick have been known to include the substance, as it is meant to make their application smooth. Talcum powder has been around for decades as a moisture absorber and body deodorizer. Many baby powders have incorporated talc in their formulas to help with preventing diaper rash. Though many products in every aspect of body care continue to use talc, some experts are now warning users to exercise caution and know their facts when using items that contain talc.
Talc is a naturally created mineral composed of silicon, magnesium, oxygen, and hydrogen, per the U.S. Food and Drug Administration. The biggest concern regarding talc is its potential exposure to asbestos, which is toxic to humans. Talc can become contaminated during the mining process, according to a study in the National Library of Medicine. Once this tainted mineral finds its way into products used on the skin, serious illness can follow. Thousands of lawsuits have plagued big companies such as Johnson & Johnson from millions of victims claiming to have been sickened after using products containing asbestos-contaminated talc. This is why you should do your best to avoid it if possible, especially if you wear makeup every day.
Studies examine link between talc and cancer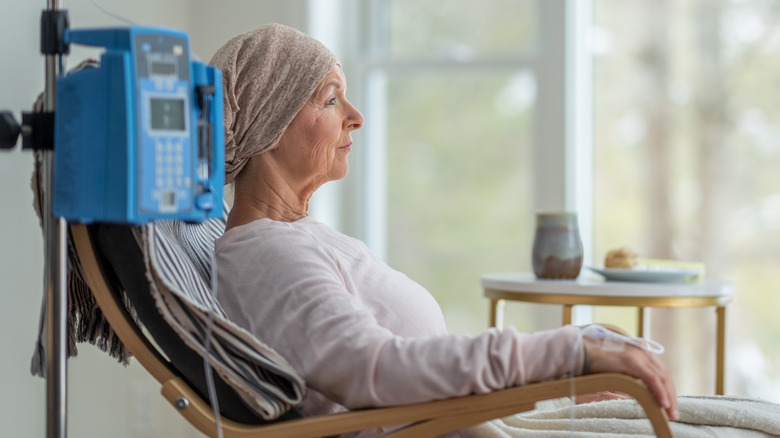 Fatcamera/Getty Images
The biggest concern surrounding products made with talc is the risk of cancer, as researchers work to determine a link to asbestos-contaminated talcum powder. This includes an aggressive form of lung cancer known as mesothelioma as well as ovarian cancer. Research has shown that women who regularly used talc-based baby powders on their intimate areas were at a slightly greater risk for developing ovarian cancer, according to a study in the National Library of Medicine. In April 2023, Johnson & Johnson reached an $8.9 billion settlement for those diagnosed with cancer and the loved ones of those who died after using talc-based J&J products, particularly its baby powder.
Luckily, change has occurred within the beauty industry. Many brands are now more health-conscious with what they use in their cosmetics and skincare. Arm and Hammer offers a talc-free body powder to target sweat and unwanted body odor. If you're specifically looking for an alternative for babies, Hello Bello has a vegan baby powder that is fragrance-free and talc-free.
Additionally, to be safe, ensure your cosmetic buys also exclude the substance. Several companies have begun including "talc-free" on their labels to give buyers peace of mind. One example of this is the Laura Mercier Ultra-Blur Talc-Free Translucent Loose Setting Powder. It's important to look for these types of labels as opposed to simply buying those labeled "organic." Since talc is a natural mineral, it would fall under any organic category. Try supporting those that specifically state they are free of this ingredient.
Talc poisoning may also be a concern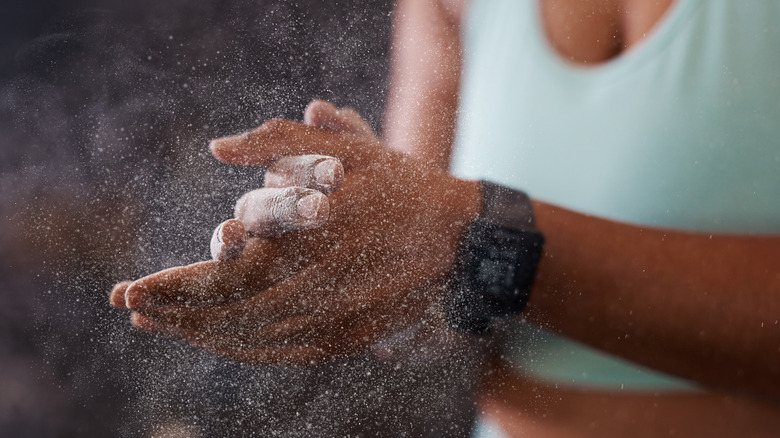 Hiraman/Getty Images
Even if you are fortunate enough to be spared from cancer, products that contain talc can lead to an illness known as talc poisoning. This can occur when you inhale talc, either in a large amount one time or over a prolonged period, according to DrugDangers.com. Breathing problems are widely reported with talc poisoning, and kidney and bladder issues may also arise, according to the Atlantic Health System. These are marked by the lack of urination. Some people may collapse, experience low blood pressure, vomiting, seizures, or even a coma if the poisoning is severe. Think of every time you used loose powder on your face to set your makeup. The powder does tend to fly as you shake off the excess or apply it to your face. If the product contained talc, then you may have inhaled it.
Melanie Petschke, a board-certified family nurse practitioner and co-founder of Crunchi Cosmetics, spoke with Harper's Bazaar to urge people to steer clear of all talc goods, including those that claim to be asbestos-free. "Even talc that claims to be asbestos-free is not safe for use, as testing methods used to detect the absence of asbestos are flawed and inaccurate," Petschke explained.
Consult your dermatologist if you need assistance choosing the best and safest skin care products available. They frequently sell particular items that have been evaluated and are free of harmful components in their offices. There is also the option to stop wearing makeup, which also eliminates the risk of using talc makeup products altogether.