How Arnold Schwarzenegger's Affair Impacted The Relationship Between His Kids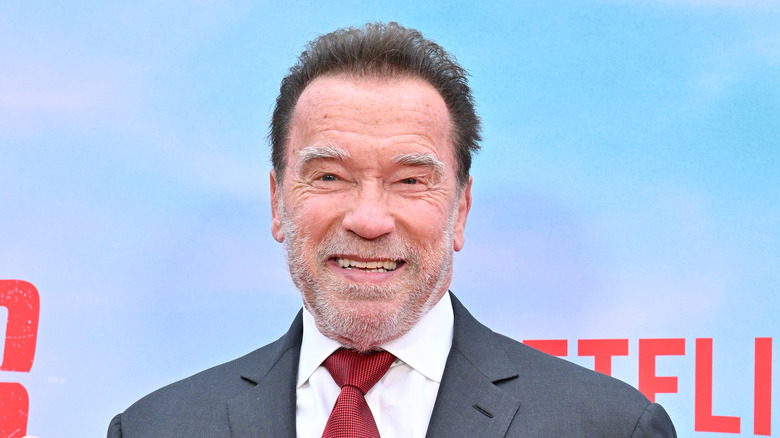 Axelle/bauer-griffin/Getty Images
In 2011, action legend and former California Governor Arnold Schwarzenegger made headlines for a shocking reason — He revealed that he had an affair with his housekeeper, Mildred Baena. This relationship resulted in a son, Joseph Baena, born in 1997. At the time of his birth, Schwarzenegger had been married to journalist and Kennedy family member Maria Shriver for over a decade. Together, Arnold and Shriver share four kids; Katherine Schwarzenegger Pratt, Christina Schwarzenegger, Patrick Schwarzenegger, and Christopher Schwarzenegger. 
Arnold has repeatedly apologized to his family for the affair and has gone on to form a relationship with his son, Joseph, too. Despite this, Page Six reported that Arnold's children with Shriver aren't too keen on having a relationship with their half-brother. News of the affair led to the end of Arnold and Shriver's longtime marriage, and they officially divorced in 2021. A source admitted, "To be honest, the other kids don't love Joe. It's a shame as he's a really good kid, and Arnold has always treated him like all his other kids — very fairly. But for whatever reason, the other kids take [the affair] out on Joe." 
With this in mind, the strain between Arnold's children has been evident on social media and during public outings alike. 
Katherine Schwarzenegger Pratt has repeatedly snubbed her half-brother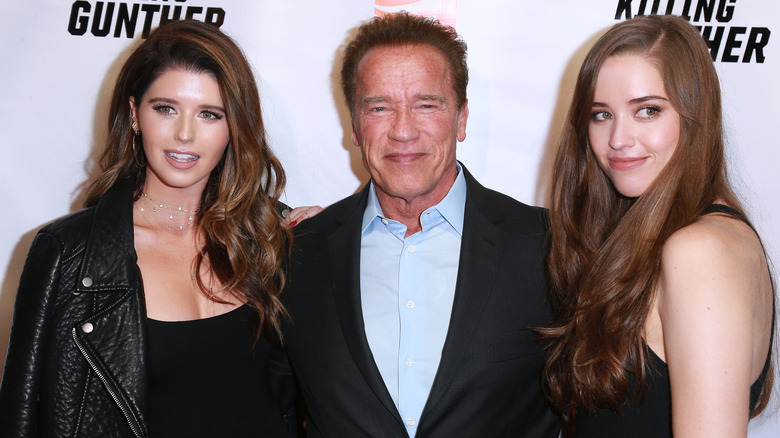 Leon Bennett/Getty Images
In May 2023, Arnold Schwarzenegger attended the premiere of his new series, "FUBAR," with Katherine Schwarzenegger Pratt, Christina Schwarzenegger, and Joseph Baena. However, fans noticed that his half-sisters paid no attention to Baena on the red carpet. This is not the first time this has happened either. Katherine, specifically, has given Baena the cold shoulder on previous occasions. In 2019, she posted a photo on Instagram for National Siblings Day. The image featured Christina, Patrick Schwarzenegger, and Christopher Schwarzenegger. She did not acknowledge or include a photo of Baena.
Fans in the comments put Katherine on blast for snubbing her half-brother, with many pointing out that he was not at fault for their father's affair. Likewise, Katherine didn't invite Joseph to her wedding to actor Chris Pratt. A source argued to Page Six, "Why should she have a relationship with this kid? Joseph is the product of an affair that Arnold kept hidden for years! This was a deeply damaging and shameful situation that destroyed her family. I can't say I blame her for not wanting to embrace this living ­reminder of that."
Another insider reasoned that Joseph wouldn't have gone to the wedding regardless, noting, "It would have definitely taken away the shine from Katherine's big day. It would have really been the only story of the day." Tellingly, Baena does not follow any of his half-siblings on Instagram. However, he was pictured working out with Patrick in 2021.
Arnold Schwarzenegger and Joseph Baena share a close bond
Arnold Schwarzenegger has admitted that coming clean about his affair to then-wife Maria Shriver and their children was a grueling experience. In the docuseries "Arnold," he admitted, "Everyone had to suffer. Maria had to suffer. The kids had to suffer. Joseph. His mother. Everyone." Of Joseph Baena, he said, "I love him and he has turned out to be an extraordinary young man," (via People).
Likewise, Schwarzenegger has often publicly said that he is proud of his son. Like his father, Baena, who bears a striking resemblance to Schwarzenegger, is a bodybuilder and an actor. Baena has said that he and Schwarzenegger were not immediately close after his paternity was revealed. Thankfully, that eventually changed. In 2022, Baena appeared on "Dancing with the Stars." In one of his performances, he portrayed Hercules. 
According to People, Baena gushed about Schwarzenegger after his dance: "I love my father. He's the smartest, best man I can think of." He added, "So, you know, to be compared to him, to be in the same character, Hercules — you know he played Hercules in New York. It's amazing, you know? It's awesome. And who doesn't want to be like their father, right? So, it's great." Baena has also posted photos of him and Schwarzenegger exercising together too.