Kim Kardashian Turns Barbiecore Up A Notch For North West's All-Pink Birthday Party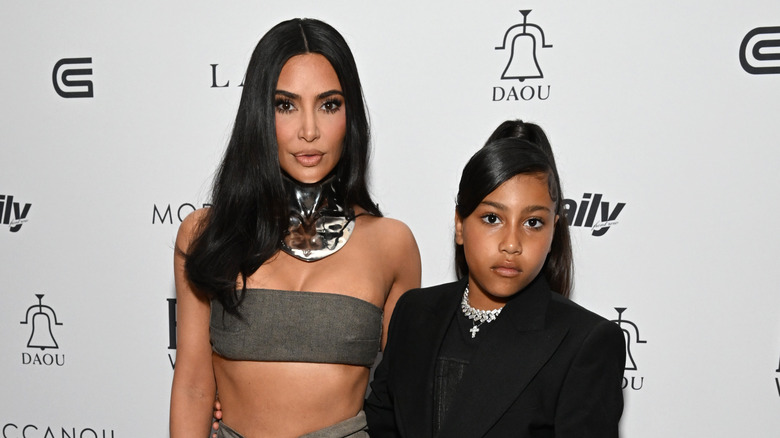 Michael Kovac/Getty Images
Kim Kardashian's daughter North West is now a decade old. West and her best friend Eva celebrated another year on planet Earth with a joint birthday sleepover. Penelope Disick, West's cousin, started the "Happy Birthday" rendition with a microphone in hand, before their army of friends, all wearing matching Barbiecore-pink PJs, joined in. They sang around a stunning four-tier cake. The silver desert draped in beads looked straight out of a wedding magazine.
The party was fit with everything a girl needs to have the night of her life — food, friends, and killer decorations. Hello Kitty was spotted all over the Beverly Hills Hotel suite. Even mocktails were named after the birthday girls. Eva's Lavender Haze featured lemonade and blueberries, while West's signature drink was a blend of grape soda, pop rocks, and cotton candy.
Kim and her sister, Kourtney Kardashian, were among the group of pre-teens sporting Barbie's favorite color. Kim's youngest son, Psalm, also joined the festivities. He broke up the sea of pink, rocking black from head to toe. And with the Kardashian kid's insanely glamorous life, you know the party couldn't just stay inside.
From hotel to party bus
Kim and Kourtney took the party out on the town, loading the pink-pajama-wearing pre-teens into a party bus. The paparazzi reminded North she was not an ordinary kid, as cameras flashed hundreds of times. In a report from TMZ, the photographers asked North what she wanted for her birthday, to which her friend jumped in saying, "She wants Gucci and Louis Vuitton and Hermes." Kim quickly came like a mama bear, shutting down the questions and urging the pink partygoers onto the bus.
North shares a birthday month with her dad, Kanye West, who celebrated his birthday on June 8. North attended his party with the newest addition to West's dating portfolio, his new wife Bianca Censori. North was spotted holding hands with Censori, wearing all black with special effects blood makeup on her face. It was a completely different look from the PJ uniform of her Barbiecore sleepover.