The Complete Evolution Of The Summer I Turned Pretty Star Lola Tung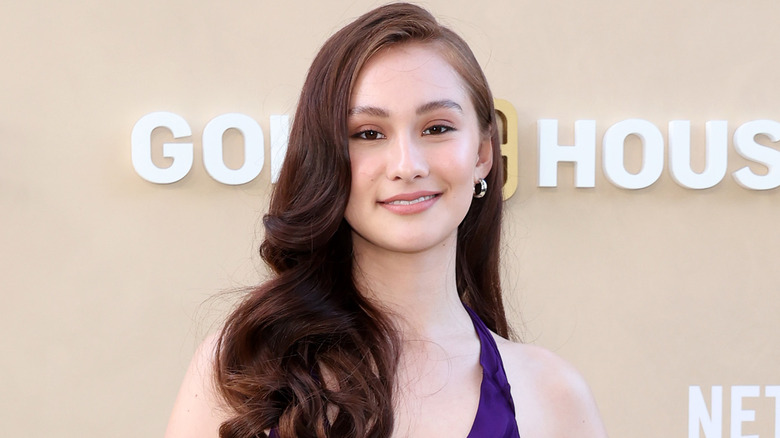 Monica Schipper/Getty Images
Since watching "The Summer I Turned Pretty" on Amazon Prime Video, fans may have wondered where they've seen the actress playing Isabel "Belly" Conklin before. As it turns out, the successful series marks Lola Tung's very first professional acting role — ever. The summer that Season 1 premiered, it quickly became the platform's top show. And, seemingly overnight, Tung turned into a star. 
When the actress was initially offered the role, she never dreamed of the impact that playing a lovestruck teenager would have on her life. As fans of both the series and the best-selling books would be delighted to know, Tung sees a lot of herself in her character Belly. "She's figuring everything out and finding her own path and coming into her own," Tung explained during an interview with Glamour. "That's something I'm definitely still doing in my life right now and that a lot of people can relate to."
From life as a student to becoming a breakout television star, the young actress has had an incredible evolution over the years.
She started acting at a young age
Lola Tung fell in love with acting during her sixth-grade production of "The Wizard of Oz." Playing the Tin Man was the very first time she had ever performed in front of a crowd, and she also described herself as "a pretty shy kid" during an interview on Collider's "Ladies Night." "I don't really know why I auditioned," she said. "I think I was kind of like, 'I'll try this out.'"
Yet, stepping onto the stage was something that Tung could never forget. She quickly realized that she wanted to pursue the dramatic arts further. Her parents, who are also artists, enrolled her in the prestigious New York City performing arts high school, LaGuardia, which talents like Jennifer Aniston, Timothée Chalamet, Awkwafina, and Sarah Michelle Gellar have also attended.
"When I first got to high school, I knew that I loved acting, and I knew that I wanted to do it," Tung told 1883 Magazine. "But I think I really got serious about it when I was [at LaGuardia] acting every single day." 
Lola Tung studied drama at Carnegie Mellon University
When it came time to graduate from high school, Lola Tung knew she wanted to continue her studies in acting. She was researching various universities when she came across the drama program at Carnegie Mellon University in Pittsburgh. But never in her wildest dreams did she imagine that she'd be accepted into the school. "I auditioned because it's amazing, but it was very much a stretch," Tung told the Pittsburgh Tribune-Review's TribLive. "And then I ended up getting in."
Tung was ecstatic to be accepted into such an incredible program and couldn't wait to get started. However, due to the COVID-19 pandemic, she was unable to visit the campus to get a good idea of what she was signing up for. When she did start her first semester in the fall of 2020, the New Yorker quickly fell in love with Pittsburgh and all that drama school had to offer. Tung explained that she benefited from her acting classes, as well as "being away at school and living on my own and being in a more professional setting where everyone is so passionate about the work."
The actress was discovered by her manager after high school
To help set students up for success, LaGuardia High School has a showcase at the end of each year for graduates who are interested in pursuing acting professionally. Showing off your talent during this virtual showcase is how many of their students are recognized. Still, when Lola Tung recorded a monologue from her bedroom, she had no idea what was in store for the next chapter of her life.
Her now-manager was intrigued by Tung's senior showcase and wanted to submit her for professional acting roles. In 2021, during her second semester at Carnegie Mellon University, she received an exciting phone call. Tung's manager asked her to submit an audition tape for a role she thought would be perfect for her: It was for a new show on Prime Video based on a book series called "The Summer I Turned Pretty."
Lola Tung booked her first on-screen role in 2021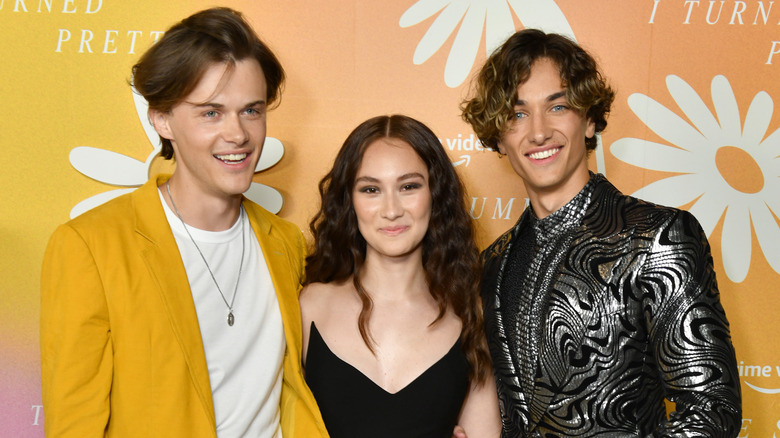 Craig Barritt/Getty Images
After Lola Tung's manager suggested that she audition for "The Summer I Turned Pretty," the young actress opted to give it a try. She enlisted the help of her Pittsburgh roommates to record her audition, but she never anticipated hearing back about the role. "I filmed the tapes with my roommates, who were also (CMU) drama majors, and I submitted them and then got a call that they wanted me to test for the role a couple of days later," Tung told TribLive. 
Soon after, she received a call to test for the lead role of Isabel "Belly" Conklin. After that, the young actress found herself coming home from her college classes and logging onto Zoom for chemistry readings with the other potential stars of the new series. "After the process had been going on for a little while, I got a call saying that Jenny [Han, the book series' author], one of the directors, and some of the producers had wanted to talk with me and just kind of get to know me," Tung explained during an interview with InStyle. However, only a few minutes into the call, Tung learned she had booked the role.
The actress left college for the semester, heading down south for the start of a magical summer on the set of "The Summer I Turned Pretty" in Wilmington, North Carolina.
She became a breakout star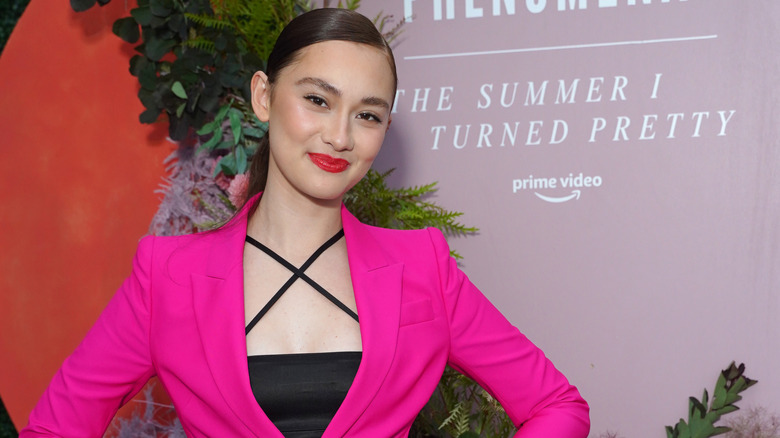 Sean Zanni/Getty Images
By the time the first season of "The Summer I Turned Pretty" hit Prime Video for fans to binge, it was already deemed a television success. It was announced that there would be a second season before the series had even premiered, which immediately turned its young cast into stars.
For Lola Tung, it was an adjustment to go from being an acting student to a breakout star practically overnight. "I think [fame] can be overwhelming at times," the young actress admitted during an interview with The Zoe Report. "But I am really grateful that, for the most part, there's been such a positive reaction [to the show]."
Tung credits her success in part to the guidance she received from creator Jenny Han, the mastermind behind the Netflix film franchise "To All The Boys I've Loved Before" (which Tung watched years before booking her own role in Han's fictional universe). "Having a wonderful support system, from my parents to Jenny to the cast, has helped a lot, too, in that you're never alone in feeling overwhelmed or stressed," Tung said. 
The actress re-recorded The Summer I Turned Pretty as audiobooks
Those who have read Jenny Han's best-selling books "The Summer I Turned Pretty," "It's Not Summer Without You," and "We'll Always Have Summer" get to experience multiple summers at Cousins Beach from the perspective of Isabel "Belly" Conklin. In 2022, fans of those books were also able to hear all about those same summers, narrated by the same actress who plays her on television.
That year, Lola Tung re-recorded the audiobooks for readers to enjoy, with the help of her co-stars Christopher Briney (who plays the elder Fisher brother, Conrad) and Gavin Casalegno (who plays Conrad's younger brother, Jeremiah). "It's been an absolute dream come true to work on this project," Tung shared during the official announcement of the new audiobooks. "And I'm very excited for fans, old and new, to fall in love with the characters all over again." Though there are differences between the book series and its television counterpart — including an integral character that wasn't even in the book — fans are sure to enjoy both listening to and watching Belly's story.
The star began partnering with fashion brands
In addition to acting, Lola Tung has always had a passion for activism. Over the years, she's taken to social media to draw attention to climate change and various political causes. "I feel very grateful that my parents always encouraged [these conversations] and instilled in me that my voice mattered and that my opinion mattered and that I should fight for the things that I believe in," the actress told 1883 Magazine.
Tung has also partnered with fashion brands to draw attention to some of these same issues. She's currently the face of Coach's brand Coachtopia, which uses recyclable and renewable materials to create handbags, shoes, and other accessories. "I think circular fashion and everything that they are striving for with Coachtopia is the future of fashion and the only way to work towards creating an industry that isn't so harmful to the planet and to our home," Tung told Teen Vogue.
The actress and her "The Summer I Turned Pretty" co-stars have also partnered with American Eagle to promote their summer line, "The Summer of Us." As the company's Chief Marketing Officer, Craig Brommers, explained to Retail Dive, marketing for the new line is geared toward curbing the feelings of loneliness heightened during the COVID-19 pandemic. Close connection to others is definitely something that the cast enjoyed while filming the series. "We had the best time, on and off set," Tung told the "Today" show.
Lola Tung aspires to return to theater someday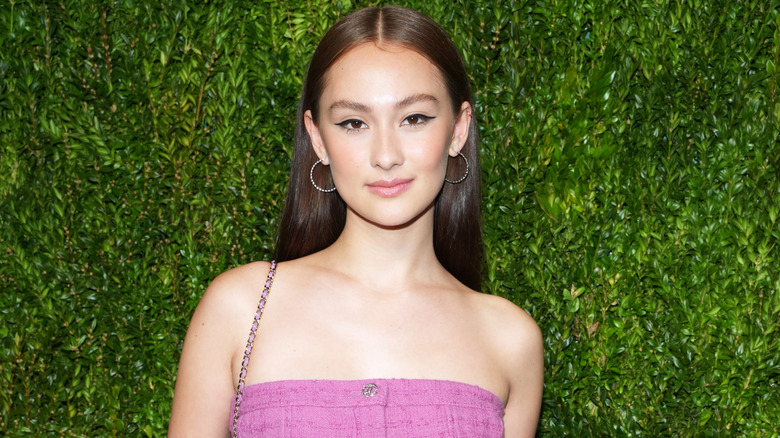 Sean Zanni/Getty Images
"The Summer I Turned Pretty" is the only professional acting gig that Lola Tung has ever had. But is there a dream role out there that she'd love to snag? It turns out, she eventually wants to return to her roots in live performance. "I started as a theater kid, and it'd be really cool to do theater at some point again," she told InStyle.
One of the last shows that the young actress saw on stage was "Hadestown" on Broadway, which she was completely blown away by. It also might include her next dream role. "It was so magical, and the music is so beautiful," Tung said of the show. "And I think Eurydice is such a beautiful character, and that'd be really cool [to play]."
Who knows what the future holds for Lola Tung? For now, the young actress is enjoying playing Isabel "Belly" Conklin and soaking up all the success of "The Summer I Turned Pretty." "I'm really focusing on season two at the moment," Tung told 1883 Magazine. "And we'll see what happens next."