Whoopi Goldberg's Grandchildren Are Grown Up And Gorgeous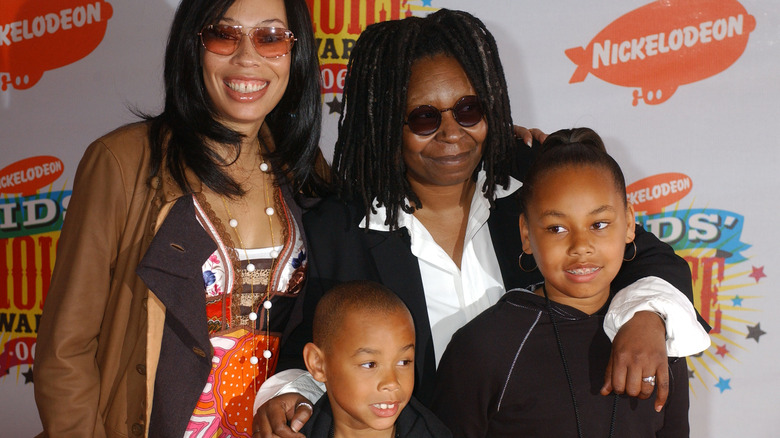 Albert L. Ortega/Getty Images
Whoopi Goldberg is a tremendous talent loved and respected for all she's achieved. Her award collection is so impressive that she's secured Emmy, Grammy, Oscar, and Tony trophies. But if you thought she displayed them in a case far away from her grandchildren, you'd be mistaken, as her eldest grandchild, Amara Skye Dean, has fond childhood memories of playing with her grandmother's prized possessions.
"Yes, I could see them all the time," Amara told the New York Post of the awards. "She put them up higher now, so now I can't reach them, but yes, I did get to play with them ... I'd go and find them." That's not her only fun memory from being the grandchild of a superstar, though. Amara also got to visit various sets of films Goldberg was working on — if you're wondering whether there's one that stands out, it was the 1993 film, "Sister Act 2: Back in the Habit."
Goldberg is a grandmother to three children, born to her only child, Alex Martin. She became a grandmother at a young age but has been incredibly involved in her grandkids' lives and shares a close bond with them. But who are Amara, Jerzey, and Mason Dean, besides being the grandchildren of a Hollywood legend?
Whoopi Goldberg's daughter was a young mom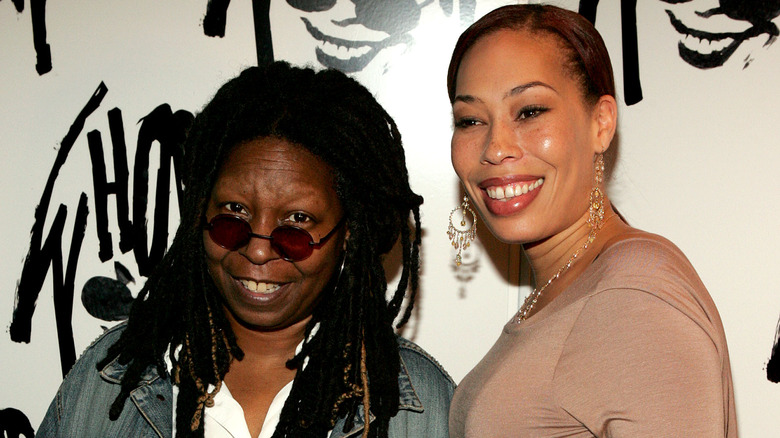 Paul Hawthorne/Getty Images
Whoopi Goldberg was a young mother, giving birth to her daughter, Alex Martin Dean, when she was 18. Like Goldberg, Alex also became a mother in her teens. At just 16, Alex gave birth to her first child, Amara Skye Dean. Despite her age, she has been incredibly dedicated to raising her three children with Amara reflecting on her family life in a 2022 interview with Essence.
"We're a young family," she said. "My grandmother's mother raised me for a little bit. My grandmother is a great-grandmother to my daughter. So we've created that connection. There's only five of us in our family. We're all we've got, so we take each other real close."
Amara has also praised her grandmother and her mother for their strength, which gave her the confidence to determine who she is. "My mom and my Granny are two of the strongest woman I know which allows me to be so unapologetic with my artistic expression, it's a blessing to have such empowering woman in my corner," she told The Knockturnal in 2018.
Alex Martin was always a dedicated mother to her kids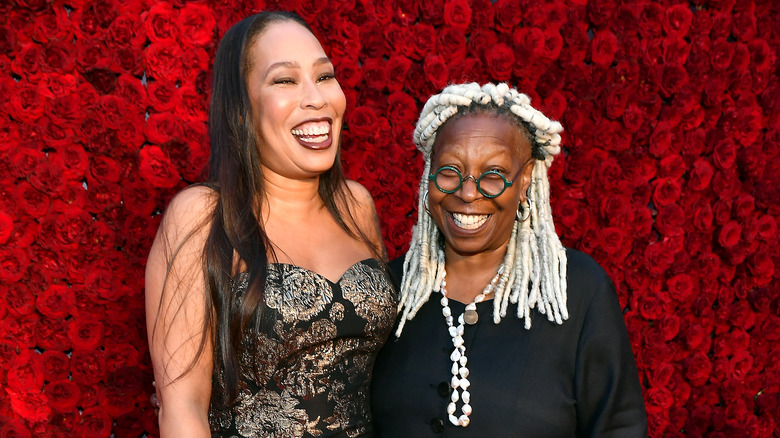 Paras Griffin/Getty Images
Alex Martin is the only daughter of Whoopi Goldberg. Her father is Alvin Martin, who the "Sister Act" actress was married to from 1973 to 1979. Alex became a mother at a young age but has always been incredibly dedicated to doing her best for her children, with her own mother praising her abilities. An insider told Page Six how during a birthday celebration for Alex in 2014, Whoopi Goldberg gave a speech, saying: "Alex is a better mother to her three kids than I ever was." This is high praise considering Goldberg has always taken her role as a mother seriously.
Goldberg may feel that her daughter is a fantastic mother, but she too worked hard to make ends meet — long before the fame and wealth she earned thanks to her incredible acting career. Reflecting on her childhood in a 2015 interview with TheGrio, Alex Martin said: "I know what it's like with the food stamps, because my mom has her [Welfare] cards framed. Seriously ... I remember that. I remember we had the one room space and we slept in the bed together. I remember when we wanted to travel we would drive across the country in broke down bugs. We didn't have the money to go to movies. I found friends, I walked down the street, I climbed trees, I did camping."
Whoopi's first grandchild embraced life in the public with Claim to Fame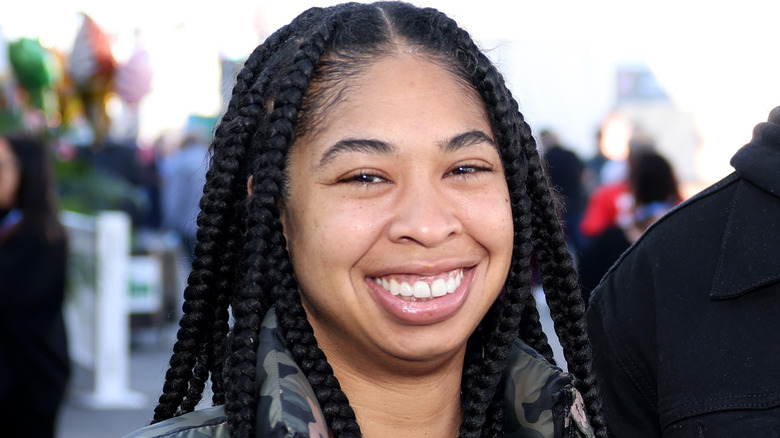 Jeff Schear/Getty Images
Amara Skye Dean is the eldest granddaughter of Whoopi Goldberg and arguably the most famous, having chosen a career path that has catapulted her into the public eye. She took part in the reality competition series "Claim to Fame," presented by Kevin and Frankie Jonas.
"I was cast on the show via DM. It was something different. I didn't know whether to believe it or not, but I went through with it," Amara said in an interview with Essence in 2022. This interview has also given fans a glimpse into what Whoopi Goldberg is like as a grandmother. Amara wanted her opinion first — which makes perfect sense considering that Goldberg has worked in the entertainment industry for decades and knows which projects to tackle and which to avoid. "She was scared," Amara recalled. "But after everything went the way that it was supposed to go, she was happy. The best advice she gave me was to just do what [I] gotta do and come back stronger, better and, you know, prepared [because] this is my big break."
There could be a long career in reality television in the future for Amara, who has proven she is someone worth taking note of, although she admitted in the interview she was reluctant to act because it is her grandmother's profession. Or, as she put it, "her thing."
She's an artist
Amara Skye Dean is a creative individual who has nurtured these talents. This includes becoming an artist, although the subject matter she creates is far from traditional. "I love to paint stories about — and it sounds crazy — my vagina," she told Esseessence. "Yeah, it's crazy, but the stuff that women go through [can] be difficult. But I'll put it on the page so that you know you're not the only one that's going through it."
There has been interest in her work, and she is clearly proud of what she has achieved. We can say this because her Instagram page is filled with her art, which is available for purchase. Amara has also spoken about her inspirations for her art and acknowledged how having a creative grandmother encouraged her to do something in the arts. 
Expressing herself comes easily to Amara, and her art gives people a glimpse into her mind's inner workings and feelings. "There is fear in telling one's personal journey and like most felt like I could never speak about it, so it came out in paintings and/or drawings," she told The Knockturnal. "My emotions are what really inspires me to paint, whatever it is [what] I'm going through and can't communicate verbally I illustrate my feelings similar to writing in a diary. I've had a crazy past and the experiences I've had, those times are what inspires me the most."
She once revealed too much about her grandmother's dating life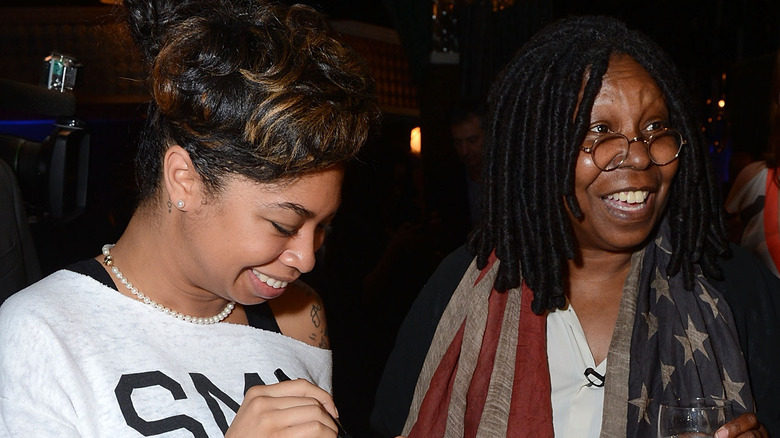 Shahar Azran/Getty Images
Whoopi Goldberg is no stranger to interviews, and she's tackled several topics relating to her work life and personal life over the years. However, her granddaughter, Amara Skye Dean, revealed a secret about her grandmother's dating life in an episode of "Claim to Fame" when she spoke about a much older man her grandmother allegedly had a relationship with.
"She had a boyfriend that was, like, 90 years old, and she used to go hang out with him. Some old white man named John, and he was like a billionaire," she confessed on "Claim to Fame" (via ET Canada). "She used to sneak off and have [sex] appointments, randomly." It's safe to assume Goldberg didn't give the go-ahead to her granddaughter for sharing such private affairs on a public platform — which Amara later acknowledged.
"No one knew about that — I barely found out about that," Amara said (via USA Today). "So I was just like, 'Oh, man. I think I just put my grandma's business out there, and I don't really know if she's going to be OK with this.' But my grandma's really, really cool and pretty open. So, I don't think I did so bad."
Amara is close with her grandmother
Growing up, Whoopi Goldberg was always a present grandmother in the lives of her three grandchildren. Whenever Arama Skye Dean — who has been the most vocal and is thus also the most well-known of Goldberg's grandchildren — speaks about the "Ghost" actress, her words paint a picture of her being a hands-on grandmother and a source of inspiration. It's apparent that these two women share a close bond.
"Me and my grandma are super close. She's everything," Amara confessed to Essence. "It gets frustrating because it's like, how am I going to compete with that? But I'm lucky enough to have that." 
In an interview with the New York Post in 2022, Amara also revealed she sees her grandmother often. "I see her every day. If I don't see her, it's definitely a call or text. I'm always in her sight and in her mind," she bragged. As for what they call her in private? Is it a strange or glamorous nickname? Nope, it's a simple term of endearment — "Granny" — which Whoopi Goldberg confirmed in an interview with "Good Morning America" (via Good Housekeeping).
Jerzey Dean and her grandmother attend fashion shows together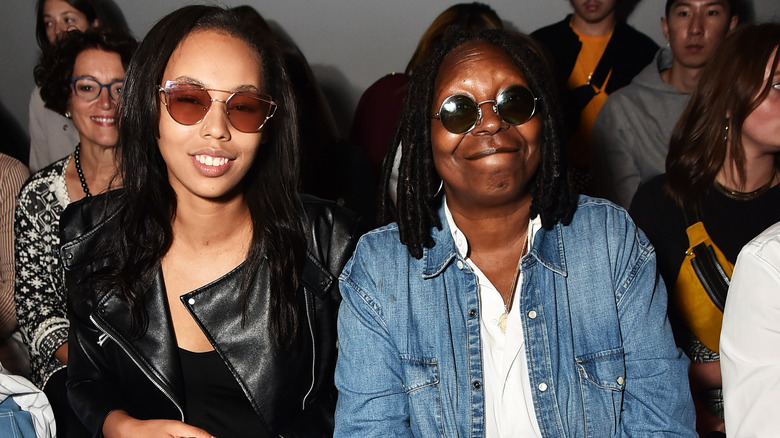 Theo Wargo/Getty Images
Amara Skye Dean is not the only grandchild who shares a close bond with Whoopi Goldberg. Jerzey Dean is Whoopi's second granddaughter, and the pair seem to share a unique relationship. Jerzey is not as outspoken as her older sister, Amara, but that doesn't mean she's entirely shied away from the public. In fact, she's been photographed several times with her grandmother, particularly while enjoying their shared interest in fashion. We say this because they have attended multiple fashion shows together — including prestigious events like New York Fashion Week.
In an interview with the Daily Front Row in 2016, Goldberg discussed her love of fashion, saying: "Anything that's unusual and wonderful and makes people feel good is something I want to investigate. I like lots of different kinds of designers — not necessarily to wear, but just to watch." The comedian also spoke about Jerzey's passion for fashion. "For a while my granddaughter wanted to be a model, and then she realized that it's really a lot of work. So we went to see what it was like and what it entailed," she said. Although Jerzey has not walked in any of the runway shows she and her grandmother attended, she shifted her attention to design instead.
Jerzey owns her own fashion brand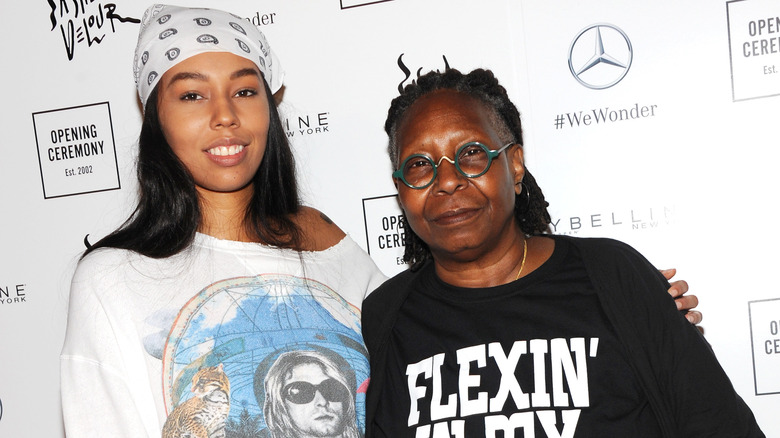 Desiree Navarro/Getty Images
Whoopi Goldberg is undoubtedly interested in fashion, and this is a fondness Jerzey Dean shares with her. The stylish granddaughter even has her own brand, Jerzey Kennedy Designs. An Instagram profile for the company states in the bio that it's based in Los Angeles and New York City. There are several posts showing various designs, including underwear sets and stylish bodysuits — although the page has not been updated since 2019. 
While we cannot be sure what inspired Jerzey to pursue a life in fashion, and it may well have something to do with her grandmother, Whoopi Goldberg has been open about her journey to discovering style and how it makes her feel. "I've always liked comfortable and interesting-looking things. When you look at fashion through the years, you realize that the '20s fashion has been tweaked to turn into the '40s fashion and then the '60s — it's really one outfit that has shifted and turned into lots of different things," she told Daily Front Row. "It's what I've seen in movies, what I see on the street, what I've lived ... I love peasant blouses and bell-bottoms. Can I always get away with them? No, but I love them."
Goldberg also loves design, and who knows, in the future, perhaps she and her granddaughter will decide to collaborate on a collection together.
Mason Dean is a rapper
Mason Dean is Whoopi Goldberg's only grandson and appears to value his privacy the most since very little is known about him. That said, he has pursued a career in music and has added several songs to his Spotify profile.
Mason's social media presence is mainly dedicated to his music, and his Instagram bio describes him as a "music producer." The only grandson of the EGOT winner has also used his talent to help others by participating in the Feeding America fundraiser where he shared a video of him rapping along with a caption thanking fans for their support: "All profits will be used to provide meals for the people in need," he wrote on Instagram in 2020.
A passion for the arts and the decision to tap into his creative side obviously runs in the family and is something his older sister, Amara Skye Dean, discussed in an interview with The Knockturnal. "Having Whoopi as my grandmother definitely influenced me a lot to be creative, I used to want to act but I wasn't that great at it," she said. "So I took art classes instead and found that I like doing that more. Also, my mom can draw and I used to try to mimic her drawings. I wanted to become an artist because I felt it was a great way to express myself therapeutically."
Amara made Whoopi a great-grandmother
Whoopi Goldberg is not just a grandmother; she's also a great-grandmother. In 2014, her eldest granddaughter, Amara Skye Dean, welcomed her first child, Charli Rose. The "The View" star proudly discussed becoming a grandmother, and later a great-grandmother, during an appearance on "The Tonight Show Starring Jimmy Fallon" in 2014.
"It is the funniest thing in the world to me," Goldberg said (via YouTube). "I was a grandmother kind of young, and now I'm a great-grandmother. I had just gotten into the groove of being a grandmother, and then this girl came and said she and her man were having a baby and I wanted to wring her neck. But then my daughter's like, 'Ugh, I'm gonna be a grandmother!' ... And I whispered in her ear, 'I got no sympathy for you. You made me a grandmother when I was 33.'"
Her comments are delivered with the same wit and humor that fans have come to know and expect from Goldberg. While she joked about being a young great-grandmother, she's still celebrated for being a fantastic matriarch. "She definitely helps me out. We're a very close-knit family," Amara told the New York Post. "You know how they say, 'It takes a village?' We are the village."
Whoopi's grandchildren are not spoiled kids and have found their own way in the world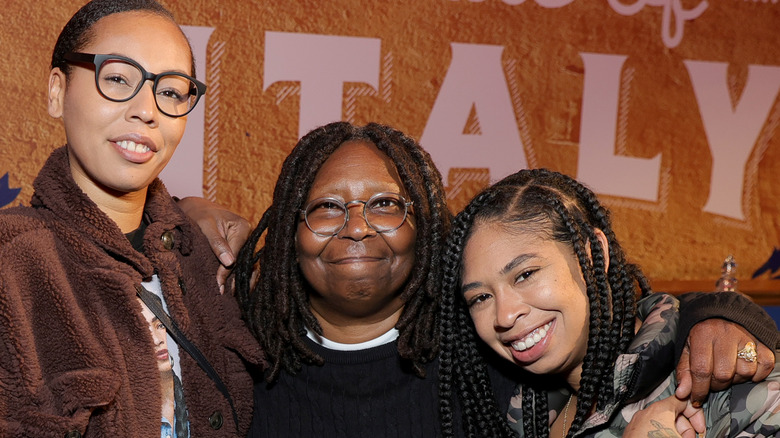 Michael Loccisano/Getty Images
You may think growing up as the grandchildren of a very successful actress would allow you to experience all the finest things life has to offer. Whoopi Goldberg amassed an incredible fortune over the years, and if she were to divide it, her grandchildren could live quite comfortably. But that's not the life she wants for them. Instead, she wants them to work for themselves and achieve things on their own. Still, this is not to say she's not there to support them when they need it.
"She wants us to be real people. Stuff is not just handed to us. It could be, but it's not," Amara told Essence in 2022. "I just want people to know that I really worked hard for my position and the stuff that I did. I did a lot without my grandmother's help. But the fact that she's there to give me the help, you know, I don't want to run it up. I want to do what I can do."