The One Thing Michelle Obama And Melania Trump Agree On When It Comes To Marriage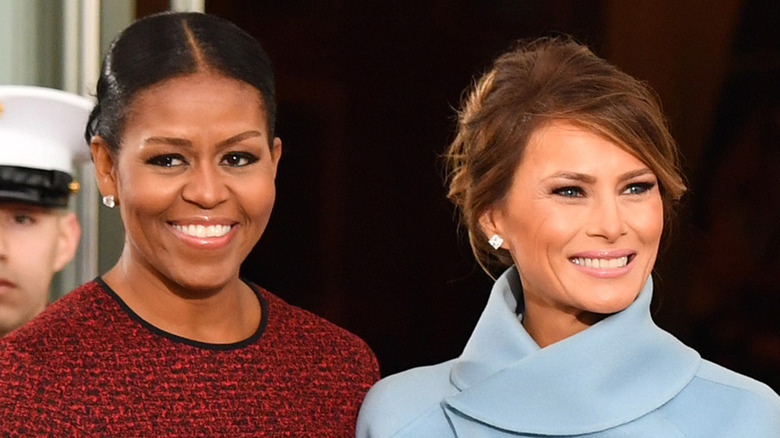 Bloomberg/Getty Images
Michelle Obama and Melania Trump's relationship seems nonexistent. They don't appear to have much in common. Of course, they are in the coveted group of former first ladies — the real right-hand man to the president, but besides both previously holding the title of F.L.O.T.U.S, the ex-lawyer, and ex-model look to be worlds apart. However, what they believe the key to marriage is, shows they are more alike than what meets the eye.
When it comes to her union with Barack Obama, Michelle told NPR's Juana Summers that in a relationship "you have to evolve with it." She noted marriage is not a scale but more of an abacus, sliding back and forth. A takeaway from Melania's marriage to Donald Trump is keeping your individuality despite being a pair. "We have a great relationship," she shared with MSNBC. "I'm my own person. He's his own person. And I think that's very important. I don't want to change him. He doesn't want to change me."
Yet the secret key that Michelle and Melania implement in their matrimonies centers around the most intimate room in one's house — the bathroom.
Separate bathrooms are a must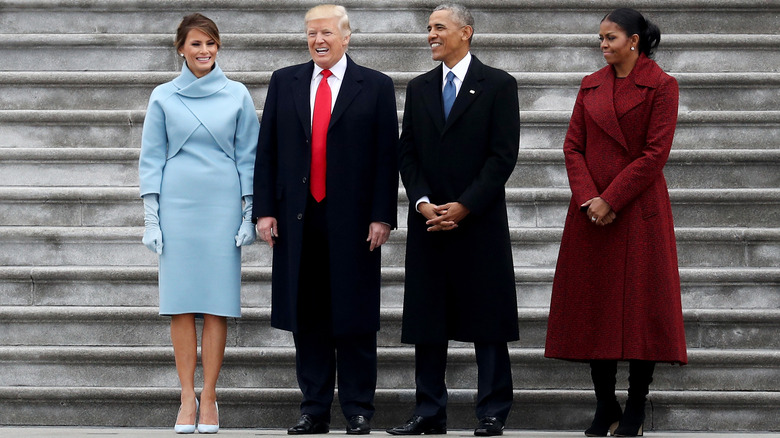 Bloomberg/Getty Images
Michelle and Barack Obama tied the knot in the fall of 1992. They survived eight years in the White House and even more outside of it. According to the former first lady, a healthy marriage depends on your house layout. "One of the keys to a successful marriage is separate bathrooms," Michelle shared in a Today Show interview. "When he enters my bathroom sometimes I'm like, 'Why are you in here?' And he's like, 'I live here, can I enjoy my bathroom too?' "
Melania and Donald Trump are another White House couple who need at least two bathrooms. Melania repeated the exact sentiments as Michelle when she told People, "The key to a healthy marriage is having separate bathrooms." The former first couple officially became husband and wife in 2005 but met back in 1998. Things were rocky in the beginning. Melania and Donald even broke up, but after saying "I do," the two have been inseparable — except when they go to the bathroom, of course.
Having a private bathroom might just be a preference, but according to a marriage expert Michelle and Melania are on to something.
There is a science behind separate bathrooms saving marriages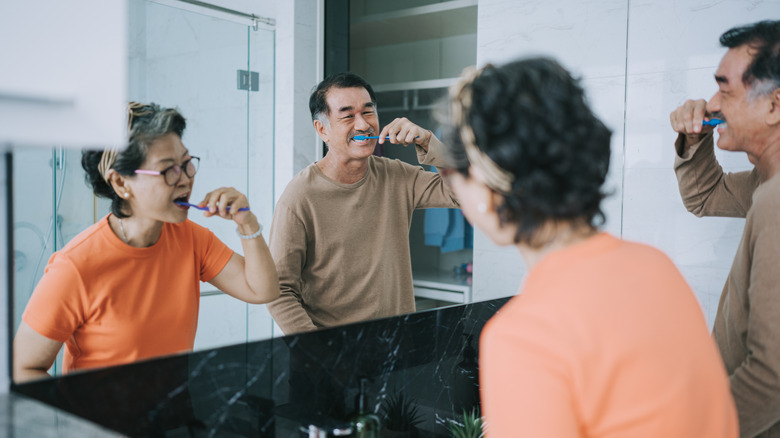 Edwin Tan /Getty Images
Jack and Jill sinks might be a thing of the past now that we know the relationship last longer when you brush your teeth separately. "The bathroom is a space where we attend to highly intimate aspects of ourselves, and a high-risk environment to reveal habits of cleanliness, which can be contentious for couples," licensed marriage and family therapist Laura Petiford explained on The Today Show. "On a superficial level, having two bathrooms might allow for maintaining a higher level of romance, keeping a degree of mystery."
Actor Michael Caine, actress Sarah Michelle Gellar, movie star Joan Collins, and the former first ladies support the one washroom per spouse rule. However, singer Meghan Trainor and her husband Daryl Sabara have a different (and unusual) bathroom habit. Not only do they share a bathroom, but it was renovated to have an extra toilet installed. In a tweet, the pop star explained, "To clear things up ... we pooped ONCE together and we laughed and said never again ... but he will hang out with me if I'm s–ting cuz WE SOULMATES. And I legit miss him when I'm away from him. And we pee together obvi."
Perhaps the key to marriage is different for every matrimony.