How Hillary Clinton's Friends Helped Her Through Bill Clinton's Affair With Monica Lewinsky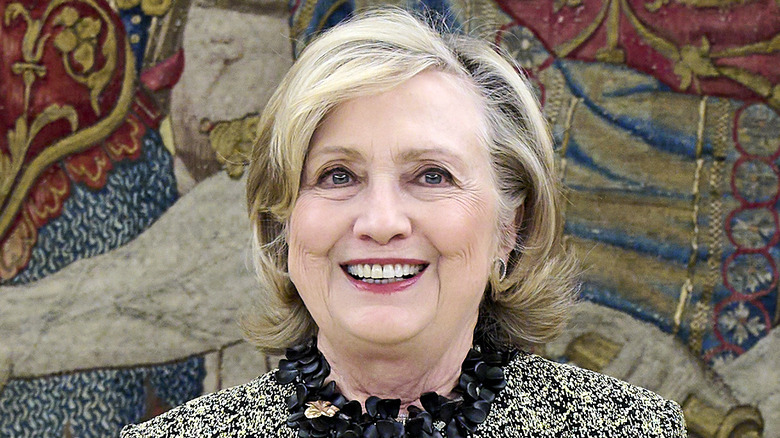 Carlos Alvarez/Getty Images
Bill Clinton's former presidency was irreparably damaged by his affair with Monica Lewinsky. Bill lied to the nation about his relationship with the 22-year-old White House intern and most importantly, to his wife, Hillary Clinton. He denied the allegation on a news report, infamously saying, "I did not have sexual relations with that woman, Miss Lewinsky." The affair between the ex-head of state and the much-younger intern started in November 1995 but wasn't public knowledge until January 1998.
Hillary stood by her husband throughout the public scandal but, naturally, she acknowledged it wasn't easy. Dealing with a cheating partner never is, but doing so in front of all the people you govern is harder. The former first lady is thankful for the army of friends who assembled around her. It seems a circle of supporters is key, whether you're in the White House or your parents' basement. And how Hillary's friends provided comfort wasn't much different than helping any ol' pal through hardship.
Hillary Clinton's friends did what any good friend does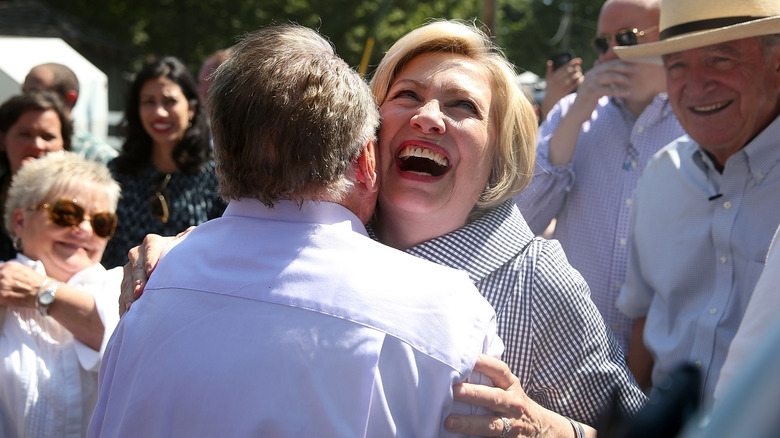 Justin Sullivan/Getty Images
In a CNN interview with Pamela Brown, Hillary Clinton revealed how getting over her husband's public affair was an enduring process. She admitted, "It was really hard. It was painful. And I was so supported by my friends. My friends just rallied around," (via Politico). Her community of loved ones was vital. Bill Clinton's affair was national news that led to his impeachment, but it was a personal nightmare for the former first lady.
Her friends distracted her with activities to overcome the scandal. Hillary revealed they would, "try to make me laugh, they would recommend books to read, we'd go for long walks, we'd hang out, you know eat bad food. Just the kinds of things you do with your friends." On top of working on her marriage, Hillary still had a job to do as the first lady. Her governmental duties didn't sleep and mental health days weren't a thing back then. 
"It was something that you just had to get up every day and try to deal with while still carrying on a public set of responsibilities," she said. "So it was very, very challenging." Hillary stayed with Bill despite the very valid excuse to cut her losses and leave. It understandably left many of us wondering why the presidential candidate chose to stay. 
Why Hillary Clinton stayed with Bill Clinton after his affair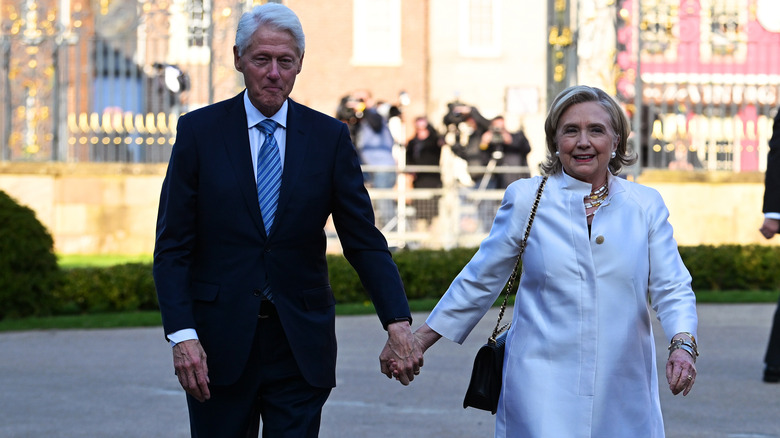 Charles Mcquillan/Getty Images
Hillary Clinton rejected Bill Clinton's proposal twice before agreeing to marry him. Saying "I do" was not a frivolous thing for the couple. And, in her memoir, "What Happened," Hillary wrote that she was unsure if her marriage was salvageable after her husband's affair. She noted, "On those days I asked myself the question that mattered most to me: Do I still love him? And can I still be in this marriage without becoming unrecognizable to myself — twisted by anger, resentment, or remoteness? The answers were always yes. So I kept going," (via Sydney Morning Herald). 
Hillary and Bill went through a lot of counseling to repair their relationship. Their daughter, Chelsea Clinton, who was a teenager at the time, also played a part in their healing journey. Hillary recognizes her decision to stay isn't easily understood, noting in her memoir, "I know some people wonder why we're still together. I heard it again in the 2016 campaign: that 'we must have an arrangement' (we do, it's called a marriage)." The Clintons have been married for decades, tying the knot on October 11, 1975. Every marriage has its ups and downs but clearly, these two are in it for the long haul.