Why Hillary Clinton Turned Down Bill's Marriage Proposal The First Two Times He Asked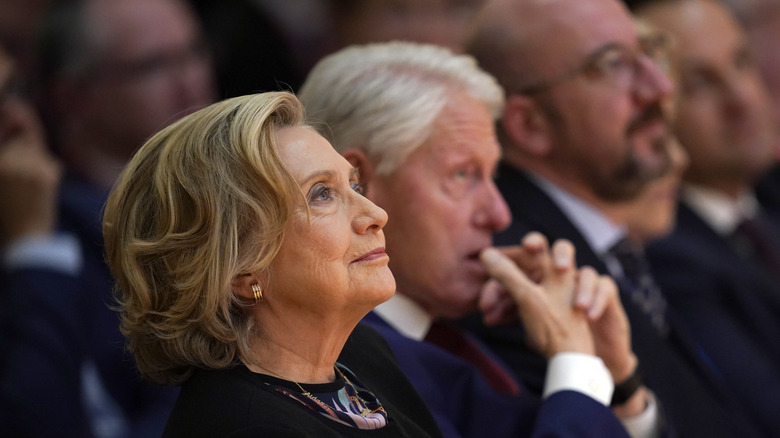 Pool/Getty Images
Everyone may know the names Hillary and Bill Clinton, but not everyone probably knows about the nature of their relationship throughout the years. When most people think of the Clintons, they may be reminded of Bill Clinton's presidency from 1993 to 2001 as the 42nd President of the United States of America. They may also think of his wife Hillary as the woman who ran for president both in 2008 — losing to Barack Obama in the primary election — and in 2016, falling short to Donald Trump. In fact, an expert believes Hillary may be revving up for a 2024 presidential run.
However, outside of a world of politics and power, they are just two regular people who have been in a relationship for quite some time now. The couple has been married since 1975 and will be going on 48 years of marriage in October 2023. Many people may recall that Bill Clinton admitted to having inappropriate relations with White House intern Monica Lewinsky in 1998, propelling the couple into a media frenzy. This led to his impeachment and acquittal by the House a year later.
Prior to this, Bill actually proposed to Hillary two times with no success before she eventually said yes.
Why did Hillary say no?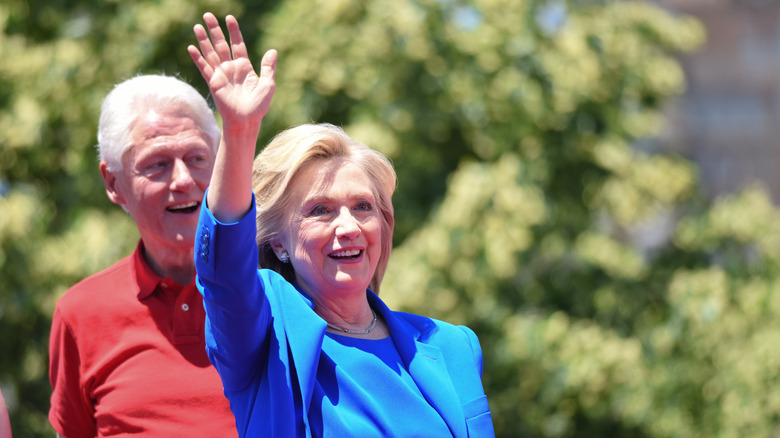 a katz/Shutterstock
In an interview with "Girls" star Lena Dunham, Hillary Clinton confessed that she actually turned Bill down twice before agreeing to marry him. When Lena asked if Hillary was afraid to lose her identity to such a motivated political figure, Hillary replied, "I was terrified about losing my identity and getting lost in the kind of wake of Bill's force-of-nature personality." She admitted that marriage was a big decision and a huge leap of faith. Hillary's daughter, Chelsea, even admits that the third time was the charm when the mother-daughter duo appeared on "The Drew Barrymore Show" last year. 
During her interview with Barrymore, Hillary Clinton reminisced on her relationship with Bill for a moment and shared with Dunham that he first proposed to her in England while the pair were on a trip following her graduation from law school. Hillary admitted that after the second denial, she did eventually soften up to the idea of marriage. The couple decided to officially tie the knot in 1975.
Bill and Hillary Clinton's relationship timeline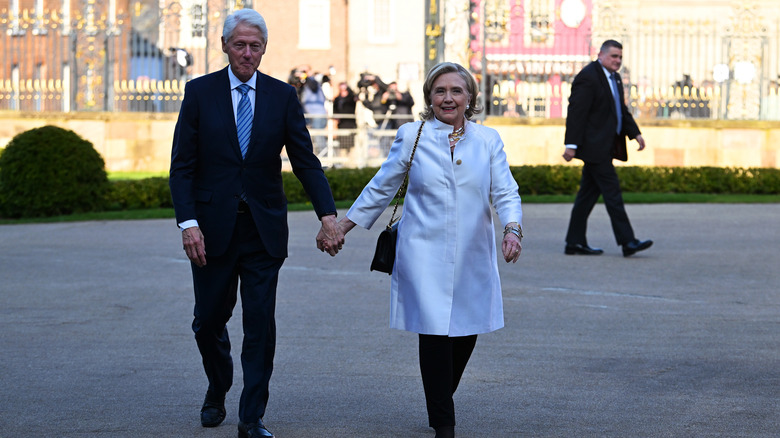 Charles Mcquillan/Getty Images
If you were curious about the entirety of the Bill and Hillary Clinton relationship timeline, don't worry: we got you covered. 
The two met in 1971 at the Yale University library while Hillary was studying at Yale Law School. In 1973, Bill proposed for the first time. In 1975, after the third proposal attempt, Hillary finally said yes, and the couple tied the knot with a small and intimate wedding. In 1980 they had their only child, Chelsea Clinton. In 1998, word spread about Clinton's alleged affair with Monica Lewinsky. After a few denials, Bill ultimately confessed on live television to his inappropriate relationship with the White House intern. Hillary decided to stay with Bill even after he cheated, though she said not everyone should make the same choice she did.
The couple is still together today.