'Everything Showers' Are Trending, But Are There Drawbacks?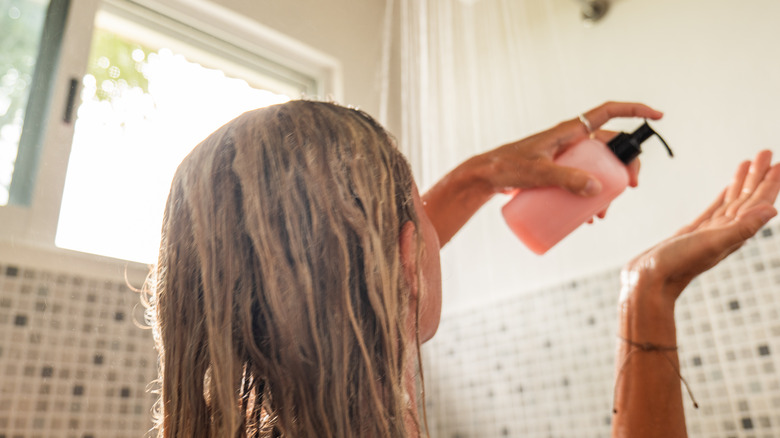 Mystockimages/Getty Images
There is nothing quite like taking a long hot shower after an eventful day. It's not only relaxing but also refreshing and rejuvenating. The solitude that comes from a peaceful rinse is often the self-care you need in your life. However, if you want to make the most out of your shower time and stay on that productivity train, there will likely be many personal care tasks to check off your list as well.
The idea of an "everything shower" basically encapsulates the best of your skincare, haircare, and body care routines. Attempting to accomplish all of these things in one shower is the height of multitasking but it can feel extremely rewarding afterward. According to Mind Body Green, prioritizing an "everything shower" is a great way to ensure you are meeting your own needs.
In the midst of a busy life, it can be easy to push your self-care routines to the side, but checking them all off your list in one shower can provide the best of both worlds. However, all good things come at a cost and not everyone is singing the praises of this shower routine. In fact, some are even opting for the nothing shower — a chill alternative to the viral everything shower.
What are 'everything showers?'
Moving beyond the simple pleasures of a peaceful shower and actively taking steps to improve your overall wellness has become a popular concept on social media. While an "everything shower" is quite versatile, it usually involves a full-body experience with hair masks, facial massages, skin exfoliation, and even foot scrubs.
According to Hayley Wood, a licensed esthetician for The New Knew, an "everything shower" moves beyond the basic necessities of cleanliness and focuses on resetting your "mind, body, [and] spirit." Being intentional with your shower routine and allotting yourself that extra time to become the best version of yourself means focusing on your health "from head to toe."
Unfortunately, Pure Wow touches on some of the challenges associated with the "everything shower" craze and questions if it actually spills over into unnecessary excessiveness. Not only can multi-step skincare, haircare, and body care routines take the relaxation out of a shower, but it also runs the risk of wasting water and time, since it often takes multiple hours to finish.
The downsides of a long shower routine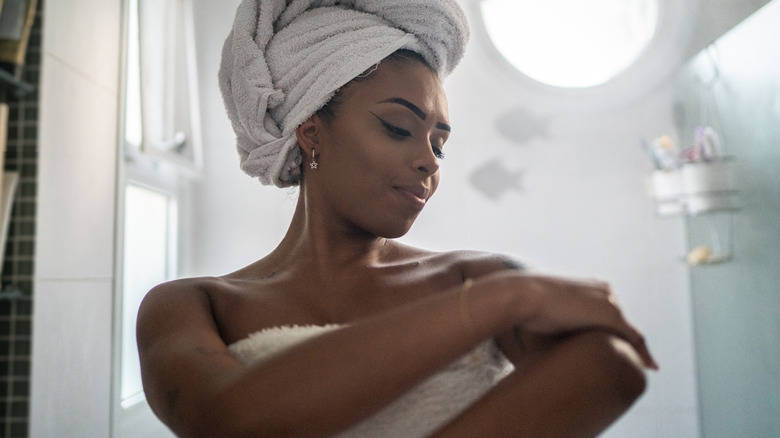 Fg Trade/Getty Images
Understandably, there are some logistics to this "elevated shower routine" that involve some prep work before getting into the shower, like dry brushing or using a scalp scrub, and more maintenance after your shower by completing your skincare routine and moisturizing your body. While committing to an "everything shower" can help you establish a routine and form healthy habits, it can also act as a form of therapy since you are prioritizing your external body's needs.
Interestingly, the common phrase "less is more" seems to be in direct contrast to these extravagant showers. According to Dr. Toral Vaidya, a dermatology resident physician, using more products doesn't guarantee healthier skin and it's important to be cautious and mindful of your body's needs. Board-certified dermatologist Dr. Brendan Camp also notes that long showers can cause the naturally occurring oils in your hair and skin to be depleted. This can lead to dry skin and frizzy hair, especially if your water is hot.
While there is a daily dry skin fix you can do in the shower, if you have sensitive skin, you may want to simplify your shower routines and cut back on the products you use. Of course, this doesn't mean you can't still romanticize your self-care. It simply means you are aware of your body's unique needs and are caring for them in the most beneficial way.