Priyanka Chopra Is Unbothered By Husband Nick Jonas' Star-Studded Dating History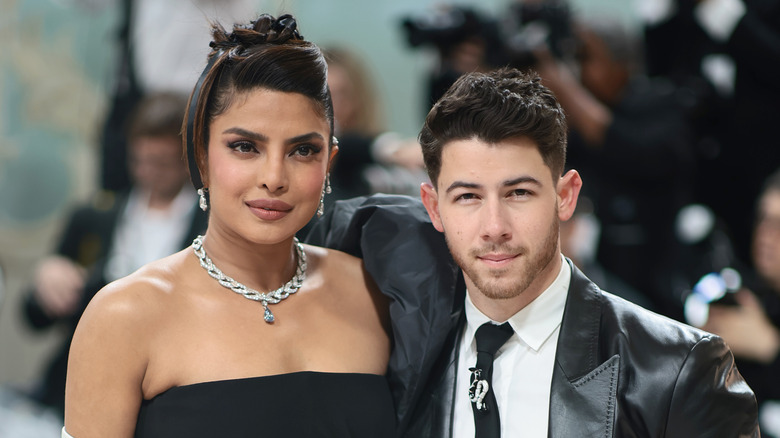 Dimitrios Kambouris/Getty Images
Priyanka Chopra Jonas and Nick Jonas' romance dates back to 2016, when Jonas bravely slid into the actress' DMs. The duo attended the Met Gala together the following year as Ralph Lauren's guests, and clearly, sparks flew. Since then, they've had a gorgeous multi-day wedding in India and become parents to their adorable daughter, Malti Marie. Not to mention, Chopra Jonas starred in the Jonas Brothers' 2019 music video for "Sucker," and Jonas is set to make a witty appearance in his wife's upcoming movie, "Love Again." 
All things considered, it's pretty hard to top their iconic love story. However, Jonas did also date several famous women before he found the one — and some of them even (supposedly) wrote songs about him, and vice versa. Celebrities like Miley Cyrus, Selena Gomez, Demi Lovato, Kate Hudson, and Olivia Culpo are all included on the list of women that the "Jealous" singer was linked to at some point before he and Chopra Jonas tied the knot. Nevertheless, the actress isn't too concerned about any of Jonas' relationships or dalliances before their marriage. As far as Chopra Jonas is concerned, the future is what matters, not the past.
Whom Nick Jonas dated before they were married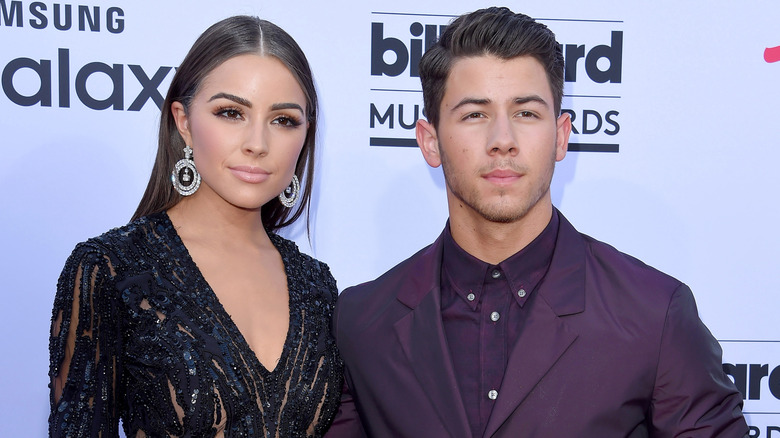 Axelle/bauer-griffin/Getty Images
Nick Jonas started making headlines for famous girlfriends back in 2006. During his Disney era, the singer was involved in a love triangle with Miley Cyrus and Selena Gomez when they were all young teenagers. Cyrus wrote her heartbreak anthem "7 Things" about Jonas, and the Jonas Brothers' love songs "Lovebug" and "Wedding Bells" were inspired by the "Hannah Montana" star. In 2011 and 2012, he dated Australian singer Delta Goodrem for ten months. 
One of Jonas' most serious relationships before Priyanka Chopra Jonas was with former Miss Universe Olivia Culpo. The two dated from 2013 to 2015, and Jonas confirmed that his 2014 hit "Jealous" is about a night out he had with the model. In 2015, he had a fling with Kate Hudson, and he gushed about their "unbelievable connection" to Complex magazine in 2016. When Demi Lovato released their 2017 tune, "Ruin the Friendship," there was speculation that it was inspired by Jonas and that there may have been a situationship there. 
Jonas was also very briefly linked to Kendall Jenner, Lily Collins, and Georgia Fowler. Once he met his wife, his dating history became irrelevant. "It's just that magical connection you've got with somebody when it's right," he told SiriusXM in March 2021. "We're very lucky."
Why Priyanka Chopra Jonas has no concerns about it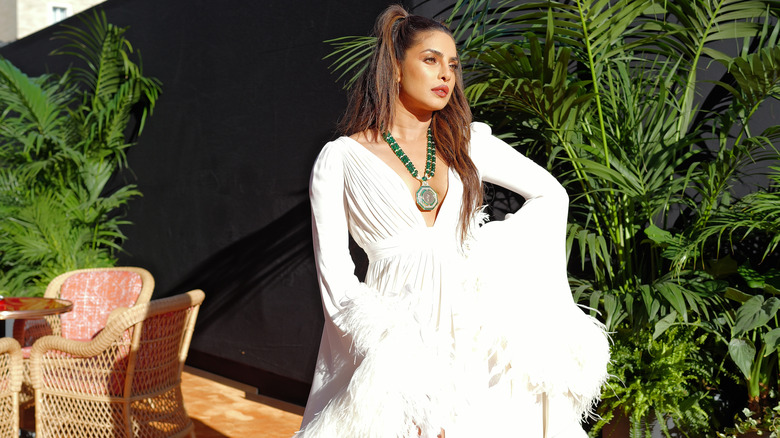 Daniele Venturelli/Getty Images
During a May 2023 appearance on the "Call Her Daddy" podcast, Priyanka Chopra Jonas opened up about her marriage to Nick Jonas and explained to host Alex Cooper why she doesn't spend her time thinking about her husband's ex-girlfriends. Chopra Jonas recalled that when she was first vetting Jonas online after he'd slid into her DMs for the first time, she came across his "Close" music video ... and that was all she needed to see. The actress joked on the podcast that she had to open her window when she saw that video and remembered that she really didn't need to look at "any other s***." 
At the time, Chopra Jonas thought to herself, "I don't give a f*** who he's dated. We're talking about the future." She added to Cooper, "I don't read my book backward. I believe you go forward in the chapters." She offered up some words of wisdom on the subject of exes and new beginnings: "There's a reason you've left people behind. If they're supposed to come into your life, they will. Don't fight it." Ultimately, those DMs, the "Close" video, and Chopra Jonas' intuitions were the start of something beautiful.