A Closer Look At Naomi Biden's White House Wedding Dress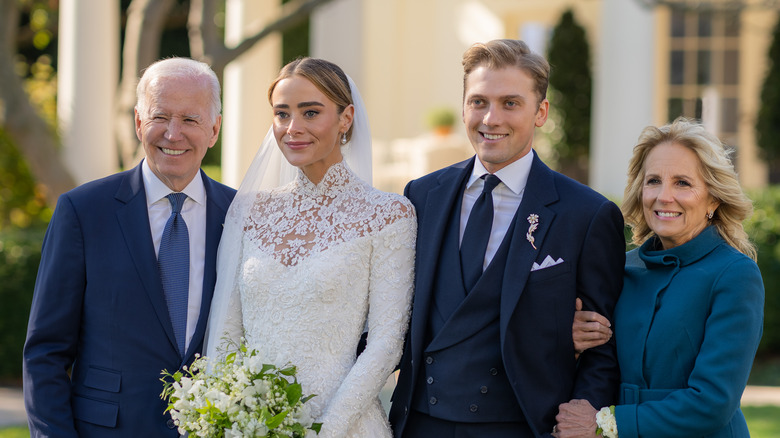 Handout/Getty Images
When your wedding is one of the very few to be held at the White House, you know that the public eye will be hyper-focused on every last detail. Such was the case for Naomi Biden, the granddaughter of President Joe Biden. She and her husband, Peter Neal, were married on the South lawn of the historic location (a first for the White House) in November 2022. The pair was 19th in an exclusive list of couples offered the venue, joining the likes of President Grover Cleveland and Frances Folsom; and Alice Roosevelt, daughter of President Theodore Roosevelt, and her husband, Nicholas Longworth. Naomi Biden took more than Neal's last name that day; she also took the honor of being the first granddaughter of a president to have a White House wedding and the first ceremony on the South Lawn.
With so much prestige, the Biden granddaughter likely felt pressured when picking her wedding gown. Choosing a dress can be difficult for any bride, not to mention the first-ever granddaughter of a president getting married on the South Lawn of the White House. But she pulled it off with class and sophistication, choosing an ensemble very fitting of "American royalty."
A thoughtful approach to designers and details
Expectations were presumably high for Naomi Biden's gown. It needed to be bridal but fit for such a historic occasion. When the day arrived, she looked flawless. Her custom Ralph Lauren Collection (an Americana brand with roots in New York City) was of a timeless design. It's also a brand her grandfather favors, as he sported the iconic American label during his inauguration ceremony — from his overcoat to his suit and tie.
Her dress featured a very princess-esque fit and flare with a high collar and long sleeves, fashioned from Chantilly lace and organza petals delicately hand-placed along the bodice and skirt. The bride paired her regal gown with another custom feature: a silk organza cathedral-length veil with a Chantilly lace border and Tiffany & Co. jewels embroidery. Biden's pearl and diamond drop earrings were of the same brand, as was her wedding band.
When referring to the bride's various looks, designer Danielle Frankel told The New York Times, "This is a White House wedding, so there's regard for the White House and for our country, but also for the sanctity of the wedding. We wanted to pay tribute to all of those components while still showcasing who Naomi is." After the ceremony, the Biden granddaughter slipped into a strapless ivory silk Reem Acra gown that married old with new as it included her grandmother Roberta Buhle's pearls in the train. Later in the night, the bride was seen in a custom Markarian fringed beaded mini dress.
A fine line to walk
Danielle Frankel had particular insight into Naomi Biden's wedding day looks, as she was entrusted to design her outfit for the wedding rehearsal and the dinner afterward. Frankel, a previous understudy to Vera Wang, now has her own line of atelier wedding apparel that has graced high-profile celebrity clients like Biden. Her love for handmade garments seemed to suit the president's granddaughter's vision. The result was a four-piece outfit with a top bustier, a tailored jacket and trouser set, and a pleated tulle cape. The ensemble allowed the bride to effortlessly transition from practice on the South Lawn to a posh rehearsal dinner.
Frankel told The New York Times, "She's young and cool. Wearing the cape and tulle is reminiscent of wearing a gown." When she replaces the cape with a jacket, it's a more "tailored, commanding clean look," she continued, perfect for the granddaughter of the president of the United States. It was likely a fine line the bride had to walk, between what she envisioned and a tasteful affair fit for a member of the White House family. From start to finish, Naomi Biden looked elegant and refined (yet still like the young and cool twenty-something she was). From now on, we'll look to this fresh face in the White House for tips on how to mix modern and classic styles for undeniably timeless appeal.