The Complete Evolution Of Rosie Huntington-Whiteley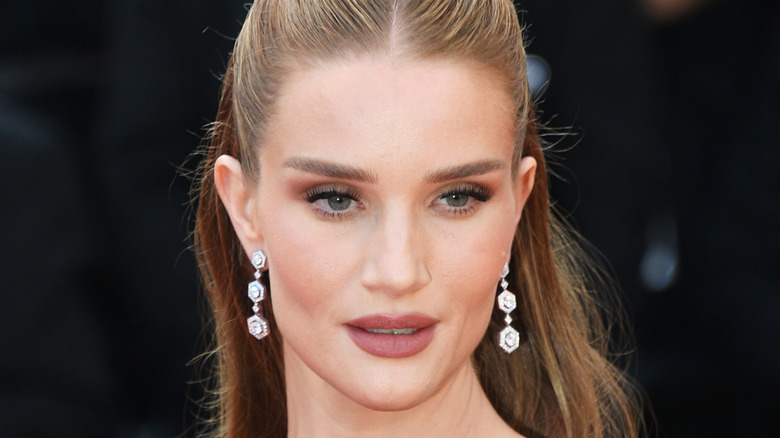 David M. Benett/Getty Images
There are few models who have made as big an impact on the fashion industry as Rosie Huntington-Whiteley. One of the most beautiful supermodels in the world, the Brit quickly rose to fame after getting her start as a teenager. After appearing on magazine covers and landing major brand campaigns, she soon transitioned into acting, starring in films like "Mad Max: Fury Road" and "Transformers: Dark of the Moon." 
These days, Huntington-Whiteley's career is still going strong. With the launch of her own beauty line, Rose Inc, she's quickly becoming one of the most influential people in the beauty industry. And Huntington-Whiteley isn't just a successful career woman — she's also built a family with actor Jason Statham. As of 2023, the pair have two children together.
Is there anything this star can't do? Let's take a look back at the complete evolution of Rosie Huntington-Whiteley, from growing up in the English countryside to international fame. 
She grew up on a farm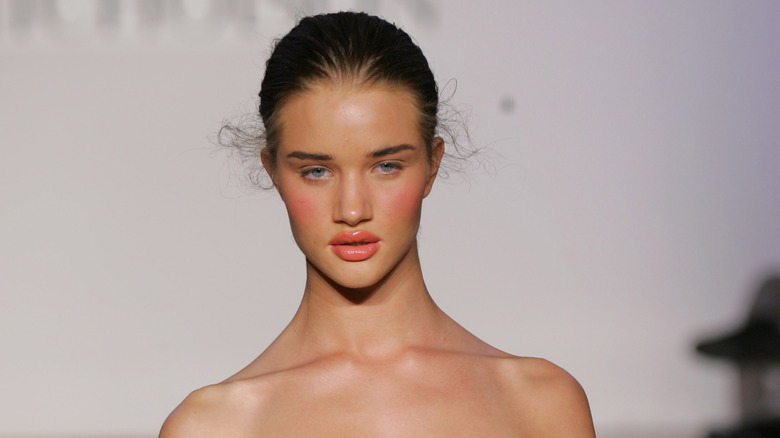 Randy Brooke/Getty Images
Rosie Huntington-Whiteley was born on April 18, 1987, in Devon on the southwest coast of England. Her parents are Charles, a chartered surveyor, and Fiona, a fitness instructor, and she grew up alongside two younger siblings, Toby and Florence.
Huntington-Whiteley's early life was defined by her rural upbringing. "Most of my childhood was spent outdoors, in the fields, running around," the model told WWD. "In fact, my mother would lock us outside when we were naughty."
Throughout her adulthood, Huntington-Whiteley has continued to feel the pull of nature — even when she's lived in big cities like New York and London. She shared with WWD in 2016, "What actually suits me really well right now is living in Los Angeles because it feels a little bit like living in the countryside, but living in the city at the same time." By the sound of things, her childhood on the farm will always influence her lifestyle.
The model was bullied in school for her full lips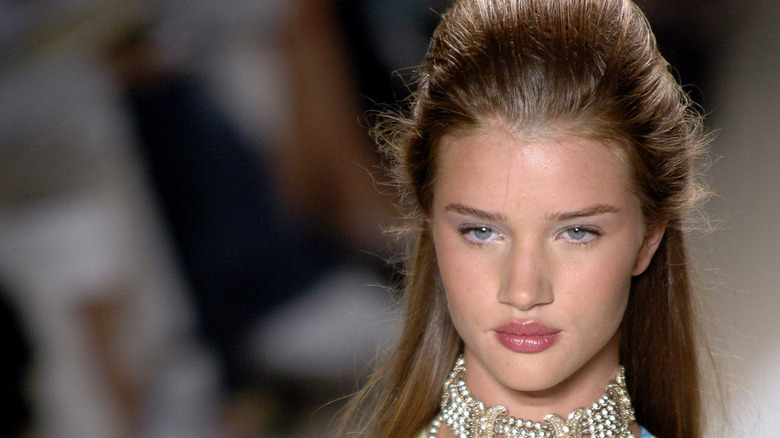 Carlo Buscemi/Getty Images
It can be hard to imagine models struggling socially. However, growing up, Rosie Huntington-Whiteley wasn't exactly accepted by her peers. In fact, she was often bullied for the full lips that would later become a signature feature during her modeling career.
"I got teased because of my lips," the model said to GQ back in 2011. "I used to get called 'T*t Lips' — because I had big lips but no breasts. And then I was called 'Kipper Lips.'"
Huntington-Whiteley went on to explain that many models experience bullying because of their unique features. "I think most models will tell you a similar story," she said. "There was a big group of girls that was Devon's answer to the film 'Mean Girls,' and they would storm the bathrooms shouting, 'I'm going to f***ing deck you, Lips!'" According to Huntington-Whiteley, she was also largely ignored by the boys at her school.
Rosie Huntington-Whiteley was always obsessed with fashion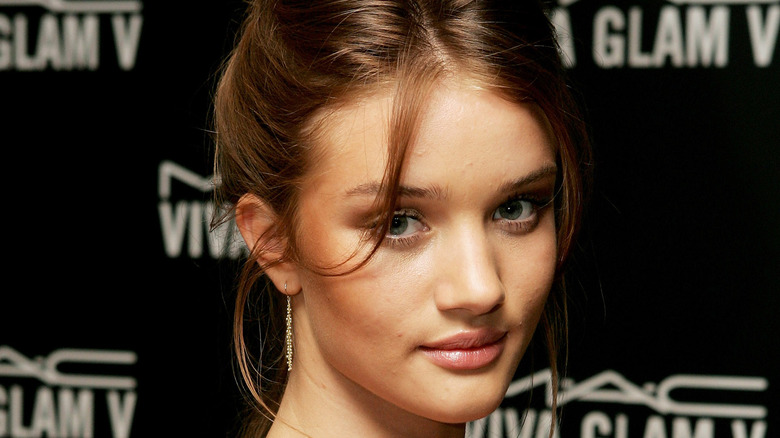 Chris Jackson/Getty Images
Before Rosie Huntington-Whiteley graced the covers of magazines or strutted down runways, she was just another British schoolgirl. However, from a young age, she was always obsessed with the high fashion industry.
"I was just fascinated by these images and the photo shoots — and what went into that, what happened behind the scenes," she shared with Vogue in 2012. "How you create that glamour and mystery and the theatrical nature of the picture — that was what really interested me and my bedroom was just full of pictures of models and tear-outs from magazines."
The young Huntington-Whiteley was so interested in fashion she got her own Vogue magazine subscription when she was just 13 years old. And receiving the magazines in the mail quickly became her favorite part of the month. "It was very special and I had them all stacked up in my room — they were my pride and joy," she revealed. "No one was allowed to touch my Vogues!" In hindsight, it's easy to see why Huntington-Whiteley ended up succeeding in the fashion world.
She started modeling at 16 years old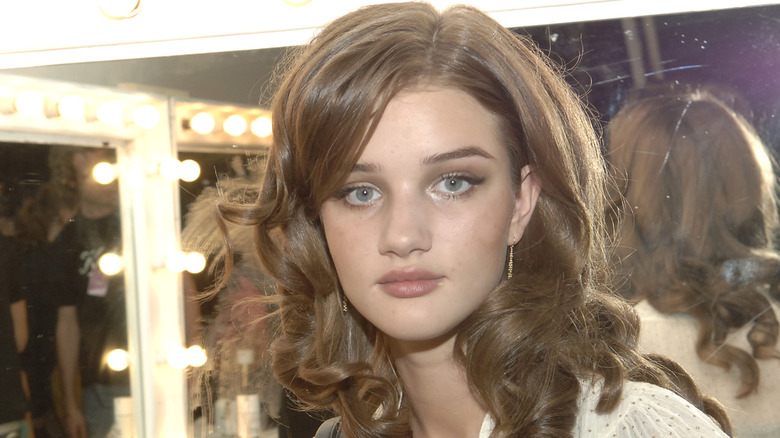 J. Tregidgo/Getty Images
After years of bullying, Rosie Huntington-Whiteley surprised everyone at her school by landing her first modeling gig. As the star later said in a video on her YouTube channel, she kick-started her career all by herself. "I got out the yellow pages and looked in the yellow pages for any fashion brands or shops ... any kind of agency that was, like, pertaining to fashion at that time, and wrote probably 20, upwards of 30 letters," she recalled. The star didn't even have modeling in mind at the time — instead, she just wanted to get her foot in the door of the fashion industry. 
Huntington-Whiteley was offered one week of work experience at a modeling agency. After that week, she returned to the agency, where a new booker saw something in her and asked to take a few Polaroids. Huntington-Whiteley later posted the polaroids on Instagram, writing, "Just came across these — the first polaroids ever taken of me back in 2003 in London at my first agency. Bringing back so many special memories." The rest, of course, is history.
Rosie Huntington-Whiteley wanted control over her career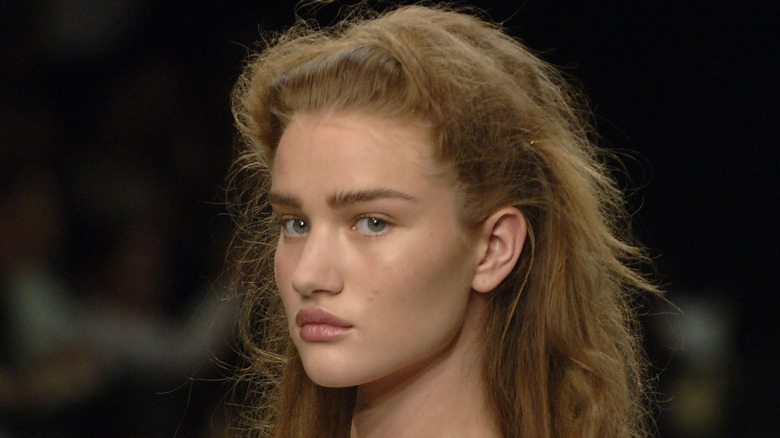 J. Tregidgo/Getty Images
After entering the modeling world at 16, Rosie Huntington-Whiteley quickly rose through the ranks of young models in London. She landed a Levi's jeans ad and told GQ in 2010, "I thought that would be the one and only time I would ever get paid for modeling so I spent all of my first cheque on a Ford Ka, even though I couldn't drive." However, the gig was followed by a contract with Victoria's Secret, which would last from 2006 until 2010. 
Despite her success, working as a teenage model in the 2000s wasn't always easy. As she became more experienced, Huntington-Whiteley began to resent working in an industry where she had no control. "I remember picking up the phone to [call] my agent, checking every day what options had come in," she said to Net-A-Porter. Recalling her frustration at 19, she shared, "I remember getting off the phone and being so fed up with my life being at the mercy of [other] people's decisions." From then on, the model decided that she would make her own choices for her future.
Huntington-Whiteley would go on to become an ambitious businesswoman in the years to come.
Her career started to really take off in 2008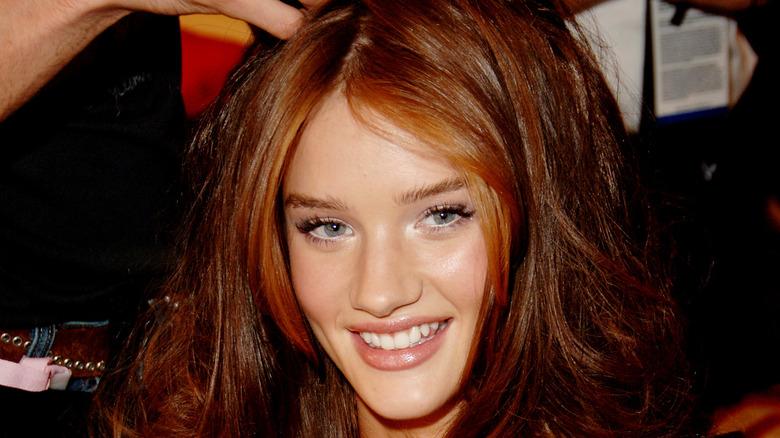 Jon Kopaloff/Getty Images
By 2008, Rosie Huntington-Whiteley was one of the biggest up-and-coming names in the modeling business. That year, she starred alongside actor Sam Riley in a Burberry campaign. It was her first shoot as the new face of the brand — a role she had just taken over from Agyness Deyn.
The campaign featured retro black-and-white photos of Huntington-Whiteley and Riley hugging while wearing Burberry coats. As the shoot's creative director Christopher Bailey told Vogue, the campaign was focused on "capturing the poetic melancholy and romance of the winter collections." Huntington-Whiteley later told Bailey during a conversation for Interview Magazine, "Shooting the Burberry campaign [Fall 2008] was a real turning point in my career." Suddenly, she was a well-known face in the industry.
Huntington-Whiteley also landed her first Vogue cover shoot in 2008, appearing alongside Jourdan Dunn and Eden Clark. There's no denying that this was the year the model made her first steps towards superstardom.
The star started dating Jason Statham in 2009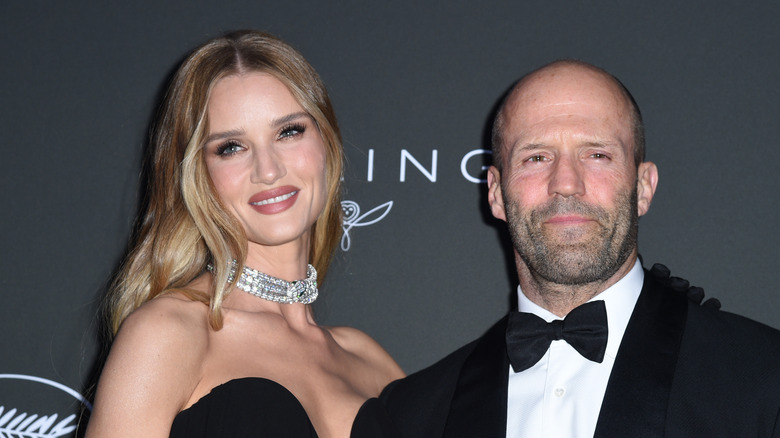 Lionel Hahn/Getty Images
In 2009, Rosie Huntington-Whiteley met actor Jason Statham at a party. Despite a 20-year age gap, the pair hit it off and began dating. They went public with their relationship in 2010 and announced their engagement in 2016. Although they haven't tied the knot, they're still together and have two children as of 2023.
In 2015, Huntington-Whiteley opened up about their relationship. "We're best mates," she said to Self Magazine. "He makes me laugh every day. I almost feel like I never had a proper boyfriend before!"
Over the years, Statham has offered support and stability for Huntington-Whiteley — and vice versa — as both of their careers have accelerated. "We're definitely both ambitious and excited for life ... Jay is my greatest protector," she gushed to Net-A-Porter in 2021, adding that she also feels protective over Statham. "He has been a great mentor for me with work and navigating the industries."
In 2010, she became a Victoria's Secret Angel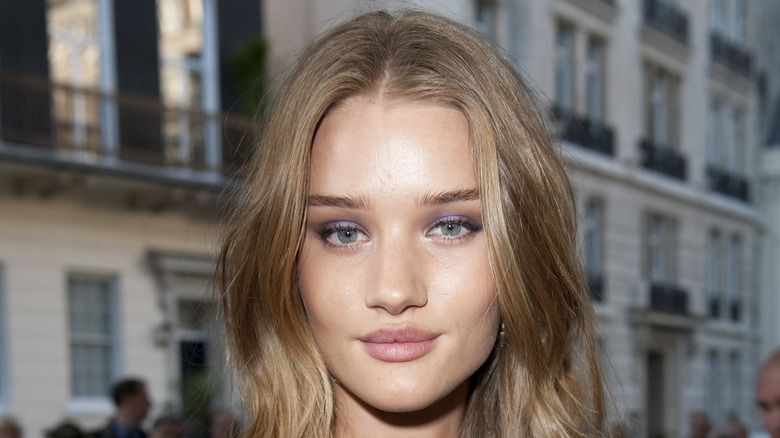 Antony Jones/Getty Images
After four years of modeling for Victoria's Secret, Rosie Huntington-Whiteley became an official "Angel" in 2010. It marked a special moment in her career. "It's still such a huge thing for a model," she said to Harper's Bazaar. "People kind of laugh about it and think it's irrelevant, but I don't know a girl in the world who would put those wings on and not feel, just for a split second, very special."
However, that same year, Huntington-Whiteley decided to leave Victoria's Secret behind for good. "For me, at the time, I saw an opportunity to build something for myself with my name on it and to be in the driver's seat of a business [where I could] work alongside people ... instead of being the hire," she later explained on the "Girlboss Radio" podcast. She added that her modeling career would have a "shelf life," so she wanted to start pursuing new opportunities within the entertainment industry. And that's exactly what she did. 
Rosie Huntington-Whiteley made her acting debut in 2011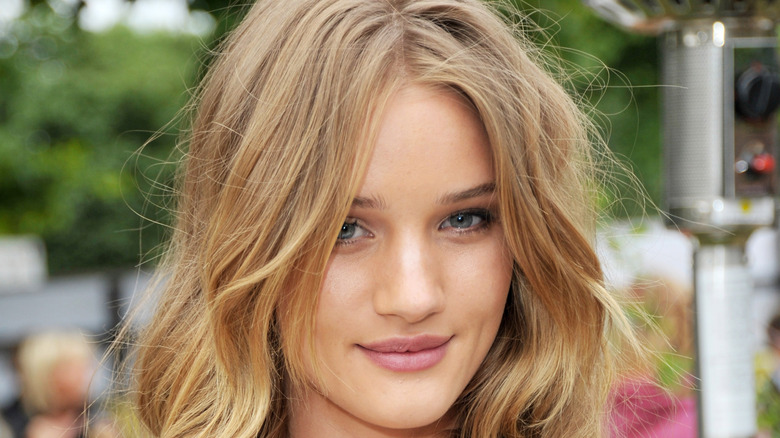 Jon Furniss/Getty Images
After deciding to branch out from modeling in 2010, Rosie Huntington-Whiteley began acting. She landed her first role as Carly in the action movie "Transformers: Dark of the Moon." However, as she put it to Self Magazine, "The real stars of movies like that are the control men." Still, the film was a box office hit, and it led to the model's next part in "Mad Max: Fury Road" in 2015. 
This role was a little more challenging for Huntington-Whiteley than working on "Transformers." "It was different shooting this one because there was no relief from the desert," she confessed to Esquire. "When I was filming 'Transformers,' I went home to a fancy hotel and a spa and room service. ['Mad Max'] was tougher because of the location that we were at."
Acting in films also proved to be a very different experience from fashion photoshoots. However, as she told The Telegraph, it was all worth it. "Those moments that are fulfilling are like ecstasy," she said of making movies. "They're amazing."
She's done a few fashion collaborations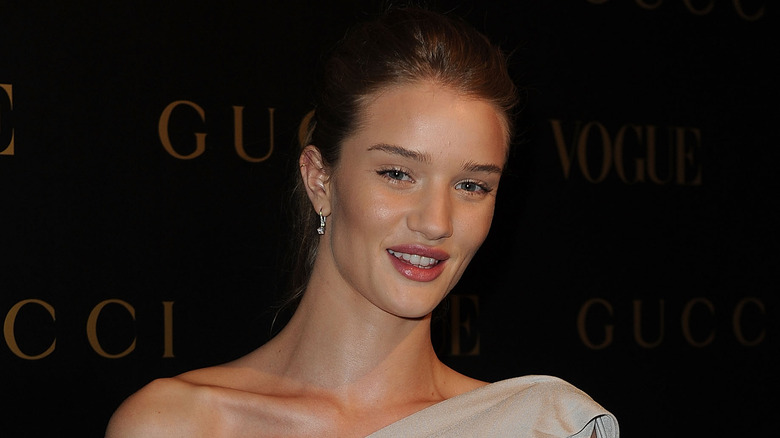 Ferdaus Shamim/Getty Images
Over the years, Rosie Huntington-Whiteley has collaborated with a number of brands. In 2012, she did her first major collaboration with Marks & Spencer, releasing a self-named line of lingerie. As she later said on the "Pretty Big Deal" podcast, this was part of a plan to build a career outside of modeling. "As a young model, I always had done a lot of lingerie shoots and I decided to walk away from Victoria's Secret when I was 24 because I knew I wanted to have my own line," she said. 
Her line ended up being hugely successful. Huntington-Whiteley said to Elle in 2022, "I've always been obsessed with lingerie, and the collection was really born out of the passion that came out of working with so many luxury lingerie brands in the early half of my career," the model recalled. "But to step into the role of designing has been a whole different beast, and I've loved every second."
The model's skincare routine has evolved over the years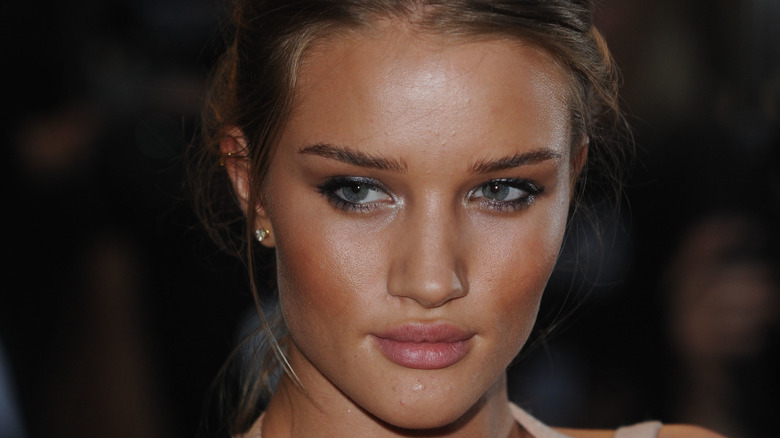 Rune Hellestad - Corbis/Getty Images
As a model, Rosie Huntington-Whiteley has always taken good care of her skin. However, over the years, she's had to make adjustments to her routine. "I've suffered breakouts and [pore] congestion my entire adult life," she told Grazia. "At best it's managed but it's never perfect."
In order to keep her skin as clear as possible, Huntington-Whiteley has switched to non-comedogenic products, which she's said "was a really interesting revelation to me ... I saw a huge difference once I made that change." She shared, "I use IS Clinical a lot." 
As far as other skincare products Huntington-Whiteley can't live without, her morning routine consists of using a cleanser, oil pads, a poly-vitamin serum, and an eye cream. In the evening, she also uses a retinol serum and a derma-roller. Plus, she gets some professional help with her skin. "I usually have a facial every two weeks, so lately I've had to be really on it with my skincare routine," she said.  
She became a mom in 2017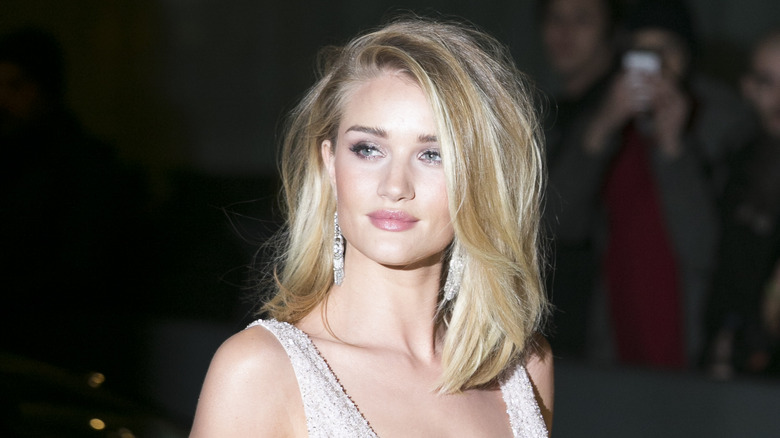 John Phillips/Getty Images
In 2017, Rosie Huntington-Whiteley had her first child, Jack. Her second child, Isabella, came in 2022. Motherhood ultimately proved to be a dramatic transition for the model. "For a period after I had my first son, there was a real shift in identity, and a sort of mourning of the loss of your old life, and who you were ... I just remember feeling like the rug was pulled out from underneath me," she told Net-A-Porter in 2021. She also explained that being tied to her home was a major adjustment from traveling the world as a "self-employed" businesswoman.
While getting used to being a mother was tricky at first, she soon embraced her new life. However, the star still admitted that being a mother and a busy entrepreneur is always a balancing act. "Whether you're running the household or running a business, women take on a lot. The juggle is real," she told The Times. 
The star transitioned into the beauty space in 2018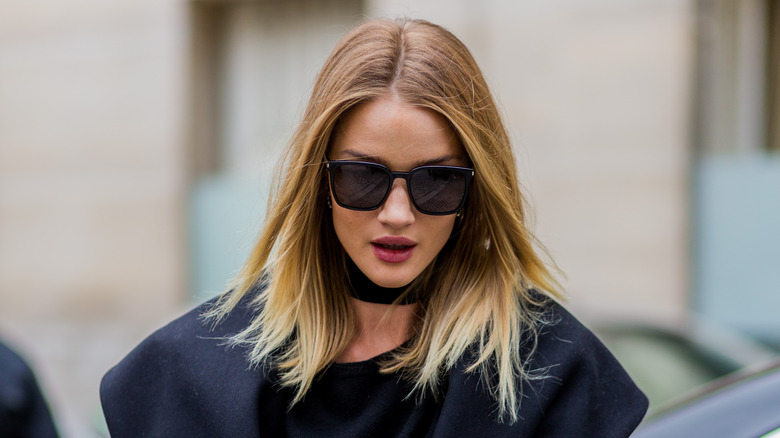 Christian Vierig/Getty Images
Rosie Huntington-Whiteley made one of her biggest career moves in 2018 when she launched her own company, Rose Inc. The company began as just a website, where she would publish beauty articles and interviews. This was followed by her first line of beauty products in 2021. "There was a real appetite for anything beauty-related that I shared across my social channels back then," she told Grazia in 2022 about her initial website. "But there were a lot of celebrity beauty brands out there already, it was a very oversaturated market." 
In spite of potential competition, social media allowed her to build the brand and connect with her community before launching products. Huntington-Whiteley ended up collaborating with Caroline Hadfield, who is now the brand's CEO. Huntington-Whiteley explained that Rose Inc has been one of her most exciting ventures to date. "I had a vision, I took the risk and I plunged," she said. "It's a dream come true to be where I am right now."
Rosie Huntington-Whiteley moved back to England in 2020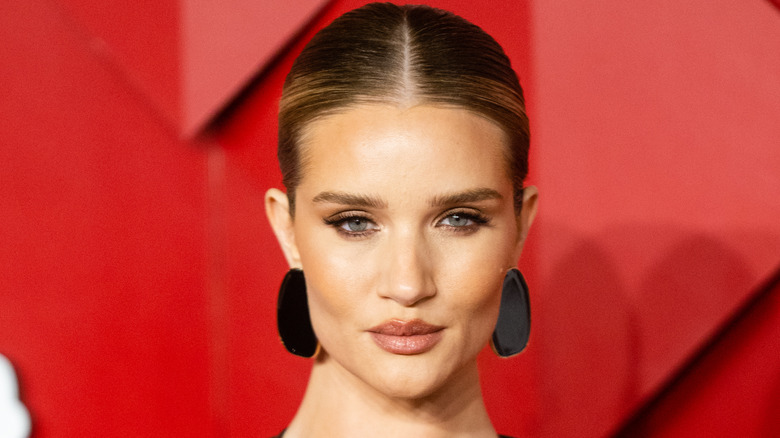 Samir Hussein/Getty Images
Rosie Huntington-Whiteley went through another major transition in 2020. After 11 years of living in Los Angeles, the model and her family relocated back to her native country. As she explained to The Times, she wanted to raise her children in the U.K. "When you put your kid into school, it's such a fundamentally important decision of who they are going to be and how it's going to shape them," she said.
As the model told Grazia, returning to England meant returning to all of the aspects of British culture that she had missed. "I'm looking forward to long walks in the park, pub lunches, watching movies, eating, and relaxing — but mostly watching my son enjoy being with his family," she said before her move.
The couple bought a house — allegedly worth over £7 million — in London and began renovations. She posted a photo of the empty space to Instagram in 2021, captioned, "Designing my dreams."