2 Qualities That Can Make Or Break The Effectiveness Of Your Eczema Cream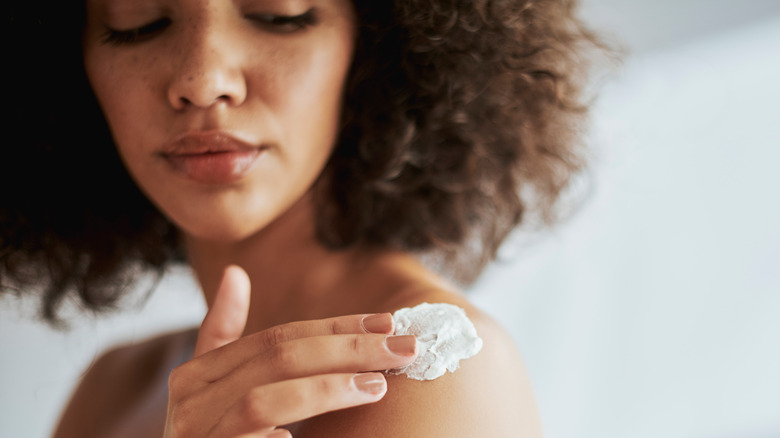 Delmaine Donson/Getty Images
Although there are different types of eczema out there, they all have one thing in common, and that's that they make your skin feel itchy, inflamed, and generally intolerable. Though there are medications and other treatments that could help, to treat dry or dehydrated skin you'll need a cream that's suited to your specific skin type. 
With all the different creams out there, you may be finding it difficult to pick the right one. Phrases like "non-greasy" can sound tempting, but they could also mean that the product isn't thick enough to work on your eczema. The same goes for creams that feature very heavy formulations. While you may think you need a super thick cream to really calm your eczema, some creams are so dense that they don't sink into the skin easily and could actually cause congestion.
Fortunately, we've got the two qualities you should look for the next time you're shopping for a cream to soothe your eczema, as well as a few of the creams that fit these qualities.
Look for these qualities in an ezcema cream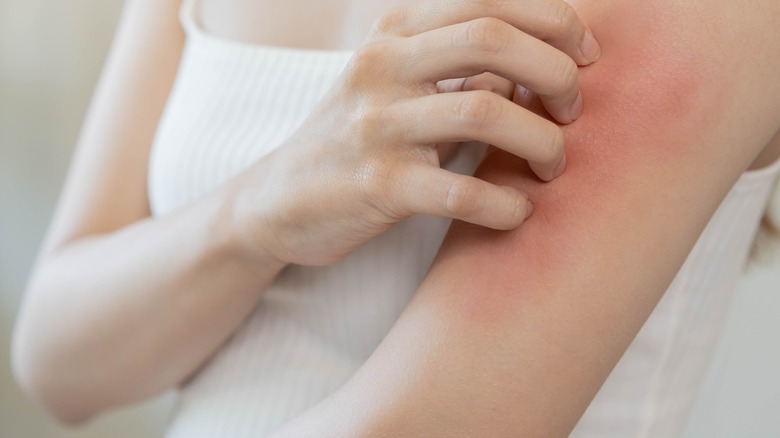 Kmpzzz/Shutterstock
Board-certified dermatologist Dr. Dustin Portela shared with Marie Claire exactly what he recommends you should look out for when choosing an eczema cream. "I encourage my patients to look for thicker moisturizing creams, balms, and ointments," he revealed. "By nature, face creams for eczema are going to be on the thicker side, but there is an element of preference as well. Some may prefer a silky cream, while other will gravitate towards a very occlusive balm."
Texture and consistency aren't everything, though. According to board-certified dermatologist Dr. Nava Greenfield, who also spoke to Marie Claire, patients should seek out creams that are fragrance-free and prepared with ingredients especially geared toward sensitive skin. This is because those with eczema have skin that feels very sensitive due to the dryness, redness, and inflammation eczema causes.
Overall, texture and formulation are extremely important, though the important thing is to choose a cream that feels soothing against your skin. A thick cream may be beneficial to your skin, but if you don't like to use it because of the glue-like texture, it's pointless buying anything with a similar consistency (and the same goes for more lightweight creams).
Your eczema will thank you for trying these creams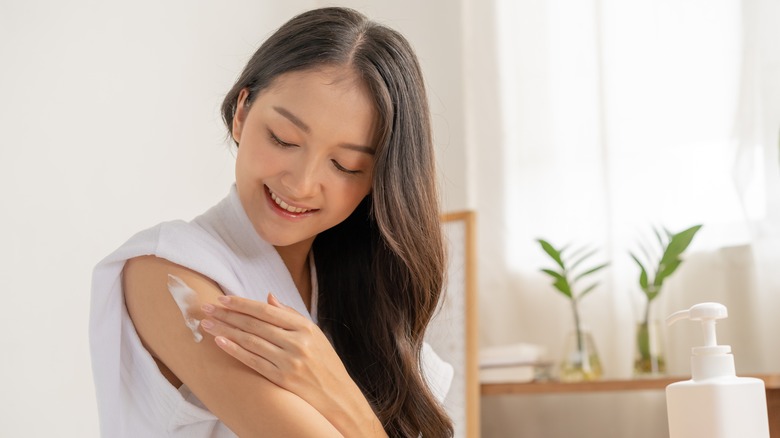 Kmpzzz/Shutterstock
As mentioned, different skin types require different formulations, but these creams and lotions are some of the best on the market when it comes to soothing eczema. First on our list is Vanicream Moisturizing Cream. Dermatologist Dr. Corey L. Hartman recommended this cream via The Strategist alongside several other dermatologists, noting that Vanicream "tends to be well-tolerated by even those with particularly dry, sensitive skin." 
Popular for a reason, CeraVe Daily Moisturizing Lotion is another great option for eczema-prone skin. Per NBC News, dermatologist Dr. Viktoryia Kazlouskaya recommended CeraVe's lotion because it "has a unique blend of high-quality moisturizing agents (ceramides, hyaluronic acid and glycerin)." If you haven't heard of them before, Dr. Kazlouskaya stated that ceramides are important in repairing and protecting your skin barrier. 
Specifically formulated for those with eczema, Dr. Kazlouskaya says that Aveeno Eczema Therapy Moisturizing Cream "suppresses histamine release, plumps up the skin and restores the skin's natural barrier." It also contains oatmeal, which will feel soothing against sore skin. All of the above creams pass the texture and formulation test, but always remember to test a new cream or lotion on your skin before fully committing.