Kate Middleton Shines In Green 2023 Trooping The Colour Look (And There's Good Reason For It)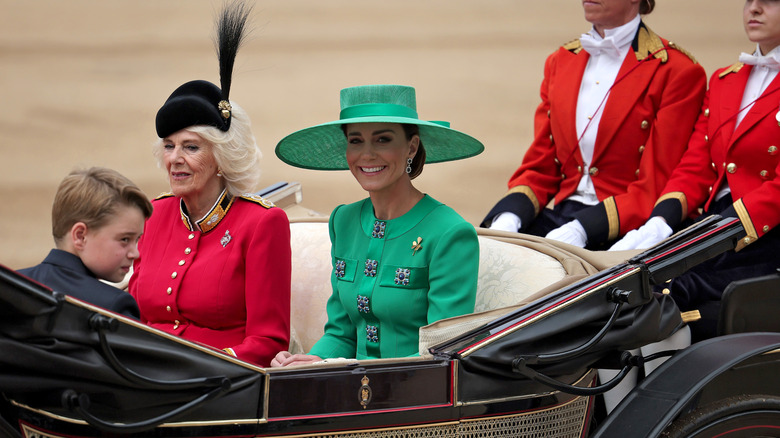 Rob Pinney/Getty Images
Green is often associated with growth and renewal. It seems no mistake, then, that Kate Middleton (now Catherine, Princess of Wales) chose to dress in stunning shades of this revitalizing color for the royal family's first Trooping the Colour since the passing of Queen Elizabeth II. Her hat was made by Philip Treacy, an Irish couture milliner based in London, and her dress was made by Andrew Gn, a Singapore designer trained in London and currently based in Paris, as reported by Richard Palmer of the Daily Express.
Arriving in a horse-drawn carriage, Catherine sat beside Queen Camilla, who was appointed Colonel of the Grenadier Guards in December 2022 and paid homage to this British infantry regiment by opting for a red silk coat dress inspired by their scarlet uniforms. Side-by-side, dressed in shades of ruby and emerald, the two royals evoked the timeless joy of Christmas during this annual summer event.
There's another reason, though, that Catherine might have chosen green for this auspicious occasion that celebrates the birthday of King Charles III and also serves as a military inspection. Her attire may also relate to her position.
The color of Irish shamrocks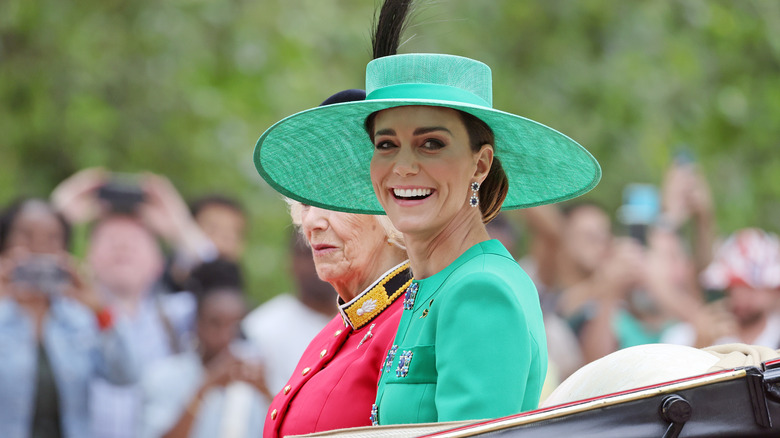 Neil Mockford/Getty Images
Earlier in 2023, the Princess of Wales took over the Prince's role as Regimental Colonel of the Irish Guards. Green, then, is a nod to her position regarding the infantry combat brigade that guards the royal family and also specializes in scouting, reconnaissance, and sniper deployments.
In March 2023, Princess Catherine visited the Irish Guards, formed in 1900 and known for their charm, at their St. Patrick's Day Parade, as reported by the official royal website. Following tradition, she presented sprigs of shamrock to the officers and guardsmen, and, speaking to the assembled soldiers, expressed pride and honor to be named their Colonel. "I am here to listen to you, to support you, and to champion you in all you do – this is a responsibility I do not take lightly." 
Admirers of Princess Catherine do not doubt that she will fulfill her duty to the guards, who can be deployed anytime, anywhere worldwide, to aid allied nations during an early stage of a potential conflict. Her choice of green, then, is a clear nod to this British Army unit.
Princess references family history yet remains her own woman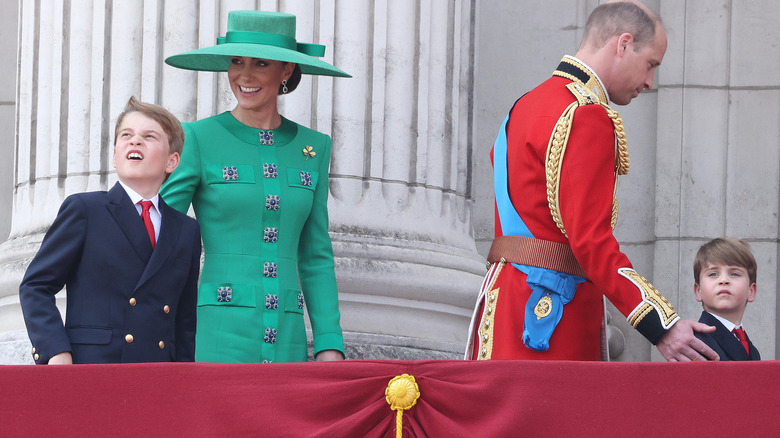 Neil Mockford/Getty Images
Green, a dominant color in nature, also brings to mind connections to the environment, causes for which are near and dear to the Wales' hearts. Prince William founded the Earthshot Prize in 2020 to celebrate those making bold strides in their efforts against climate change. Princess Catherine accompanied her husband to the foundation award ceremony in 2022, also wearing a symbolic green for the occasion, People reported. On November 7, 2023, the third annual awards ceremony for Earthshot will take place in Singapore, birthplace of Andrew Gn, designer of Catherine's Trooping the Colour dress.
Kate's dress featured blue jewel designs running in a line down the front with an additional four positioned above the chest and hips. Embellishments worn by the Princess included green stiletto heels and earrings worn by the late Princess Diana, as reported by Express. Of course, this is not the first time that the princess paid honor to her husband's mother through dress.
Diana, who died in a 1997 car accident and was referred to as the "people's princess," also held sway over the British fashion industry, setting new trends in motion with a single public appearance. In official visits to Scotland and the Royal Ascot, at royal banquets, and at past Trooping the Colour parades, Kate Middleton channeled Princess Diana's iconic style while establishing her own timeless language of chic.