Why Child Star Frankie Muniz Made The Move To Racecar Driving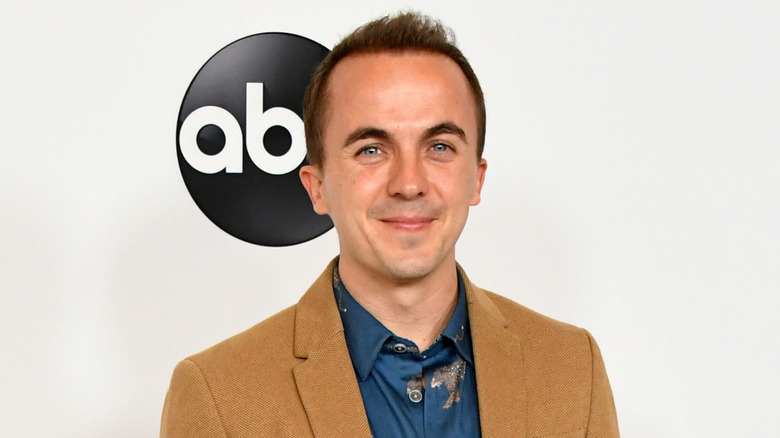 Jon Kopaloff/Getty Images
In the first season of "Malcolm in the Middle," Frankie Muniz's titular character skips school to go to the racetrack — proof that life really does imitate art as Muniz continues to forge a new path as a racecar driver in his adult years. From 2000 to 2006, the world might have known Muniz as the mischievous narrator of the classic Y2K sitcom, but these days, he'd much rather be behind the wheel than on the screen. 
After the final "Malcolm" episode aired in May 2006, Muniz continued to act in various television series and movies. However, he wasted no time in starting his pursuit of another passion: racing. Though the multi-talented actor took another brief detour as a drummer for a rock band, Muniz kept his eyes set on the finish line. 
From pace car driver to bonafide racer, Muniz has been steadily climbing the ranks toward becoming a NASCAR driver — kind of like the stock car racers Malcolm played hooky to watch all those years ago. So, why did Muniz end up switching lanes?
Frankie Muniz began racing at a young age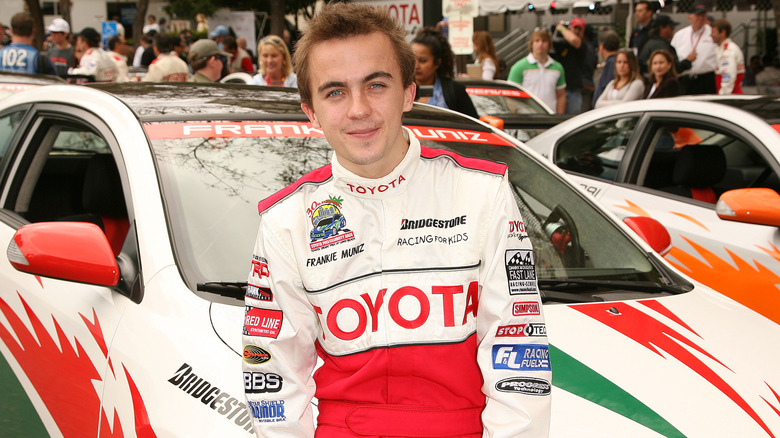 Jason Merritt/Getty Images
It's hard to imagine anyone but Frankie Muniz as the trouble-making middle sibling of the "Malcolm" family. At only 15 years old, Muniz embodied the character naturally, from his wide-eyed expressions to his propensity for classic sitcom hijinx. However, Muniz said he never set out to become an actor — let alone the lead character — of the cult-classic series. 
"I love my past. I love everything I've done," Muniz said in an interview with the Associated Press. "But I don't remember ever saying I wanted to be an actor. I wanted to be a garbage man, honestly, and acting took over my life. This chance in racing was me saying: 'What do I want to do? What do I want to accomplish in my life?' And here I am. I chose this." 
While acting might not have been Muniz's dream job, it did open doors he might not have been able to walk through otherwise. Muniz told People that he was first interested in racing in 2004 after driving in the annual Toyota Pro/Celebrity Race in California while "Malcolm" was in full swing. From then on, he did whatever he could to stay behind the wheel.
The child star's life-long love of the sport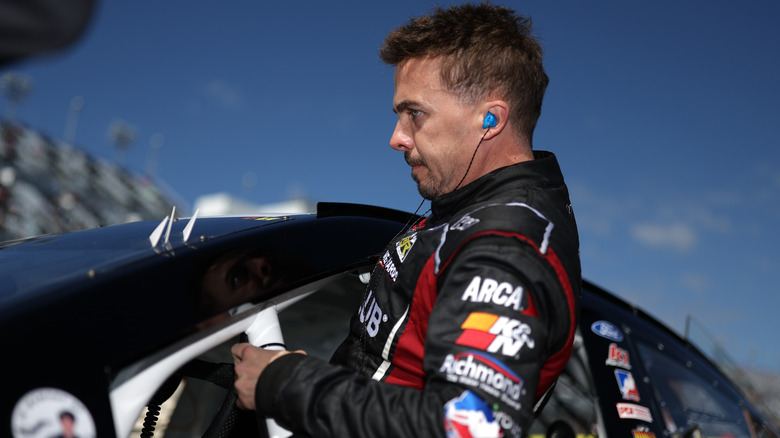 James Gilbert/Getty Images
Sanitation worker or acting careers aside, Muniz said he's always been interested in racing cars. As a child growing up in Raleigh, North Carolina, he frequently attended races at the Charlotte Motor Speedway. Still, he never thought becoming a driver was a feasible possibility (via NASCAR). But in 2001, he inched closer to realizing his dream when he drove the pace car for the Daytona 500 at only 16 years old.
Muniz continued pursuing racing on the side between "Malcolm" and other early 2000s hit movies like "Big Fat Liar" and "Agent Cody Banks." After the sitcom wrapped in 2006, Muniz dove headfirst into his love of racing by entering 14 races in the Formula BMW USA series. A serious crash forced him to step away in 2009 (one of many tragic details of Muniz's life), but he eventually returned to his passion in 2021 at Kern County Raceway Park in California. 
The following year, Muniz entered the ARCA Menards Series, a smaller feeder program of NASCAR (per the Daytona Beach News-Journal), and has been slowly improving his stats ever since. Muniz told the Associated Press he hopes to one day enter the NASCAR Cup Series, a dream he holds stronger convictions for than anything else he's pursued in life, explaining, "When I put my helmet on and leave pit land, as much as I don't know, I feel like I'm exactly where I'm supposed to be."