What We Know About Anna Nicole Smith's Secret Relationship With Missy Byrum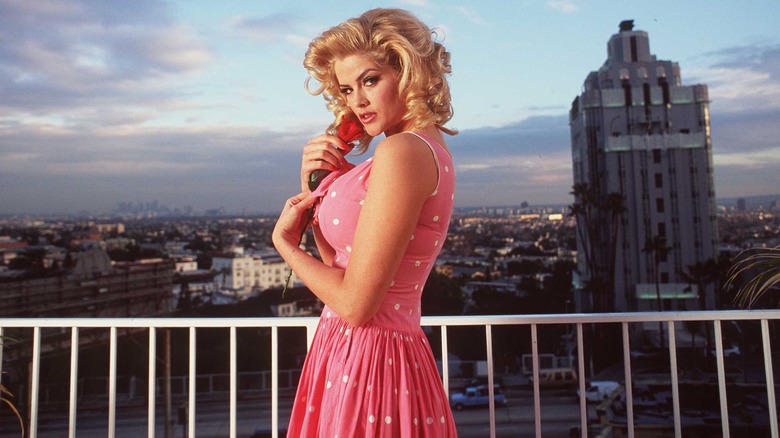 Paul Harris/Getty Images
Anna Nicole Smith, born Vickie Lynn Hogan, was an American model and actress, known mostly for her infamous marriage to the late billionaire J. Howard Marshall II. Smith was previously married to Billy Wayne Smith, who is also the father of her first child, Daniel Wayne Smith. While most of her tie-ups were quite known to the public, it seems like Smith was able to keep some of her relationships a secret, especially the one with her friend, Missy Byrum.
The two apparently met when Smith was working in a strip club in the 1980s, as Byrum shared in Netflix's documentary about Smith's life, titled "Anna Nicole Smith: You Don't Know Me." They started off as coworkers who would become best friends, People reports. Even though Smith was already notoriously involved with J. Howard Marshall, the late Houston billionaire, Byrum and Smith began their secret relationship in the early 1990s, Byrum says.
"Everyone fell in love with her. I did too," Byrum noted nostalgically, adding that the pair had gotten closer over time as Byrum often took care of Smith's son, Daniel, when she was away. "We'd now been through some bad relationships, both of us, with men. We decided that we just didn't need men. We were gonna raise Daniel together," Byrum said in the Netflix documentary.
Anna Nicole Smith and Missy Byrum secretly wed in 1993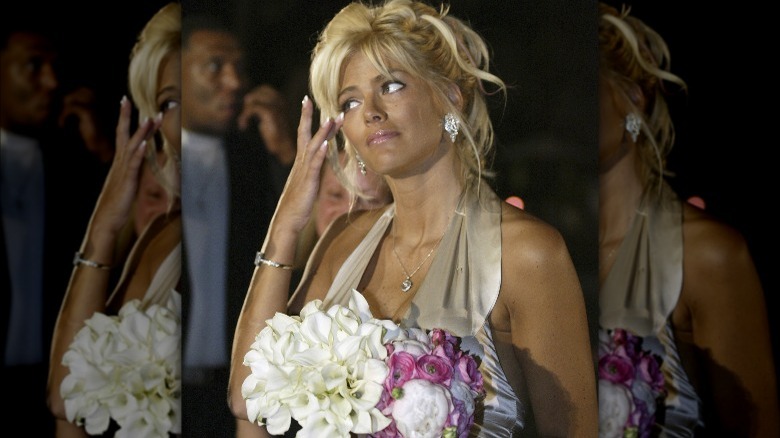 Ralph Notaro/Getty Images
Anna Nicole Smith and Missy Byrum apparently secretly wed in 1993, taking their secret relationship to the next level. "[Smith] gave me a set of wedding rings, and we got married in the backyard by the pool with champagne," Byrum reveals in the documentary, adding that Smith wanted the pair to have a baby of their own. However, despite the love they shared, Byrum was aware that their relationship wouldn't last.
"I always knew it wasn't ever going to work out. Because she was never, ever going to settle down with one person," Byrum shared, noting that she walked away from the relationship when Smith's addiction to painkillers started to take a toll. As their wedding ceremony wasn't legally officiated, there are no official records of Smith and Byrum marrying each other.
Smith went on to have a relationship with photographer Larry Birkhead, and they eventually welcomed their only daughter, Dannielynn Birkhead. The late model never married again after the death of her second husband, J. Howard Marshall II, in 1995. Smith was 26 when she married the 89-year-old oil tycoon in 1994, and they were married for just over a year before Marshall's death.
Smith was considered fluid in love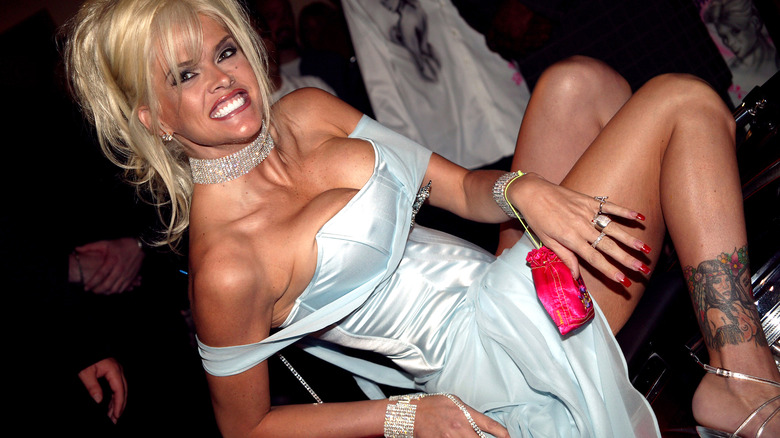 Brad Washburn/Getty Images
Anna Nicole Smith rose to fame as a Playboy Playmate in the early 1990s, which ultimately led to her short-lived movie career. She later starred in a reality show titled "The Anna Nicole Show", which ran on E! for two seasons. The public eye was, however, mostly focused on her relationships rather than her accomplishments.
Smith loved passionately, according to people who knew the model. "I would say she was fluid. We just did not have a name for it back then," her fashion designer friend Pol' Atteu shared in a conversation with People. The late model-turned-actress was allegedly always looking for a challenge to conquer when it came to love, but she considered her late billionaire husband to be her one and only true love; so much so that his ashes are buried with Smith, Atteu tells People. "He loved her unconditionally and was always there to care for her and [her son] Daniel. And that's why his ashes are in her coffin." Smith passed away at 39 from an accidental drug overdose in 2007. 
If you or anyone you know needs help with addiction issues, help is available. Visit the Substance Abuse and Mental Health Services Administration website or contact SAMHSA's National Helpline at 1-800-662-HELP (4357).