Who Was Anna Nicole Smith's Husband, J. Howard Marshall II?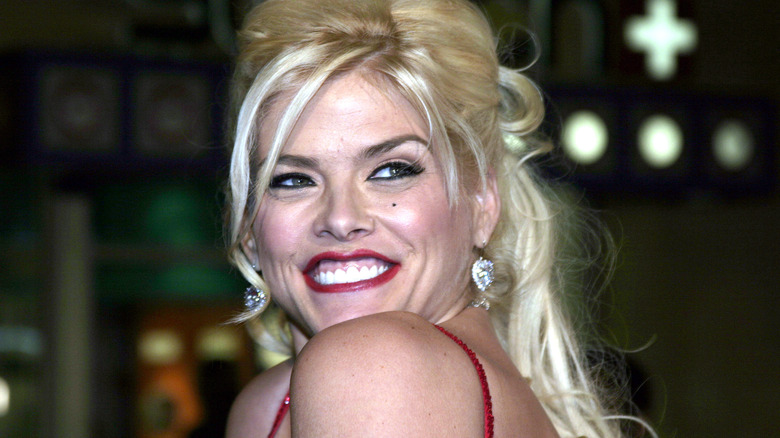 Tinseltown/Shutterstock
Before she was a blonde bombshell, Anna Nicole Smith was a teen mom trying to make ends meet in Texas. Despite this, Smith rose to the top and became a model for Playboy and Guess. In 1993, she was named Playboy's Playmate of the Year. Ultimately, this made her a bona fide sex symbol, a status that she still holds years after her 2007 death from an accidental overdose. However, even with all of her fame and success, Smith was heavily mistreated by the media and even more so when she married oil billionaire J. Howard Marshall II in the summer of 1994.
The pair tied the knot in a ceremony at the White Dove wedding chapel in Houston, Texas. This was her second marriage and Marshall's third. Their wedding occurred early in Smith's career, and thus, she kept her relationship hidden from the media and the public. Nevertheless, the union made headlines due to their significant age gap; Smith was 26, while Marshall, who was born in 1905, was 89. As a result, Smith was branded as an opportunist.
Throughout her life, Smith, a former exotic dancer, insisted that she did not marry Marshall for his vast fortune. Here's how Marshall made his billions in the first place and eventually became husband No. 2 to Smith.
J. Howard Marshall II's life before Anna Nicole Smith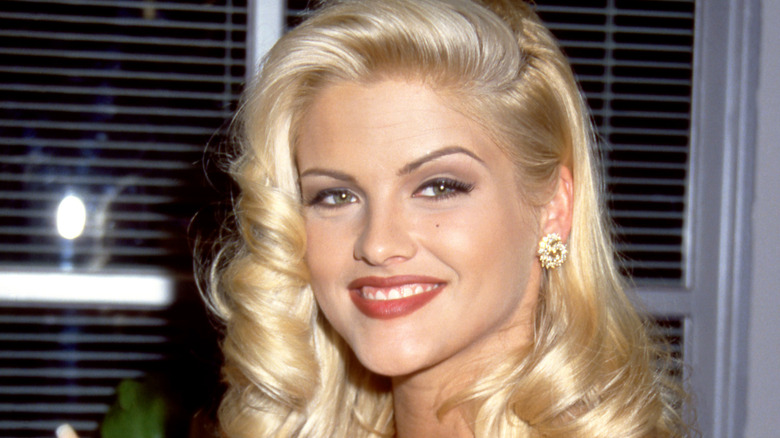 Ron Davis/Getty Images
Before becoming a billionaire, J. Howard Marshall II was a Yale law school graduate. He later worked as an assistant dean for the institution. That said, he first ventured into the oil industry by writing oil laws. In the 1930s, he worked as a lawyer for Standard Oil. Moreover, Marshall continued to influence oil legislation into World War II and worked with President Harry Truman and later Dwight D. Eisenhower. He became an oil magnate when he became involved in Koch Industries. 
Per New York Magazine, Marshall held a minority interest in the company, which led him to become a billionaire later in life. Prior to his infamous marriage to Anna Nicole Smith, the publication explains that Marshall married his first wife, Eleanor Pierce, in 1931. In 1961, his marriage to Eleanor ended, and Marshall subsequently married a woman named Bettye Bohanon. After Bohanon became ill with Alzheimer's disease, he took on a mistress known as Lady Walker. 
In 1991, Bohanon and Walker died and a grieving Marshall then fell for Smith, whom he met at a strip club in Houston.  In 2000, Smith recounted their first meeting during a "20/20" appearance. "He had no will to live and I went over to see him," she said (via ABC News). "He got a little twinkle in his eyes and he asked me to dance for him, and I did." The two then began to spend more and more time with each other outside of the club. 
Anna Nicole Smith went to court for his estate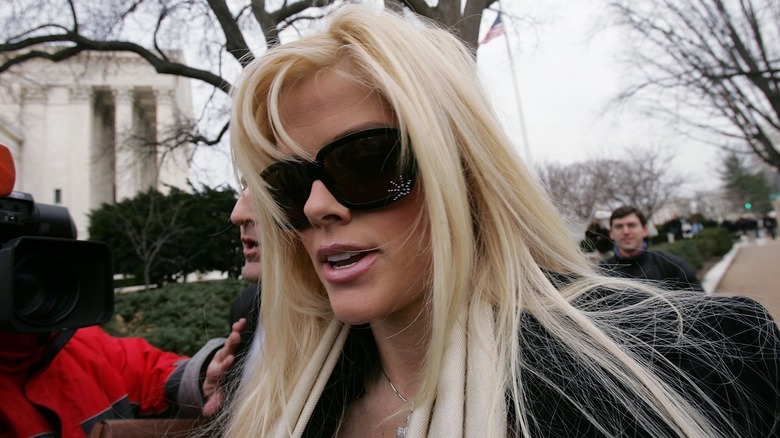 Win Mcnamee/Getty Images
J. Howard Marshall II became besotted with Anna Nicole Smith and spent millions on her, including on jewelry and real estate. Although he wanted to marry Smith early on in their courtship, she turned him down until 1994, when she was on the verge of becoming a household name. According to Texas Monthly, Smith wanted to ensure she had her own career and money before walking down the aisle with Marshall. However, the marriage was short-lived and ended when the 90-year-old Marshall died in 1995 from stomach cancer.
From then on, Smith became embroiled in a legal battle with her stepson and Marshall's son, Everett Pierce. Smith claimed that she was entitled to Marshall's $1.6 billion fortune. Pierce, on the other hand, denied this and said that Smith's inheritance was the $6 million in items that his father had given Smith throughout their relationship. Smith was later awarded $474 million. Pierce opposed this, but he and Smith died before settling the case.
The lawsuit carried on but Smith's estate received nothing, leaving her with a small net worth that her daughter Dannielynn Birkhead later inherited. In the 2023 documentary "Anna Nicole Smith: You Don't Know Me," Smith's uncle, George Beal, revealed to People that Smith loved Marshall very much. Her longtime friend Missy Byrum also corroborated this statement and said that Smith was able to be herself around her second husband.