Kate Moss Explained Why You Won't Be Seeing Her On Social Media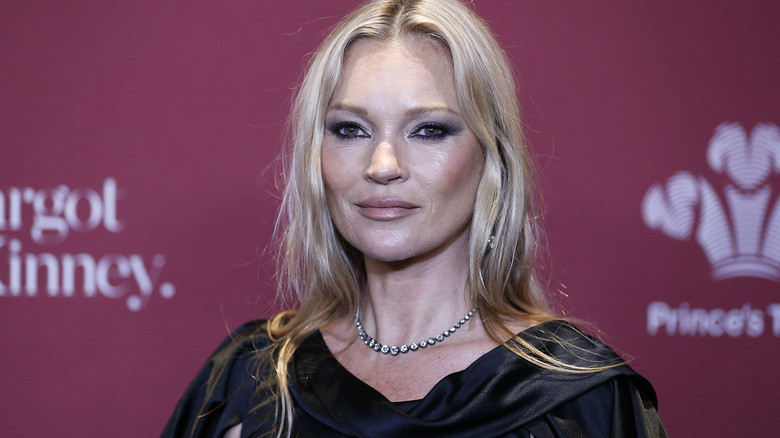 John Lamparski/Getty Images
When you're a supermodel who defined the rebellious, heroin chic fashion era of the '90s, you're probably expected to break the internet as soon as you enter it. However, Kate Moss decided to go the other way and steered clear of social media. Despite fronting luxury campaigns and walking in some of the greatest fashion seasons of all time, Moss is still a notoriously private celebrity. 
In the digital age where models, style setters, and fashion influencers are actively sharing details of their ventures online, Moss refused to follow along and adhere to these new rules. She told The Sydney Morning Herald, "The whole modelling scene is completely different to when I first started out. Everything now is so instant with digital photography and there's no mystique. I don't have any personal accounts on social media, I'm just not into posting about personal stuff online."
However, this does not mean she's not on social media. Discovered in 1988, the supermodel accidentally found fame. Moss was just trying to catch a flight at the JFK airport when Storm model agency founder Sarah Doukas approached her. Since then, she has spent most of her life in the entertainment industry, and she admitted that she wanted to keep up with what's hot and trending through social media. She spilled to Hello! Magazine that she has set up a dummy account that she uses for "spying."
She wanted privacy for her daughter as well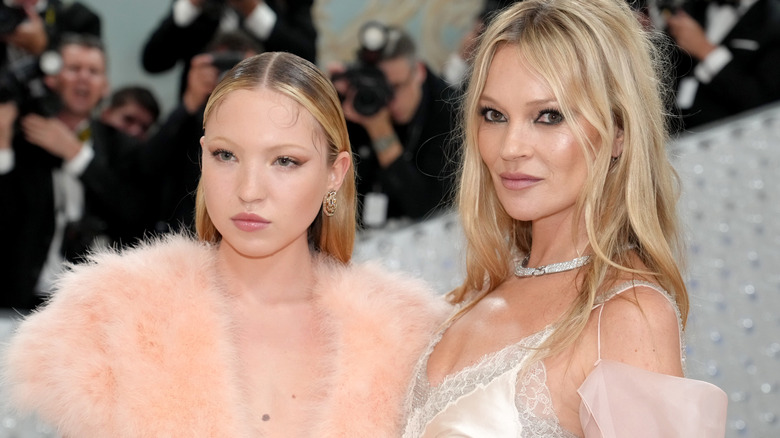 Jeff Kravitz/Getty Images
Life as a model has always been a calculated and complicated process, but not for Kate Moss who has kept it toned down. She has found pleasure in keeping things private and divulged that she's had so much fun mingling with her non-celebrity friends. As private as she is, Moss also protects the privacy of her only child, Lila Grace. Moss has rejected questions about her daughter in interviews since she intends to separate her work life and normal life. Lila Grace is her daughter with ex-husband Jefferson Hack, Creative Director and co-founder of Dazed Media. But, Moss' no social media rule doesn't stop her daughter from being seen in public. In fact, Moss' daughter has been making waves in the fashion world. Even at the Met Gala 2023, Moss and her daughter stunned the public as they appeared on the red carpet wearing Fendi — a truly iconic mother-daughter fashion moment.
In addition, instead of wasting her precious time on social media, Moss makes use of her time wisely. Spending three decades in the industry, she is known to be a strong careerwoman. She's been collaborating with different brands in releasing her own collections, such as Topshop in 2007, Longchamp in 2010, and Rimmel in 2013. She also became a contributing fashion editor for British Vogue in 2013, and was later joined by Naomi Campbell and Steve McQueen in 2017. In addition to these, she currently runs her own modelling agency called Kate Moss Agency.
Kate has an overall low-key, unbothered persona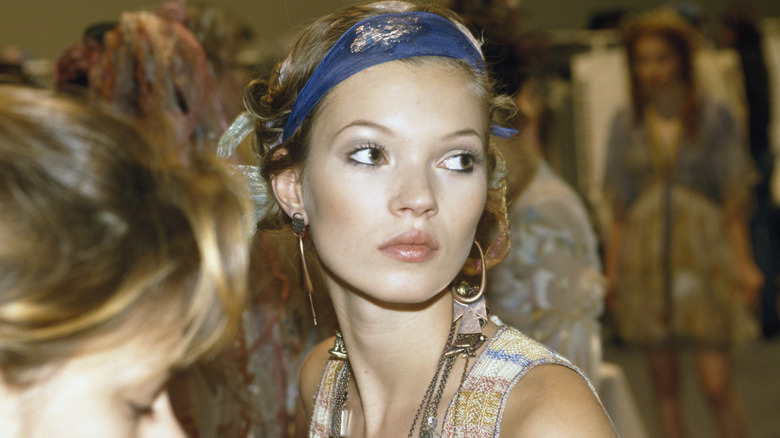 John Van Hasselt - Corbis/Getty Images
Keeping things private isn't a surprising thing to do for Kate Moss. After all, she's been known in keeping her style simple. As a fashion icon, the British model was often spotted in see-through, bias-cut slip dresses, such as the sheer metallic piece she wore during Elite Model Agency's party in 1993 and the pale yellow, backless Calvin Klein dress she was clad in at her first Met Gala in 1995. Moss has truly owned and popularized this chic, barely-there aesthetic and fashion style.
Even her beauty routine is plain and simple. In a 2017 interview with The Guardian, the seasoned model shared that she's not one to be bothered with a lot of products in her skincare regime as she values efficiency — it's just cleanser, serum, and moisturizer. Her hair also hasn't gone through many treatments (her secret is finding a skilled colorist) and is all low-maintenance. When it comes to makeup, she confessed that she fancies a smokey eye and nude lip — the perfect balance of a sweet and spicy look.