Kate Moss' Daughter Is Making Waves In The Fashion World For This Inspiring Reason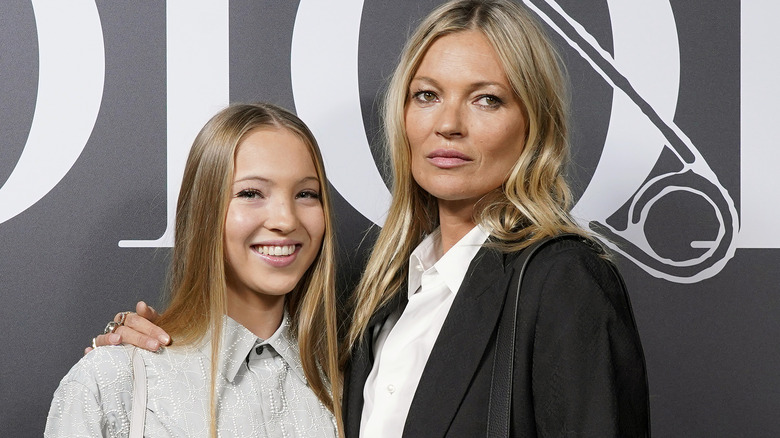 Francois Durand/Getty Images
Like her mom, Kate Moss' daughter Lila Grace began modeling at age 14 (via Elle and Biography). But now, the next generation catwalker is making her mark in a totally different way than her famous mom, and in the process, has inspired countless fans.
As Today reports, the 19-year-old recently appeared during Milan Fashion Week's Fendi and Versace show sporting not only the latest looks from the houses, but also her insulin pump. As Paper notes, Moss has type 1 diabetes, which as the CDC explains, is a non-preventable condition that results from the pancreas not making enough insulin. Type 1 diabetes is typically diagnosed in kids and teens, according to the CDC.
As the young model told The Kit last year about her diagnosis, "I think not many people know that I have diabetes. It's not visible from the outside, so no one would really know just by looking at you. I have type 1." She also noted about getting involved in supporting the cause in the future, "Yeah, I'd definitely like to try and help as much as I can. There's loads of things I'd like to try and help with."
Social media praises Lila Grace Moss for showing her insulin pump
After Moss shared a photo of herself on the runway with her insulin pump in plain view, her Instagram followers immediately commended the star for her bravery and for normalizing the condition.
"I love showing my 11yr old T1 daughter your pics," one fan said. "Thank you for wearing your Insulin pump so proudly," another person applauded Moss.
"Absolutely love that you don't hide your pod, you're an inspiration to so many living with T1 diabetes," another Instagram user commented, while another appreciative follower said, "Thank you so much for all diabetics girls and women."
More commenters enthused that Kate Moss' daughter is a great role model, and a fellow model who also has type 1 diabetes messaged the teen, "You are a queen and I want these pics everywhere cos the more we share of T1 diabetes the better."
Finally, a parent noted, "You are truly so inspiring thanks for showing the world you can do anything and more even when you have type 1 diabetes. ( from a mother with a son with the same Illness)."