Rose Hanbury Public Appearances That Had Heads Turning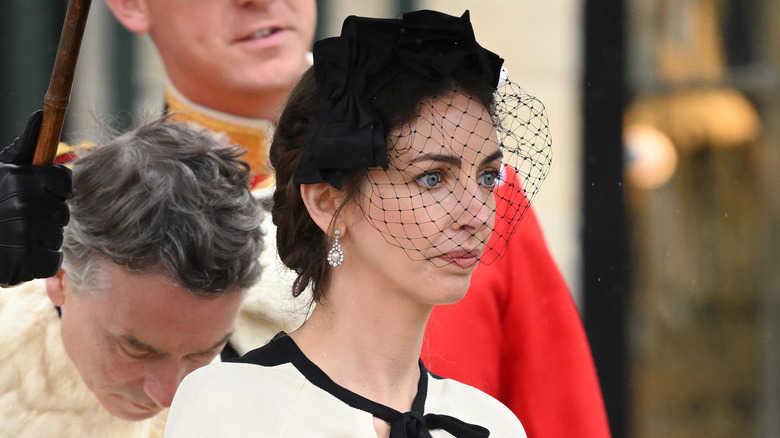 Karwai Tang/Getty Images
Rose Hanbury: If you're even remotely interested in the comings and goings of the royal family, this name likely makes you raise your eyebrows ever so slightly whenever you hear it. Royal watchers know all about how the press speculated that Prince William was having an affair with longtime friend Rose Hanbury, Marchioness of Cholmondeley, behind Princess Catherine's back. Had it not been for Buckingham Palace threatening legal action against any British newspaper that dared fuel the rumors, they'd probably still be making headlines.
It all started with a wildly speculative article published by The Sun (which appears to have been deleted in the meantime; the palace's legal threats seemed to work). The tabloid alleged that Catherine and Rose's friendship was on the rocks, despite Rose formerly being one of Catherine's closest friends. Apparently, none of the newspaper's sources could confirm why exactly the two had a falling out, but the story quickly blew up when British reporter Giles Coren posted a shocking tweet that read, "Everyone knows about the affair, darling." It sent royal watchers and tabloids into a stupor, but once the palace threatened legal action, Coren's tweet was deleted, and the tabloids went quiet. Almost too quiet.
Royal reporter Richard Kay even wrote a piece for the Daily Mail in which he dismissed the rumors, calling them "nothing more than scuttlebutt." Still, whenever Rose appears alongside the royals, her presence sets tongues wagging. Here are a couple of times her appearance made heads turn.
Prince William and Princess Catherine visited Rose's home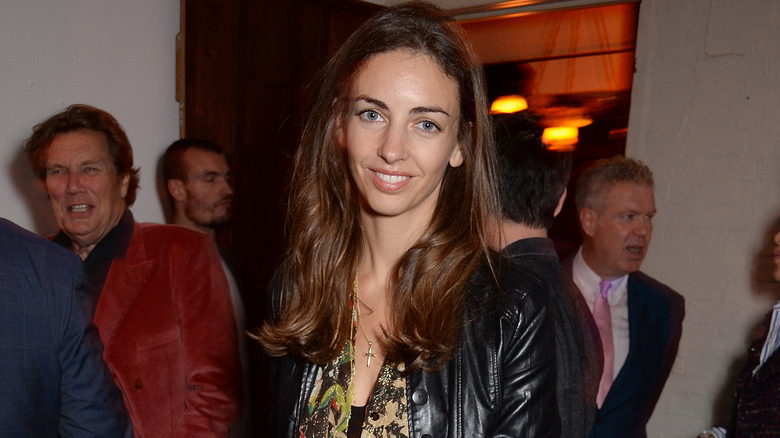 David M. Benett/Getty Images
Back in 2016, Prince William and Princess Catherine were spotted attending a fancy charity gala at Houghton House, which belongs to Rose Hanbury and her husband David, the Marquess of Cholmondeley. The gala was held in support of East Anglia's Children's Hospices and was set to raise around £100,000. Some guests at the event reportedly paid up to £10,000 a ticket for the chance to meet Catherine and William in person.
Photographs from the evening showed Catherine looking stunning in a pale pink Jenny Packham gown, which she previously wore shortly after she became a member of the royal family. A few pictures were taken that showed William and Catherine mingling with Rose at the event. At the time, no one thought much of it, but after the affair rumors surfaced, everyone interested in the royals' business scoured these pictures for a hint that just maybe, William had his eye on Rose all along. The photographs aren't very telling, to be quite honest. Catherine can be seen air-kissing Rose upon their arrival at Houghton House, and most photographs show Catherine and Rose in conversation, with William notably on the sidelines. Was William perhaps keeping his distance on purpose to keep Catherine from noticing a spark between him and Rose? Yeah, we might be reading way too much into this.
Rose attended a state dinner at Buckingham Palace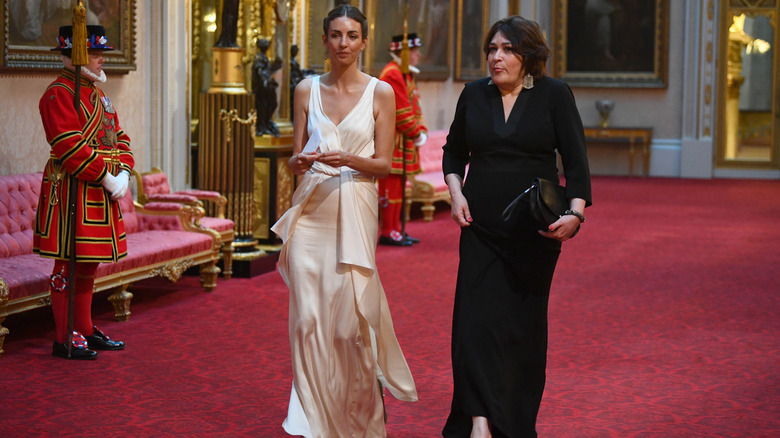 Wpa Pool/Getty Images
When rumors about Prince William and Rose Hanbury's alleged affair started swirling in 2019, it was all royal watchers and tabloids could talk about. So when Rose made an appearance at a Buckingham Palace state dinner that same year, it got people talking anew. Footage of the event published by The Sun showed William seated at Rose's table, while Princess Catherine could be spotted all the way on the other side of the room. Many saw this as proof that there was strife between the two women.
Many had expected Rose to lay low after the affair rumors, but clearly, she was determined to do the opposite. She turned heads when she was seen entering the palace ballroom with controversial Daily Mail columnist Sarah Vine, whose derogatory articles about the likes of Meghan Markle and several female politicians have sparked widespread criticism.
The dinner, which the palace held in honor of then-President Donald Trump and First Lady Melania Trump, was a grand affair, and royal reporter Richard Palmer explained in a tweet that Rose had been in attendance because her husband, David Cholmondeley, had to be there in his capacity as Lord Great Chamberlain. Honestly, if she'd stayed at home, the gossip might have been even worse. What was interesting was that Rose reportedly wasn't wearing her wedding ring that night, which, we'll admit, is odd. Then again, she still appears happily married, so all the hoopla was probably much ado about nothing.
Rose accompanied the royals to church one year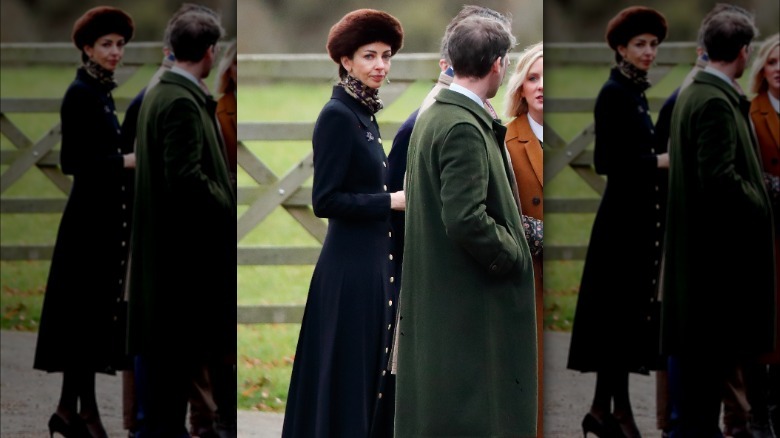 Max Mumby/indigo
Royal fans live for the special occasions when they get to see the royal family take their traditional walk to church, and one year, they were blessed with a surprise guest, who was none other than Rose Hanbury. Why was her appearance so significant? Well, the church walk in question occurred in 2020, a year after those affair rumors started making the rounds. Interesting. But wait, it gets better.
Rose was joining the royal family at church that Sunday morning because she was invited to Princess Catherine's early birthday celebrations. Rose joined Catherine, Prince William, Catherine's parents, and a couple of their other friends at Anmer Hall in Norfolk to kick off the princess' upcoming 38th birthday in style. Meanwhile, Queen Elizabeth II was not too far away at Sandringham, so Catherine and William joined her for the Sunday church service with their friends in tow, Rose included.
Naturally, this was a shocking turn of events for those who believed the affair rumors had some truth to them. Catherine and Rose appeared to be on very good terms, and not locked in a fight as tabloids speculated. Then again, it could have been a calculated PR move to throw the tabloids and royal watchers off their scent. As to which it is, we can't say for sure.
Rose attended Prince Philip's memorial service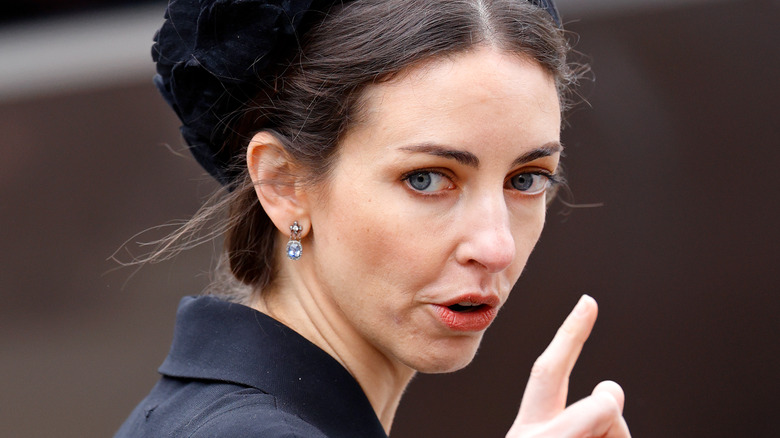 Max Mumby/indigo/Getty Images
When Prince Philip died on April 9, 2021, the royal household was plunged into mourning. Thanks to the global pandemic, Philip's funeral was attended by a meager 30 people, and images of Queen Elizabeth mourning her husband alone tugged at heartstrings across the world. Philip had informed the queen of his wishes regarding his funeral, but none of them could be fulfilled because of the pandemic. So in March 2022, a memorial service was held for the late prince, and it was attended by 1,800 people, including Rose Hanbury and her husband David Cholmondeley. As heartbreaking as the whole day was, people couldn't help but notice Rose's presence. It made sense for her to be there — she's a friend of Prince William and Princess Catherine, and her husband held the special role of walking in front of the queen at every State Opening of Parliament.
Rose and David were joined by other prestigious members of society, like former Prime Minister Boris Johnson and his wife, Carrie Johnson, as well as British broadcaster Sir David Attenborough. Foreign royals were also present at the service, but Prince Harry and Meghan Markle were notably absent. Rose and David's presence, however, provided people with plenty to talk about, and it cemented their role as close friends of the royal family.
She was also spotted at Queen Elizabeth II's funeral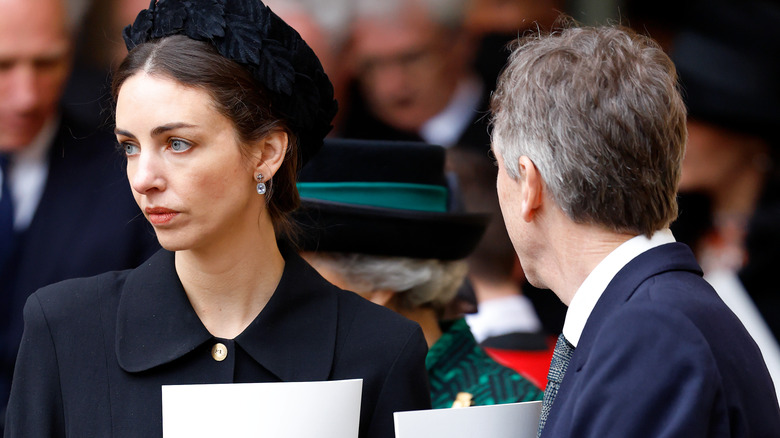 Max Mumby/Indigo/Getty Images
On September 8, 2022, a few short months after Prince Philip's memorial service, Queen Elizabeth II died. As Britain's longest-reigning monarch, her funeral was set to become a significant event in history, and it was attended by many familiar faces, including Rose Hanbury. She and her husband, David Cholmondeley, could be seen arriving at the ceremony before the royal procession made an appearance. They were seated in the pews of Westminster Abbey, where they had a view of the procession walking behind the queen's coffin.
While everyone obviously noticed that she was there, Rose's presence wasn't much of a surprise this time around, given that she'd been present at Prince Philip's memorial service a few months prior. Her family's connection to the royal family also goes way back. Her grandmother, Lady Elizabeth Lambart, was Queen Elizabeth's bridesmaid when she tied the knot with Prince Philip in 1947. It's not clear whether Rose had a personal relationship with the queen, but we can safely assume that they were friendly, given that she is one of Prince William and Princess Catherine's close friends.
She was a guest at King Charles III's coronation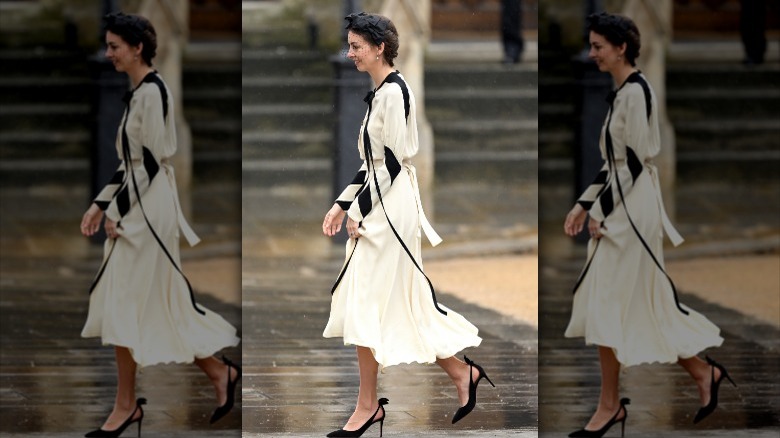 Karwai Tang/Getty Images
When the public learned that Rose Hanbury had been invited to King Charles III's coronation, few were surprised that she'd made the guest list. She wasn't the only one who attended; aside from her husband, Rose's son, Oliver, also played a significant role in the coronation ceremony. Charles selected Oliver to be one of his page boys, and he and Prince George were tasked with holding the king's robes during the coronation. Rose's husband, David Cholmondeley, was also named Charles' Lord-in-Waiting, so again, it made sense for Rose to be there. That didn't keep people from talking, however.
Every eye was on Rose and Princess Catherine during the ceremony, and insiders revealed that things were tense. One source told Life & Style magazine that the tension was palpable. "You could feel the awkwardness between the two women, even though there were 2,000 other people inside Westminster Abbey," the source claimed. "Kate couldn't even look Rose in the eye. Rose was her BFF, and she almost tore Kate and William's marriage apart," they added. The tipster also alleged that Catherine was in a right state when she found out that Rose was going to attend the coronation, and apparently William tried his best to ease her mind. Whether or not these rumors are true is not clear. By all rights, Catherine shouldn't have been surprised that Rose would be in attendance, given her connection to the royal family.