Drake Wasn't Happy About How His Relationship With Rihanna Ended
Jeff Kravitz/Getty Images
Drake and Rihanna are two of the most successful artists in hip-hop. For years and years, the two were on and off as one of the industry's power couples. Every time the public got a glimpse of their romance or their break ups, the internet wouldn't be able to stop talking about what was going on with them. When they had their first split in 2010, Drake held nothing back when talking about how hurt he was.
While being interviewed by The New York Times, Drake shared a resentful remark about the Barbados born pop-star. He claimed that Rihanna had him write a song for an album that was coming out at the time and then never used his work. "I was a pawn," he told the reporter. Drake explained his feelings further, saying, "You know what she was doing to me? She was doing exactly what I've done to so many women throughout my life, which is show them quality time, then disappear." Clearly, feelings were hurt. But this bitter end didn't last long.
Drake later took his statements back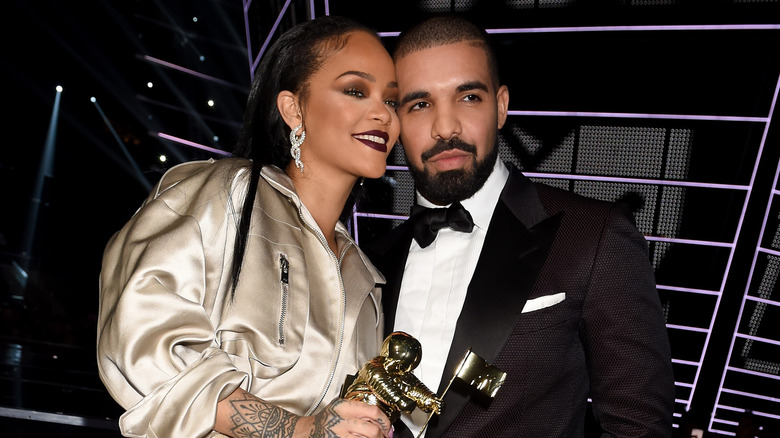 Jeff Kravitz/Getty Images
In 2005, the two met briefly on the set of Rihanna's breakout hit single, "Pon De Replay." This was the first encounter that eventually led to her and Drake's long-winded, complicated relationship. In 2009, after Rihanna had ended her relationship with Chris Brown, Page Six broke the news that she was with a new pop star — "Aubrey 'Drake' Graham," as the paper put it. As Drake made it abundantly clear to the NYT, there was bad blood between the two in June 2010. However, quickly after his statements were made public, he walked back on the anger that he had expressed.
He told MTV, "... [Rihanna] made me feel small; she made me feel nervous. It just put me back to the Acura in Toronto, feeling like Aubrey Graham, not Drake." It seems this was an ongoing dynamic between the two of them. While they never dated officially, an inside source told People, "Drake has always wanted to make things work with Rihanna," the insider said.
How Drake feels about Rihanna now
Prince Williams/ Getty Images
Drake and Rihanna were last linked together in 2017 when Drake gave her a birthday shout-out at a concert of his. However, in 2018, Rihanna told Vogue, "We don't have a friendship now, but we're not enemies either." Then, in 2020, Rihanna began her relationship with A$AP Rocky. The couple had one child in 2022 and are expecting another in the summer of 2023. In 2018, Drake had a son of his own with Parisian model Sophia Brussaux.
Rihanna and Drake have gone their separate ways, but it seems that Drake will always hold Rihanna in high regard. While appearing on "The Ellen DeGeneres Show" in 2013, DeGeneres pressed him about his relationship with her. Drake commented, "Yeah, great girl. We had our moment. Always support and have love for her ..." It seems like Drake matured quite a bit following his first statement about Rihanna in 2010. Since that slip-up, he's held back from casting any impulsive shade on his ex.