The Special Gift Meghan Markle Gave Herself That She Plans To Pass Down To Lilibet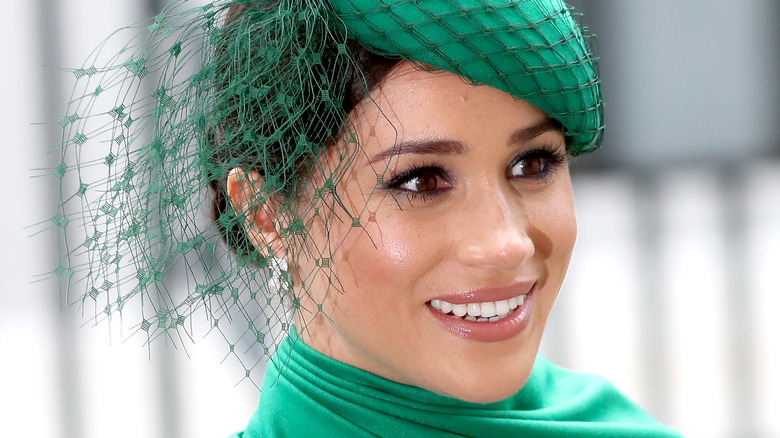 Chris Jackson/Getty Images
Meghan Markle's life was never the same after she married Prince Harry, but before becoming the Duchess of Sussex, Meghan played Rachel Zane on the hit legal drama "Suits." The world found out that she was dating Harry in October 2016, and after the couple got engaged, it was announced that Meghan would be leaving "Suits" after seven seasons. The show's creator and writer Aaron Korsh had a feeling the couple was going to be in it for the long haul. 
During an appearance on BBC 4 Radio's "The Today Programme," Korsh shared how he and the other writers planned the season around the idea that the duchess would be leaving. Funnily enough, Meghan's last episode on the show was the Season 7 finale when her character married Mike Ross, played by Patrick J. Adams, and it aired less than a month before her real-life wedding to the Duke of Sussex.
Meghan's time on "Suits" was her biggest acting role, and it clearly holds a special place in her heart. After the show's first two seasons, she bought herself a "Suits" souvenir — a luxury watch that she plans to pass down to her daughter, Lilibet Diana, one day.
Meghan Markle bought herself an engraved Cartier watch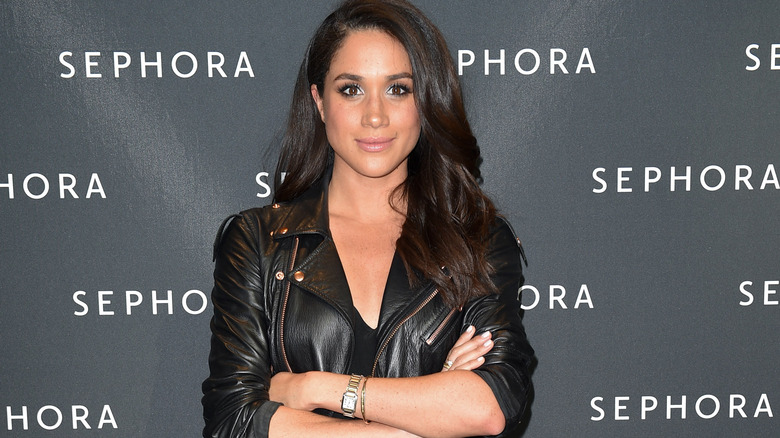 George Pimentel/Getty Images
It wasn't just any watch that Meghan Markle bought herself to celebrate her ongoing role in "Suits;" it was a high-end Cartier Tank Française, which typically carries a massive price tag. Glamour reported that back in 2015 Meghan informed Hello! magazine that she'd always admired that particular style: "When I found out 'Suits' had been picked up for our third season — which, at the time, felt like such a milestone — I totally splurged and bought the two-tone version." 
What makes the piece extra special is that she had it engraved: "To M.M. From M.M." And, before she even met her future husband, Prince Harry, much less had her daughter, Lilibet Diana, Meghan knew she'd be keeping the watch to regift in the future. "I plan to give it to my daughter one day," she explained. "That's what makes pieces special, the connection you have to them." With such a sweet story behind it, the watch will surely be something Lilibet will treasure one day.
The Duchess of Sussex also wore Princess Diana's gold Cartier watch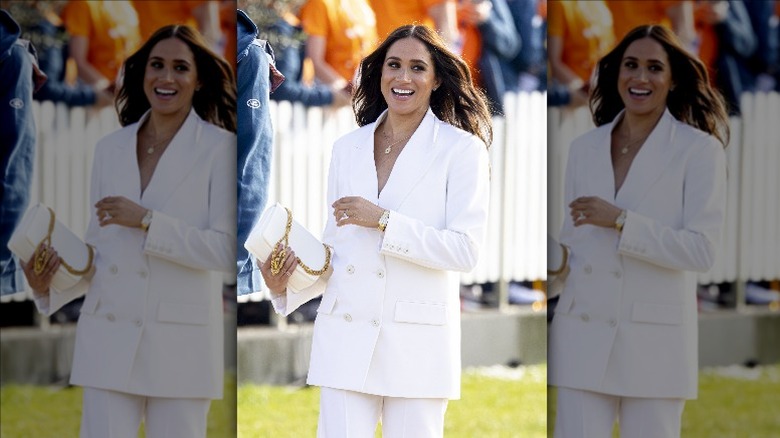 Patrick Van Katwijk/Getty Images
Meghan Markle's beloved accessory is Princess Diana-approved, and the duchess has not one but two of the luxury watches in her collection. She's even been seen wearing the gold Cartier Française Tank watch that once belonged to Prince Harry's mother. After Diana's death, Prince William picked out the classic gold Cartier timepiece from his mom's jewelry collection while his brother chose to keep her engagement ring. 
Royal fans will know that Catherine, Princess of Wales, wears Diana's engagement ring, so how did Meghan get a chance to don Diana's Cartier timepiece? Apparently, in 2010, the brothers swapped jewelry items when William was ready to propose to Kate Middleton, per British Vogue. So it's possible that Lilibet Diana will someday have two heirloom Cartier pieces to connect her to both her mother and her grandmother.
The Cartier Tank watch was designed in 1917, and it was inspired by the shape of a tank from overhead, bucking the tradition of designing circular watch faces. The elegant timepiece has proven itself utterly timeless, and it's been worn by a number of A-list celebs over the decades, including Jackie Kennedy, Ingrid Bergman, and Michelle Obama.