Sam Asghari Has One Issue With Britney Spears' Ex Kevin Federline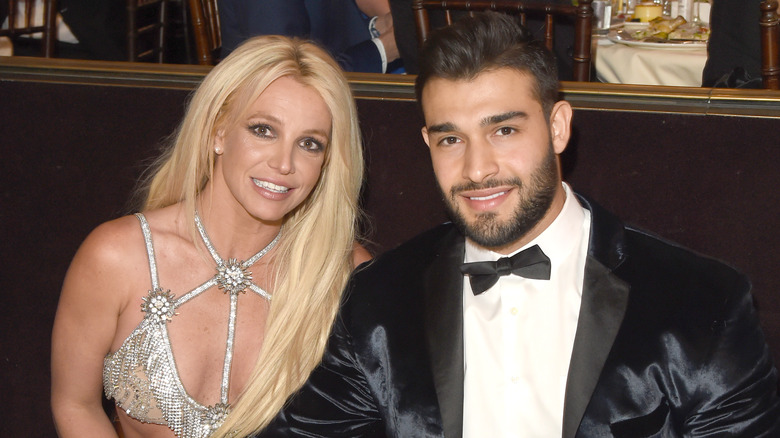 J. Merritt/Getty Images
Few celebrities have had it quite as hard as Britney Spears. She reportedly grew up in an explosive household where her parents regularly fought because her father struggled with alcoholism. Their marriage was so unstable that her mother, Lynn Spears, filed for divorce in 1979, shortly after the birth of their first child, and even filed for a temporary restraining order against her husband. Although they didn't actually divorce until 2002, Britney was happy when the marriage ended and wished it'd happened sooner.
She was thrust into fame at the age of 11 with "The Micky Mouse Club House," and like many child stars, it was an endurance test at times. Britney was overworked, under pressure, and ridden with mental health issues. She dealt with plummeting self-esteem because of her father's body shaming. Britney was constantly in the public eye because paparazzi chased her to capture her at her lowest. And to make matters worse, she also had a highly publicized dating life.
In 2004, she met Kevin Federline at a club, and it was love at first sight. The two tied the knot in a secret wedding three months after meeting, and they had two children before divorcing three years later. Apparently, Federline's excessive partying was the real reason for their divorce. In the end, it all worked out for Britney. In 2016, she met Sam Asghari, and the happy couple got married in 2022. Naturally, when Federline had some things to say about Britney, Asghari rushed to her defense.
Sam Asghari defended Britney Spears' choices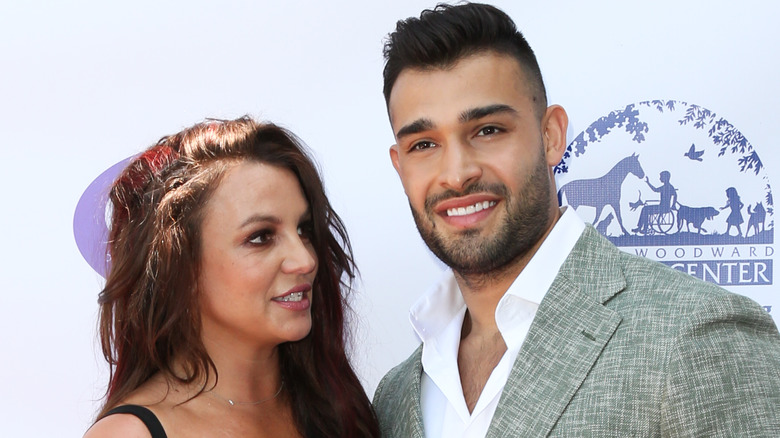 Paul Archuleta/Getty Images
In August 2022, Kevin Federline told the Daily Mail that his two sons with Britney Spears no longer wished to see her anymore, which is why they weren't present at Spears' wedding to Sam Asghari. He elaborated that although Preston and Jayden loved their mother, they were embarrassed after seeing the explicit pictures she frequently posted online. Spears and Asghari weren't impressed with his comments, so they took to Instagram to clap back.
Asghari wrote, "There is no validity to his statement regarding the kids distancing themselves and it is irresponsible to make that statement publicly." He added, "The boys are very smart and will be 18 soon to make their own decisions and may eventually realize the 'tough' part was having a father who hasn't worked much in over 15 years as a role model." Asghari clarified that he has "nothing against [Federline] aside from him choosing to vilify my wife." He also took the opportunity to condemn Federline's support of Spears' conservatorship (via People).
In another Instagram Story, Asghari pointed out how normal it is for children to be embarrassed by their parents. But as they grow up, most kids learn that there is nothing to be embarrassed about and that in Spears' case, these photos are "harmless and an expression of newly-found freedom," (via The Mirror). In her own Instagram Story, Spears admitted that she felt hurt and saddened by her former husband's behavior. 
Asghari has always publicly supported his wife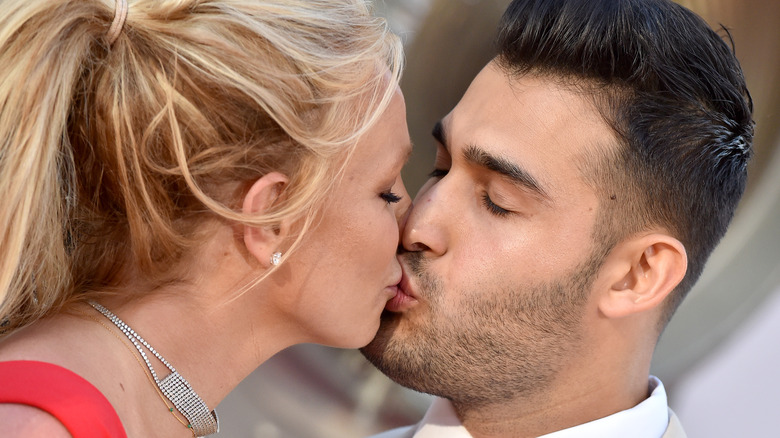 Axelle/bauer-griffin/Getty Images
When TMZ released footage from their documentary, "Britney Spears: The Price of Freedom," neither Sam Asghari nor Spears herself was terribly pleased. Asghari posted an Instagram video defending his wife, arguing, "I found it absolutely disgusting for the people that were in her life at the time when she didn't have a voice, they went and told her story like it was theirs." He also railed that the pop star's inner circle was "[using] her as a money-making machine." Asghari vocally advocated for Spears' 13-year-long conservatorship to end. And when the court announced she was free, he couldn't have been more thrilled.
Previously, Asghari also defended his wife when she received intense backlash for posting racy pictures online. In an Instagram Story, he wrote that the negative response was unfair given how many celebrities post similar pictures without the same repercussions. Asghari elaborated that although he wasn't fully on board, he didn't stop Spears from posting them because he valued her newfound confidence (via People).
When Spears checked in to a wellness facility to combat the mental strain of her father's sudden health issues, Asghari continued to support her. A source told People, "Sam has been Britney's rock for years. He makes sure that she eats well and works out." The insider continued, "She leans on him for everything. He works and has his own life, too, but is around as much as he can."