Mila Kunis And Ashton Kutcher Don't Buy Christmas Gifts For Their Kids - Here's Why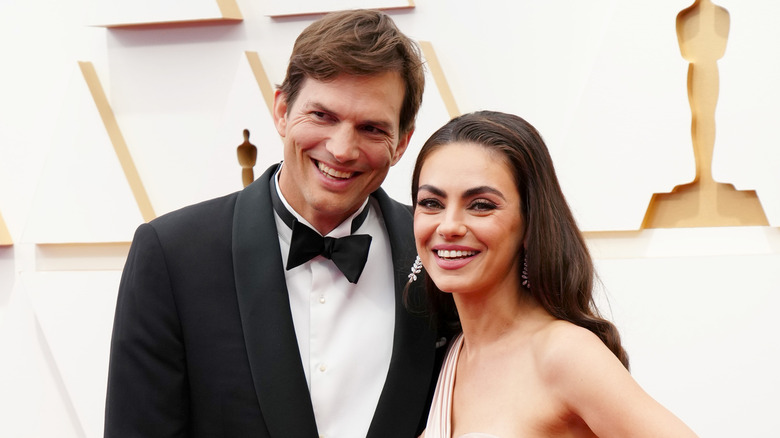 Jeff Kravitz/Getty Images
Come winter, you're usually asking yourselves questions like, "How early is too early to start Christmas decorating?" and if you have kids in the house, "What unique gifts can I buy them this year?"
But for Hollywood couple Mila Kunis and Ashton Kutcher, Christmas gifts aren't given in their house. The duo, who've been candid about their unorthodox parenting style on a number of occasions, apparently don't believe in spoiling their two children – daughter Wyatt Isabelle and son Dimitri Portwood — with Christmas gifts. Speaking to Entertainment Tonight while promoting her 2017 movie, "A Bad Moms Christmas," Kunis shared, "So far, our tradition is no presents for the kids. We're instituting it this year because when the kids are [younger than] one, it doesn't really matter. Last year when we celebrated Christmas, Wyatt was two and it was too much. We didn't give her anything — it was the grandparents. The kid no longer appreciates the one gift. They don't even know what they're expecting; they're just expecting stuff."
Kunis explained that they'd much rather spend that money on charity and have said so to the grandparents. She added, "We've told our parents, 'We're begging you — if you have to give her [Wyatt] something, pick one gift. Otherwise, we'd like to take a charitable donation, to the Children's Hospital or a pet [or] whatever you want.' That's our new tradition."
Mila Kunis and Ashton Kutcher don't believe in raising entitled children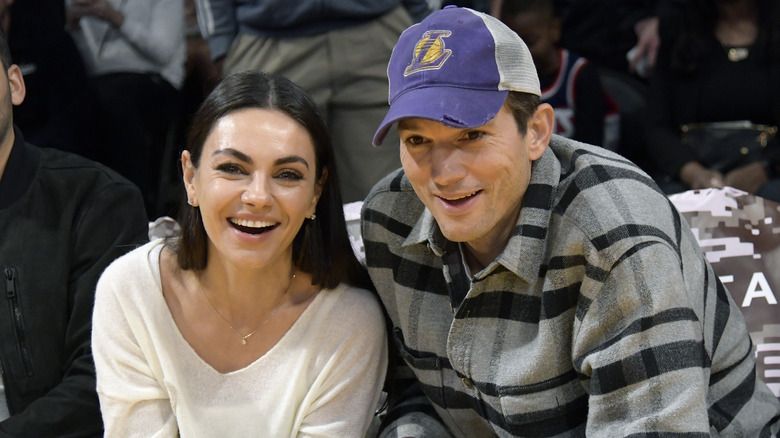 Kevork Djansezian/Getty Images
The reasoning behind the couple's no Christmas gift rule is that they want their children to grow up valuing what they have and not be entitled. Raising balanced and down-to-earth kids when you are celebrities can't be easy but Kunis and Kutcher are determined to try. 
Kunis, who told Entertainment Tonight that she herself comes from a communist Russia background where holidays were spent being quiet and with little to no fuss, shared on the "Kyle and Jackie O Show," that she and her husband tell their children that they're poor. The couple wants their kids to understand that their father and mother came from humble beginnings. 
The "Luckiest Girl Alive" star explained on the radio show (via Hollywood Life), "We are very aware of what a dollar's worth because it's 100 percent earned by us, for us. Nothing's been handed to us, and our kids won't know what that's like. On one side, it's beautiful they'll never know what it's like to have ketchup soup for dinner. But on another side, they'll never know how to appreciate things. So it's a matter of teaching them from a very early age that, 'Mommy and daddy may have a dollar, but you're poor.'"
Ashton Kutcher said his kids won't get a trust fund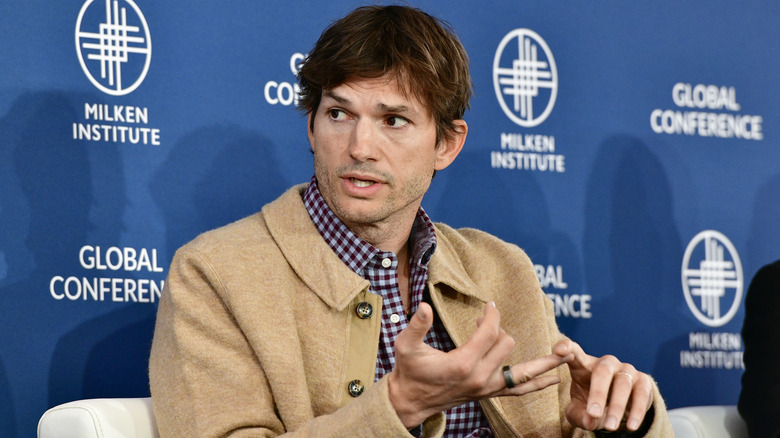 Jerod Harris/Getty Images
Christmas traditions aside, Kutcher, who started dating Kunis in 2012, told host and actor Dax Shepard in his podcast "Armchair Expert," that the couple won't be leaving any money by way of trust funds for their two kids. 
Talking about how he'd take his children on camping trips in an effort to teach them to be resourceful, the "Your Place or Mine" actor said, "I'm not setting up a trust for them [the kids]. We'll end up giving our money away to charity and to various things." Kutcher and Kunis have come under criticism for this particular statement on social media as they have for other revelations like the open bathroom policy in their home and the admission that they don't bathe their children unless they "see the dirt on them."
But the idea behind the trust fund (or lack thereof) is the same as the no Christmas gifts rule: they want their children to work hard for their own success and not feel entitled. Kutcher went on to share on the podcast that he'd invest in a business idea of his kid's if it was a good one. "So hopefully they'll be motivated to have what they had or some version of what they had," he said. Ashton Kutcher and Mila Kunis may live an insanely lavish life, but the couple isn't going to be handing down everything on a silver platter for their kids.