Dolly Parton Once Saved A 9-Year-Old's Life On-Set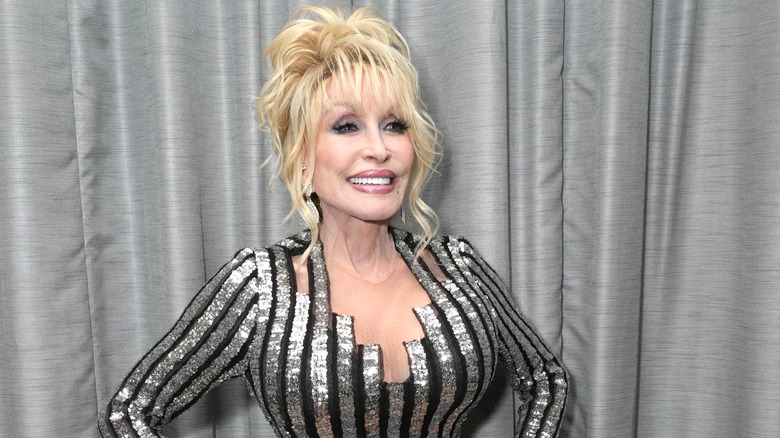 Kevin Mazur/Getty Images
Dolly Parton is America's favorite motherly or even grandmotherly figure. She's kind, and wise, and would probably offer you a glass of lemonade and a sugar cookie if you ever visited her at home. Having said that, Parton's figure is decidedly less than grandmotherly (we can only hope to look half as good as she does in our seventies!), and she and her husband, Carl Dean, never had children of their own.
There's nary a person who isn't captivated by the blonde-haired Tennessean who has belted out some iconic tunes. When she isn't singing, Parton can be found on set, most recently acting in a handful of holiday movies. Her compassion really shines through in these feel-good films. But as many would tell you, it isn't an act; She's "genuinely a nice person," says PinkNews. 
The BBC described her as "the world's best-loved celebrity," while The Washington Post proclaimed Parton to be simply an "authentic individual." And if her borderline untouchable reputation wasn't glowing enough already — Parton helped to develop a COVID-19 vaccine, in case you forgot — the country superstar can add another qualification to her list: lifesaver.
How Dolly Parton saved a child's life on set
In 2020, Netflix released "Christmas on the Square," a jolly festive treat starring Dolly Parton as a joy-spreading angel (not that hard to imagine if you ask us). During filming, however, Parton truly became a guardian angel when she saved her 9-year-old co-star's life. Talia Hill, cast as an actor and dancer in the project, was making her way back from the hot chocolate station to her position on set when she unknowingly stepped out in front of a moving vehicle.
As Hill recalled to Inside Edition, "I was walking, and then somebody grabbed me and pulled me back, and I looked up and it was Dolly Parton." The young starlet was understandably shocked, but in her usual fashion, Parton had a quip ready to lighten the moment: "Well, I am an angel, you know." Both Hill and her mother were very grateful. The youngster added that Parton embraced her and gave her a gentle shake, telling the still-in-shock girl, "I saved your life." 
Parton is a philanthropist through and through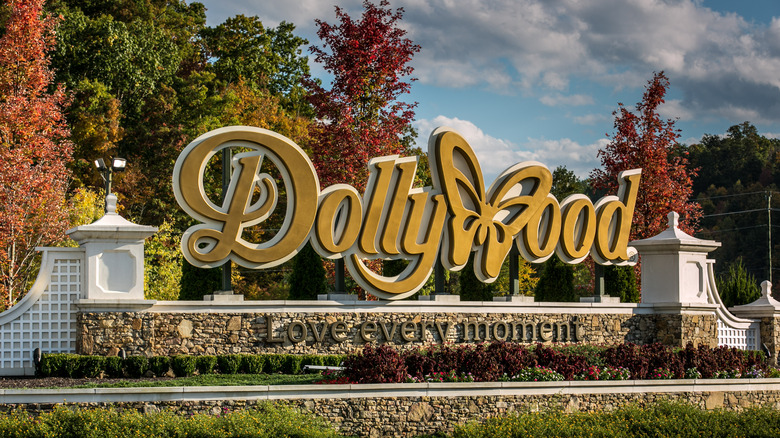 George Rose/Getty Images
Dolly Parton's on-set heroics aren't anything unusual for the lifetime philanthropist, of course. The effervescent country star is known for her good deeds. It began with the Dollywood Foundation, in 1988, which focuses on reducing the amount of school dropouts in Parton's beloved hometown of Sevier County, Tennessee. She then expanded her charitable deeds with The Dollywood Foundation's Imagination Library, which sends one high-quality, free book per month to registered children. In addition to education, Parton also supports disease research and hospitals.
The 9-to-5 singer has a passion for wildlife and the planet too. Her Eagle Mountain Sanctuary at Dollywood houses the nation's largest number of "non-releasable" bald eagles. After terrible wildfires in 2016 ravaged the area where Dollywood is located (Pigeon Forge, Tennessee), Parton organized the Smoky Mountains Rise: A Benefit for the My People Fund to generate money for the affected counties. Even after raising over 13 million for the cause, her continuation of the My People Fund provides ongoing support to families in Sevier County who lost their homes.
Parton's list of good deeds goes on, and in 2022 she was awarded the Carnegie Medal of Philanthropy for her efforts. Ted Miller, vice chair of the Dollywood Foundation, told The Washington Post, "While she has earned a place in history for being multitalented, she is truly loved for her kind and true heart." You don't have to tell us twice (or Talia Hill, for that matter); we're endeared to the philanthropic Parton!