The Untold Story Of Dolly Parton's 'My Tennessee Mountain Home'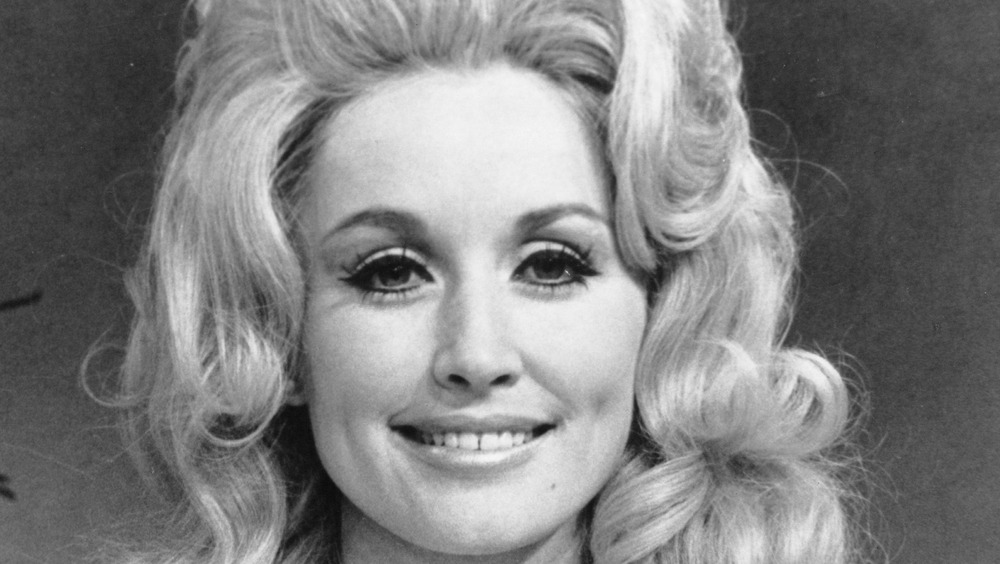 Michael Ochs Archives/Getty Images
Dolly Parton's discography spans decades, but there's one record that encapsulates everything that made the legendary country singer who she is today. Released in 1973, My Tennessee Mountain Home is a concept album that traces Parton's roots back to a small login cabin in the Smoky Mountains in Tennessee. Out of all the songs on the record, it's the title track that continues to captivate listeners by providing a vivid glimpse of Parton's early years.
Written about her childhood home, the song paints a vivid picture through the lyrics (via Genius Lyrics) by detailing specific memories like sitting on the porch swing, catching fireflies, and watching wildlife like eagles and songbirds. "My Tennessee Mountain Home" reached no. 19 on the Billboard Country Charts as a single (via My Kind Of Country). The record features a photograph of the original cabin on the cover. 
Dolly Parton grew up in a two-room log cabin in Locust Ridge in East Tennessee (via Dollywood), which is about half an hour away from Parton's theme park, Dollywood, in Pigeon Ridge. While you can't visit her actual childhood home (via Buckhorn Inn), you can experience a replica at Dollywood (via Visit My Smokies). Built by her brother Bobby and decorated by her mother, visitors can walk through the home and see original family items such as photographs and furniture.
Dolly Parton visits her childhood home from time to time
Before guests enter the home, there's a plaque situated outside that gives an insight into Parton's love for her Tennessee mountain home. "These mountains and my childhood home have a special place in my heart," it reads (via Visit My Smokies). "They inspire my music and my life. I hope being here does the same for you!" 
Dolly Parton visits her childhood home from time to time, and describes it as her favorite place to go to unwind. "It's just snuggled up there in the foothills of the Smokies and that's where I like to go," she said answering a fan question on the tourist site Visit My Smokies. "Of course, I just like driving around to see all the wonderful things in the Smokies."
My Tennessee Mountain Home has proven to be among Parton's most personal albums to date, and many fans have formed lasting connections with it despite coming from completely different backgrounds. As writer Linne Halpern wrote for Alma in their How To Keep Calm series, every time she turns on the record she "feels a sense of home."
"It's as if Dolly's melodic vocals are holding me in a swaddle, gently swaying me into a wholesome bubble of comforting warmth," she writes. "It is my belief that Dolly's goal was to create a greater, all-inclusive relatability with this work."