Bill Murray Didn't Hold Back His Feelings About Co-Star Selena Gomez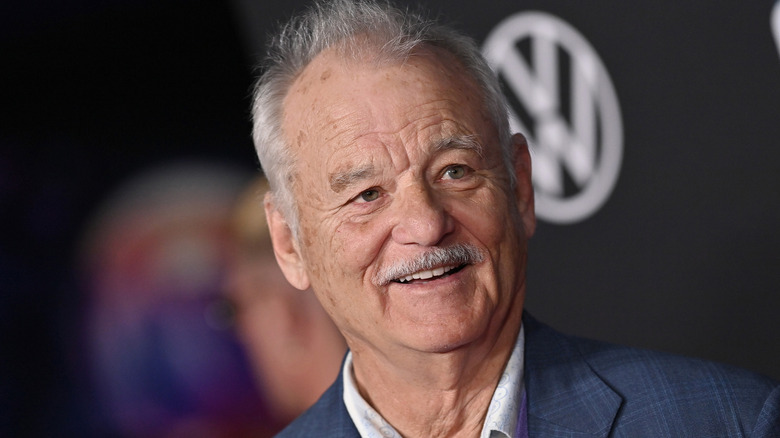 Axelle/bauer-griffin/Getty Images
While Bill Murray was starring in "Groundhog Day," Selena Gomez was still a newborn in diapers — a generation gap that undoubtedly was brought up a time or two while the actors were working together on the 2019 zombie flick "The Dead Don't Die." After all, differences of opinion and mindset are likely to occur with an age difference of a handful of decades. 
Still, neither actor is a stranger to working with fellow stars many years their senior (or junior). Gomez worked closely with Steve Martin and Martin Short on the comedy-drama series "Only Murders in the Building," and Bill Murray's star power in countless hit films over the years has had him rubbing elbows with celebs who might not even know about Murray's Second City and "Saturday Night Live" roots (because, well, they weren't alive yet). 
A seasoned actor like Murray is bound to have opinions of the younger generation of performers following in his footsteps. As he shared in a red carpet interview with People, Gomez is no exception.
A co-star worthy of a meeting with mother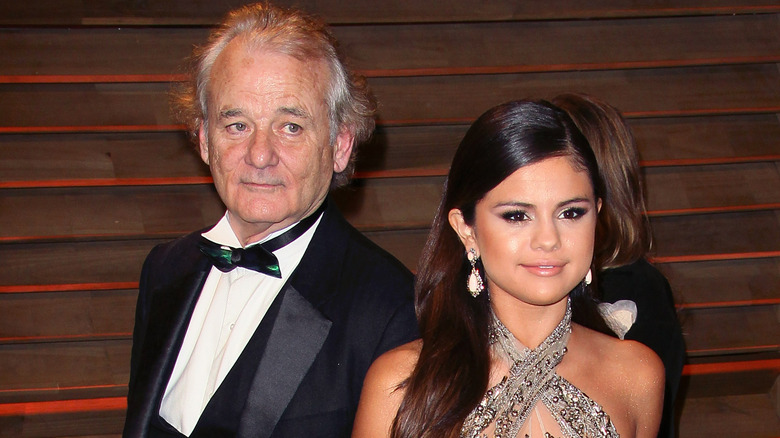 David Livingston/Getty Images
When it comes to the working relationship between Selena Gomez and Bill Murray, there are no "grumpy old man" stereotypes here, folks — well, at least not now, anyway. Murray admitted to People that he had some preconceptions of what a young person with a multi-million-user following on social media might be like. But he was also quick to admit he was wrong. 
"I probably thought she was different than she turned out to be," Murray said. "I enjoyed her very much. If my mother were alive, I'd bring her home to her. Mother. I want you to meet Selena." 
Getting the approval to meet Momma Murray is certainly no small feat, and Murray's interview with People isn't the first time he's had nothing but nice things to say about his younger co-star. In an interview with Vanity Fair, Murray complimented Gomez' effortless kindness and intelligence. Adding to his comments, the "Ghostbusters" star said, "I'm always pleased to find some kind of pop icon who I really like."
The respect and admiration is mutual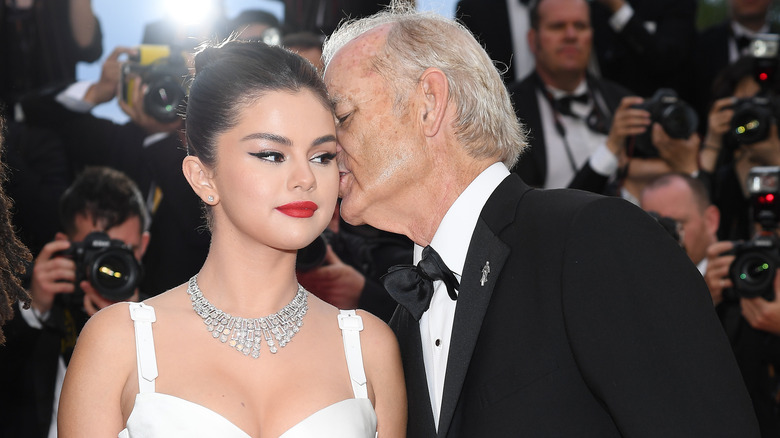 Pascal Le Segretain/Getty Images
According to Selena Gomez, the feeling is mutual. Despite their nearly 40-year age gap, the friendship between her and Bill Murray is visible in their public appearances — even Murray's Vanity Fair interview alluded to the times Murray was spotted whispering into Gomez's ear on the red carpet, leaving us all to wonder what he might be saying. 
Gomez revealed the secret scoop on a "Live with Kelly and Ryan" interview. When asked what Murray's always whispering into her ear, Gomez said, "The dumbest things. He'll just ask me about, like, hot dogs and then say something else like, 'ya look nice, Gomez.'" Hot dog quips aside, Gomez said that Murray is one of the funniest people she's ever met and a genuinely kind person. 
As for that hypothetical meeting with Murray's mom? Well, Gomez sounds like she would have been up for the opportunity. "If he were twenty years younger, I would definitely, ah," the "My Mind & Me" singer jokingly trailed off to Ripa and Seacrest. Nevertheless, the two stars' relationship now seems to be built on mutual respect, admiration, and a willingness to be a bit goofy together.