JoJo Fletcher & Jordan Rodgers' Advice For Other Couples Who Want To Work Together - Exclusive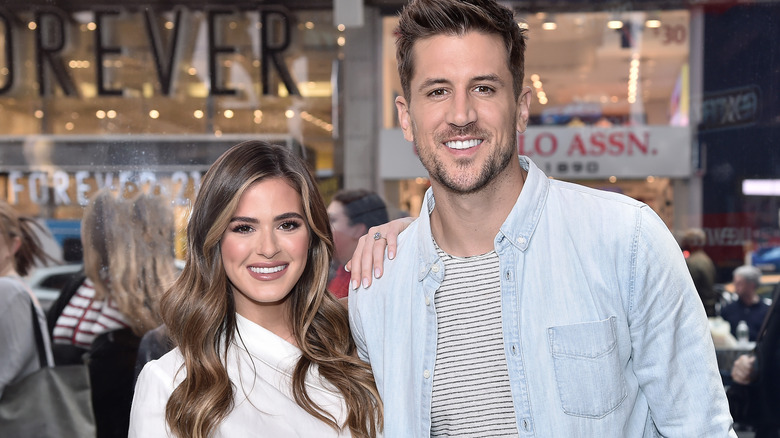 Steven Ferdman/Getty Images
Some couples say that they could never work alongside their spouse, but that's not the case for reality stars JoJo Fletcher and Jordan Rodgers. Since falling for each other on Season 12 of "The Bachelorette," they've hosted multiple reality series side by side. 
"We have done three shows together," Fletcher said during an exclusive interview with The List, "and what we've realized is that it's something that we love doing together."
Their newest endeavor is working alongside each other as hosts on USA Network's reality dating series "The Big D." In it, newly divorced singles spend 10 weeks dating other divorcees — right alongside their ex-spouses who are out doing the exact same thing. While hosting the reality series, Fletcher and Rodgers had to spend many nights together learning their lines. 
"It'd be two in the morning — we would start breaking out laughing, like cry-laughing, because we're so delirious," Fletcher said. "Those are some of the greatest memories that we have with each other, dying laughing in delirium, saying these lines."
Since stepping foot on the set of their first reality show, their relationship has become the perfect balance of both personal and professional. For other couples out there who aspire to one day work alongside their spouse, "The Big D" hosts have some solid advice. 
"You want to learn a lot about a relationship and see if you can tackle anything?" Rodgers said. "Do something hard."
If you're up for a challenge, you and your partner could benefit from being professional partners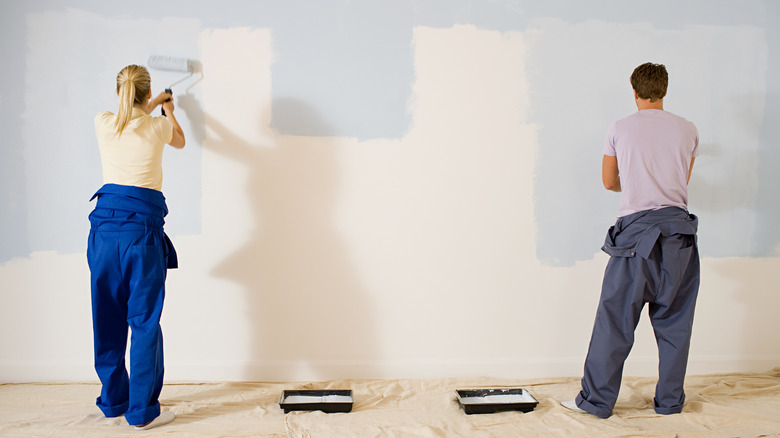 Image_source_/Getty Images
After getting engaged on the set of "The Bachelorette," JoJo Fletcher and Jordan Rodgers jumped into a high-stakes project together: home renovation. While a major undertaking like this can stress a lot of couples out, these two realized they work well together, and jumping into a major project is something that Rodgers suggests other couples do before officially deciding to become professional partners. 
"Throw yourself in the fire," he told The List. "That's what we did."
Even after successfully accomplishing such a difficult task together, it's still important to realize that working together won't always be easy in the future. 
"We have our moments where we get stressed," Fletcher said. "I'm not going to lie and say that we don't — we 100% do." In the end, it's all about prioritizing one's personal relationship over their professional one and realizing why a couple works so well together in the first place. 
"At the end of the day, you guys are not against each other," Fletcher said. For these newlyweds, being able to spend the workday together is something that has strengthened their relationship over the last few years. "It's something that we've bonded over," Fletcher said. "We look back on all these different shows, we're like, 'That was so fun.' We have all these memories."
New episodes of "The Big D" air on Wednesday nights at 10 p.m. ET/PT on USA Network.