Whatever Happened To Dakota Fanning?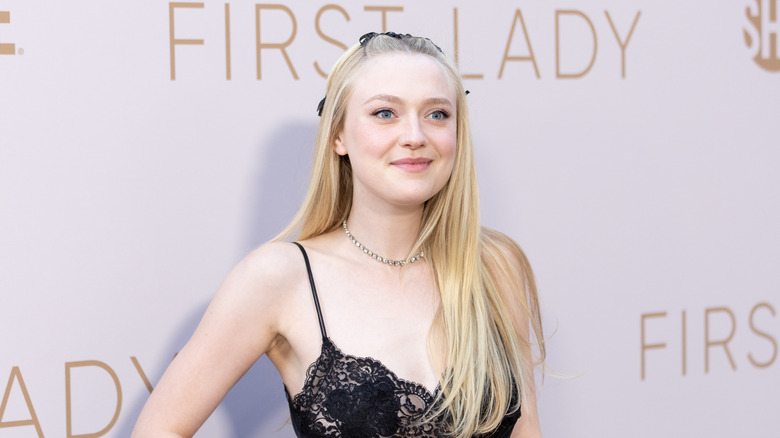 Emma Mcintyre/Getty Images
By the time Dakota Fanning was cast in her break-through role as Lucy in "I Am Sam," the 7-year-old had already appeared in nearly a dozen TV shows. Fanning was a Hollywood prodigy and the youngest actress to ever be nominated for a Screen Actors Guild award when she was recognized as a best supporting actress in "I Am Sam" at just 8 years old.
For a while, Fanning's face was seemingly everywhere, as her career snowballed into role after role, working with top-billed actors like Michelle Pfeiffer, Brittany Murphy, Robert De Niro, and Tom Cruise. She was just a teenager when she was cast as Jane, a terrifying member of the Volturi clan in "The Twilight Saga," and Fanning was only 18 by the final movie. Having undergone a seamless and stunning transformation from her days as a child actor into the adult phase of her career, many more roles followed for the actress. But as Fanning's filmography has grown, she's seemingly appeared in the spotlight less and less. She was even the victim of a celebrity death hoax in February 2023.
Now, more than two decades since her initial rise to stardom, her lack of publicity has made fans wonder: Whatever happened to Dakota Fanning? She hasn't gone anywhere; in fact, the young actress has been just as busy as ever. Here's what Fanning's been up to lately.
Dakota Fanning began acting as a child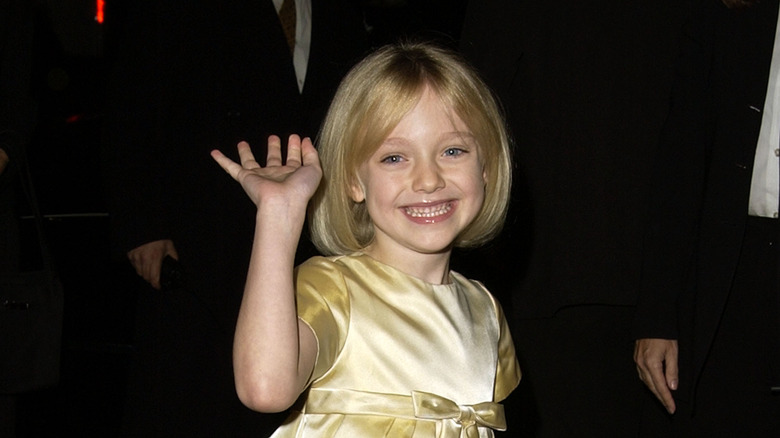 Steve Granitz/Getty Images
When child actors grow up, it can be hard to dissociate them from their past roles. This is especially true for Dakota Fanning, who's been in front of the camera consistently since her first role on "ER" at the age of 6. She's had several memorable performances since, from playing Sally in "The Cat In the Hat" to the little girl in Season 10 of "Friends" who consoles Joey about Monica and Chandler moving. Speaking with The Guardian in 2014, the actress explained how nearly her entire life has been in the spotlight. "Being a known person is pretty much all I've known. I don't remember much of a time when people didn't know who I was," Fanning said.
Like many child stars, the "Coraline" actress admitted that she felt a lot of pressure around transitioning into adult roles. Speaking with the Press Association Fanning said, "People would always say to you: 'Are you worried about growing up? Are you still going to be able to act?' ... It would make you crazy and it would make you act out or think you need to grow up too fast, and that leads to making mistakes. I'm a very rational, logical person so that was never an option for me because I don't want that for my life." Thankfully, Fanning has not only managed to avoid the child star curse, but she's continued working steadily into adulthood.
She incorporated normalcy into her life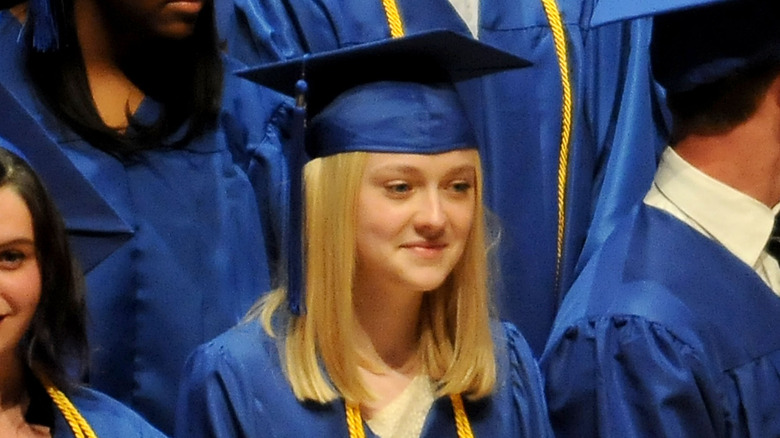 Casey Steele/Getty Images
When most children were in elementary school, Dakota Fanning was on set. Child actors are required to attend school while filming, but it's certainly far from the average student's experience. Speaking to Harper's Bazaar, Fanning said, "I've been working since I was 6 years old. I wanted to go to school and experience things like everyone else does." So, that's exactly what she did.
Fanning attended Campbell Hall Episcopal High School in North Hollywood and enjoyed the typical American teenager experience. She was a cheerleader for the school's football team and was crowned homecoming queen two years in a row. Believe it or not, Fanning managed to juggle all of that while still working in Hollywood, as she was cast in "The Twilight Saga" and "The Runaways" around the same time. In a 2010 interview with People, the "Charlotte's Web" actress gushed about going to prom with a bunch of her friends, just like a normal high schooler. "I think you put more effort into getting ready before than [you] actually spend at the place. But it was so much fun," Fanning shared.
Dakota Fanning went to NYU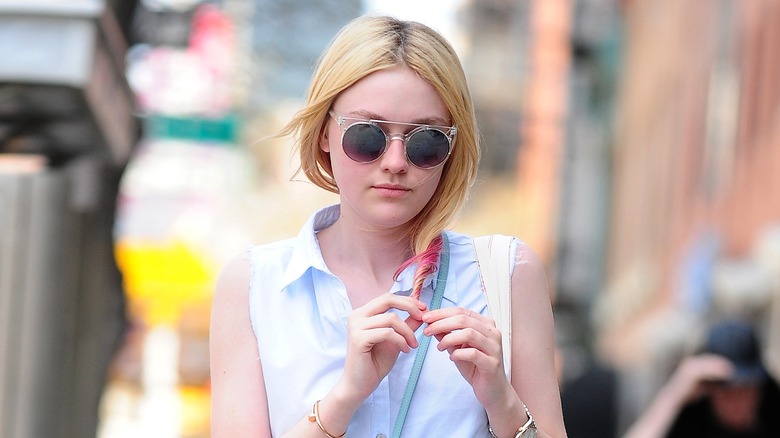 Alo Ceballos/Getty Images
After graduating from high school in 2011, Dakota Fanning continued into higher education at New York University's Gallatin School of Individualized Study. In a 2015 interview with IndieWire, she said, "It's been a balancing act for sure ... [NYU has] been very flexible with my schedule and allowed me to do independent studies and take classes and sort of come in and out." This flexibility would have been crucial for her, as Fanning was still booking projects, including "The Benefactor" starring opposite Richard Gere.
While at NYU, Fanning studied the portrayal of women in film with a particular interest in the way director Alfred Hitchcock portrayed women in his movies. She has even used what she learned in her own career, particularly when deciding on a role to go for. The "Very Good Girls" star believes that films need to reflect a range of women, and not just "the girlfriend to the guy in [the movie]," she explained to IndieWire. "A woman in her 20s is in this kind of limbo, and so [I look for parts] that aren't just about finding a relationship to be in." Fanning graduated from NYU with a Bachelor's in Women's Studies in 2016, joining other famous alumni like Aubrey Plaza, Cole Sprouse, Gina Rodriguez, and Donald Glover.
Her sister also made it big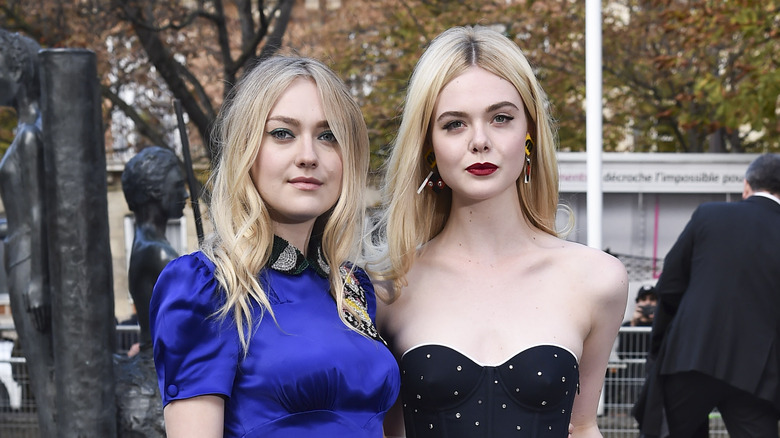 Jacopo Raule/Getty Images
Dakota Fanning's early acting success paved the way for her little sister, Elle Fanning, to break into Hollywood herself. Elle began acting at just 3 years old and ended up playing younger versions of her sister in a handful of movies, including "I Am Sam" and "Taken." However, the younger Fanning didn't need to lean on her sister's notoriety for long, as she soon found herself booking roles in movies like "Because of Winn-Dixie" and "Super 8." Then, Elle scored her breakout role in "Maleficent," playing Princess Aurora alongside Angelina Jolie.
Speaking with The Hollywood Reporter, Elle explained how "Maleficent" changed everything for her. "When I was 14, I was cast as Sleeping Beauty ... and that phone call definitely changed my life and my trajectory and it differentiated me from my sister [Dakota], " she said. Elle has since reprised her role of Aurora in "Maleficent: Mistress of Evil" and snagged a lead role in "The Great" on Hulu, which she also executive produces.
While the Fanning sisters could have easily kept their careers separate, they decided to go into business together instead. Elle and Dakota launched Lewellen Pictures production company and said in a joint statement, "Our goal is to tell stories, through comedy and drama, which are authentic to the human experience, and not just from our own perspective."
Dakota Fanning's last known relationship is with Henry Frye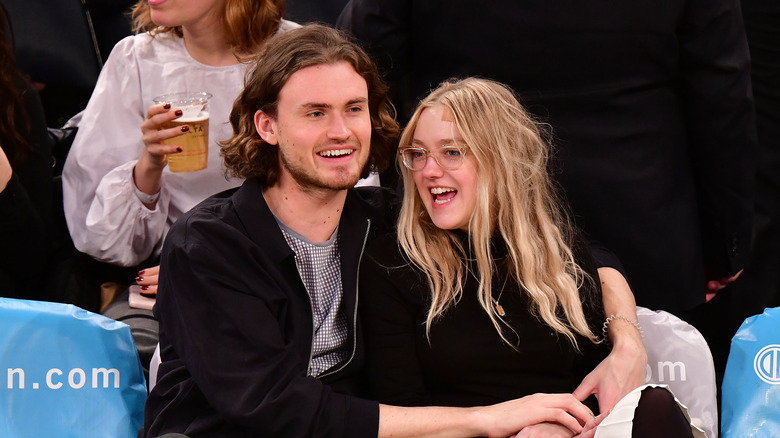 James Devaney/Getty Images
The "Once Upon a Time in Hollywood" actress is notoriously private, so the fact that she's made her romantic life even partially known is something of a miracle. Dakota Fanning's last known boyfriend was Henry Frye, but it's unclear whether or not the two are still going strong.
Fanning and Frye were first spotted together in October 2017 when they attended a few games at Madison Square Garden and were photographed looking very couply. They were spotted several times in 2018, walking around New York City together on dates, holding hands, and looking loved up. On Valentine's Day of that year, Fanning posted a photo of herself and Frye on Instagram and captioned it "my valentine." However, in the years since, the majority of her posts have been photos of herself, friends and family, or promotional photos.
Fanning doesn't comment publicly on her relationships very often, so whether she and Frye are still together remains a mystery. Back in 2013, she told Glamour, "I don't really date ... I have a weird vision of relationships because my parents have known each other since second grade, and they got married right out of college. I've always thought that's what it's supposed to be like, and if it's not, then I don't want to waste my time on it." This was many years ago, so perhaps her outlook has changed since.
She tries to keep a private life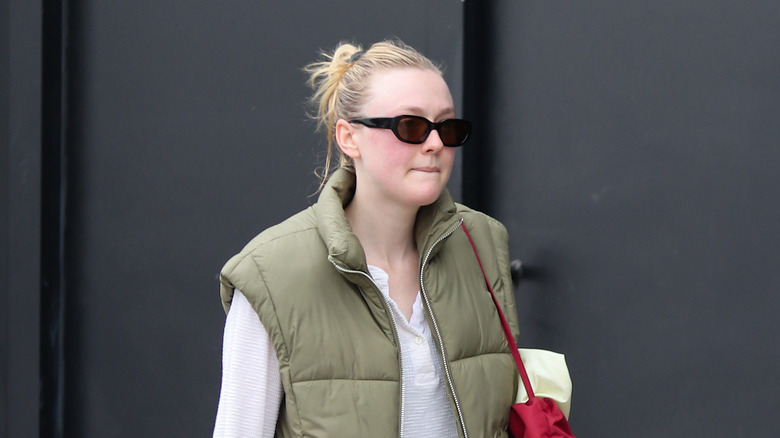 Bg020/bauer-griffin/Getty Images
One of the biggest reasons you don't hear much from Dakota Fanning anymore is that she aims to keep her life fairly private. Speaking with Who What Wear in 2022, the young actress admitted that she likes to maintain an air of mystery between herself and the public. And, as a former child star, this isn't something that would have come easily. For example, when stars like Lindsay Lohan, Miley Cyrus, and Drew Barrymore grew up in the spotlight, the media made sure every aspect of their personal lives was made public. Yet, Fanning has somehow managed to avoid this kind of fanfare.
In a 2014 interview with Town & Country, it became clear that a private life was something Fanning chose early on. The actress divulged that her mom was very protective, saying she made sure "people weren't taking advantage of me." This is perhaps another reason Fanning was able to avoid public scrutiny. She added, "I'm just never going to parade my personal life. If you choose to not do it, it's not hard to not do it." The star also revealed that growing up, she wasn't allowed to have a Facebook account and her mother taught her the value of not over-sharing herself with the world. 
She and Elle Fanning lived together in Los Angeles
Donato Sardella/Getty Images
It seems like sisters either hate each other and bicker constantly, or they couldn't be closer — the Fanning sisters definitely fall under the latter category. Speaking with Net-A-Porter in 2022, Elle Fanning explained that she used to be a pain in her older sister's butt. Dakota Fanning was constantly getting noticed and having her picture taken when they would go out, and Elle said, "I wasn't getting recognized, but I was part of the madness. I'd be like, 'Dakota! Dakota!' to try and make it happen. I was the worst."
Now, the two are both monumentally famous, as close as can be, and they even shared a house in Los Angeles together. In 2017, the Fanning sisters bought a San Fernando Valley home for $2.3 million through a trust and shared it for three years. Their 4,550-square-foot house was located in Valley Village and had six bedrooms and five and a half bathrooms. In May 2020, amidst the COVID pandemic, the sisters sold their home for $2.7 million and moved out, with Dakota opting for a $2.95 million house in Toluca Lake. It's unclear where Elle has moved solo, but since the Fanning sisters are remarkably close, it wouldn't be a surprise to learn that they simply upscaled their living situation together.
Dakota Fanning made her directorial debut in 2018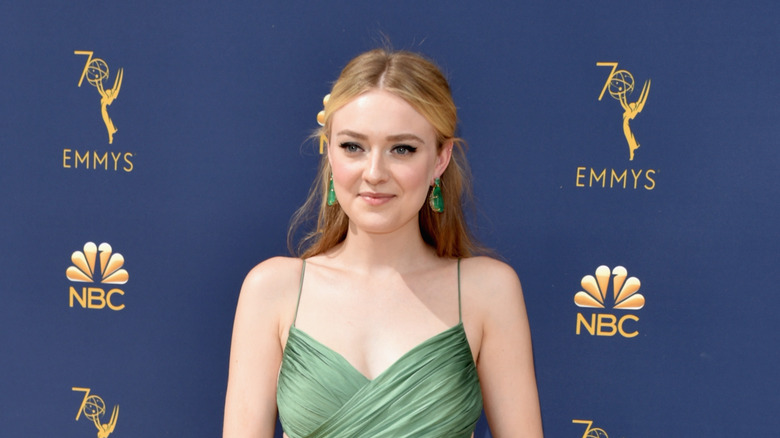 John Shearer/Getty Images
After acting on screen for over two decades, it's no wonder that Dakota Fanning wanted to branch out into other aspects of filmmaking. Speaking with IndieWire in 2015, she made it known that directing has always been on her bucket list. "I've always known that I want to be a director, but I've also learned that I would love to find my own material and develop that," she explained. Of course, Fanning would also go on to start a production company with her sister, giving her insight into every angle of the film industry.
In 2018, Dakota Fanning made her directorial debut with a short film called "Hello Apartment" for fashion company Miu Miu's anthology series, "Women's Tales." The series was created by other women filmmakers, including Ava DuVernay and Chloë Sevigny, so Fanning had more than her fair share of pressure walking into the project, which she also co-wrote with Liz Hannah. After working on the short, Fanning told Vanity Fair, "I think [this process] has taught me that I want to continue exercising this muscle in short films ... I don't feel 100% ready to do a full-length feature." She added, "You only do your first film once."
She executive produced a true crime fashion series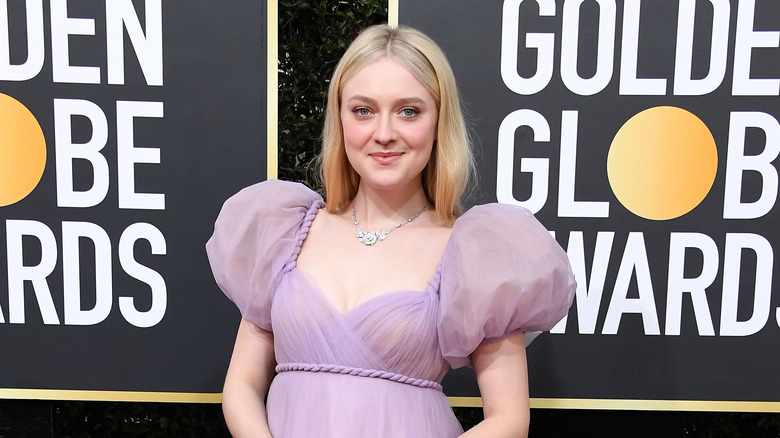 Steve Granitz/Getty Images
Now an actress, director, writer, and producer, Dakota Fanning has done it all. Two years after her directorial debut, the "Please Stand By" actress both narrated and executive produced her first project in 2020, a television series on Quibi called "Last Looks." The 18-part series of short episodes centered around true crime events that occurred within the fashion industry, including sensational stories like the cases of Anna Delvey and Lady Gucci, as well as lesser-known crimes.
Speaking with Refinery29, Fanning said she's been enjoying this next step in her career. "It's very fun to be involved from the ground up and to get to ... be behind the production, behind the camera," she said. Fanning added that while she intends to continue acting, she's also intent on working behind the scenes more. Though she has yet to announce any future directing or producing projects, we're sure to see Fanning add many more credits to her resume. 
Dakota Fanning never stopped acting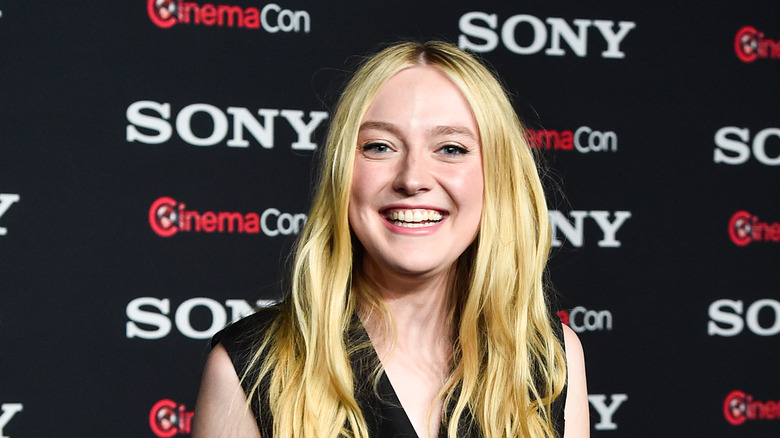 Alberto E. Rodriguez/Getty Images
Fans may feel like Dakota Fanning has been in the spotlight less in the last few years, but she never actually stopped acting. The actress has had a minimum of one acting credit per year over the last two decades, barring 2011 when she graduated from high school. The last few years have been especially busy for Fanning, as she had recurring roles on four different television series between 2018 and 2023: "The Alienist," "Gen: Lock," "The First Lady," and "Ripley."
Fanning spoke about her love of acting in an interview with DuJour. She said, "I definitely don't take any project for granted or take my career for granted by any means, but the area of my life that I've never stressed about was acting. That's a really happy place for me." Fanning is one of the rare child actors who managed to grow up in the spotlight unscathed while maintaining her love for the craft. Over the course of more than 20 years, she has managed to remain relevant, land work, and experiment with a range of projects and genres. So this star is sure to maintain her status in Hollywood.