The Classic Soap That Gave Marisa Tomei Her Show Business Start
Daniele Venturelli/Getty Images
Many actors start their careers on soap operas because it provides a steady income, a way to hone and practice their crafts, and it allows them to gain confidence and reach a broader audience. Eventually, a lot of actors leave soap operas to take a chance at stardom, or just to escape the daytime grind. This decision has been very profitable for some, which is why so many popular artists get their start in the daytime arena. Leonardo DiCaprio, Nathan Fillon, Michael B. Jordan, and John Stamos are just a few of the surprising celebrities who got their start on soap operas.
Star of "My Cousin Vinny" and one of the best Aunt Mays, Marisa Tomei, is another famous name that got her start on a soap opera. The three-time Academy Award nominee is one of the most well-known and respected names in Hollywood. She even appeared in over 90 films. These acting achievements may not have been possible without her humble soap opera beginnings.
Marisa Tomei appeared on As the World Turns
"As the World Turns" helped launch the career of many beloved actors, including Meg Ryan, Julianne Moore, and Amanda Seyfried, so it comes as no surprise that another cherished actor, Marisa Tomei, starred in this soap opera in the '80s. She launched her career by playing Marcy Thompson, a wild teen. She was only 19 at the time, but decided to drop out of school to pursue her acting dreams. Her character evolved and even got one of those swoon-worthy soap opera romances, as her character Marcy married a prince.
The role wasn't a complete fairytale, as Tomei often spent long hours recording episodes. The cast of "As the World Turns" would film on some days from 7 a.m. to 11 p.m. However, the hard work may have been worth it for Tomei because "As the World Turns" was an extremely popular soap that helped her gain the experience to land her later acting gigs. 
"As the World Turns" was eventually canceled by CBS due to low ratings. After 54 years on the air and 43 Daytime Emmy Awards later, "As the World Turns" said one final farewell in September 2010, long after Tomei had left the show.
She appeared alongside her cousin on As the World Turns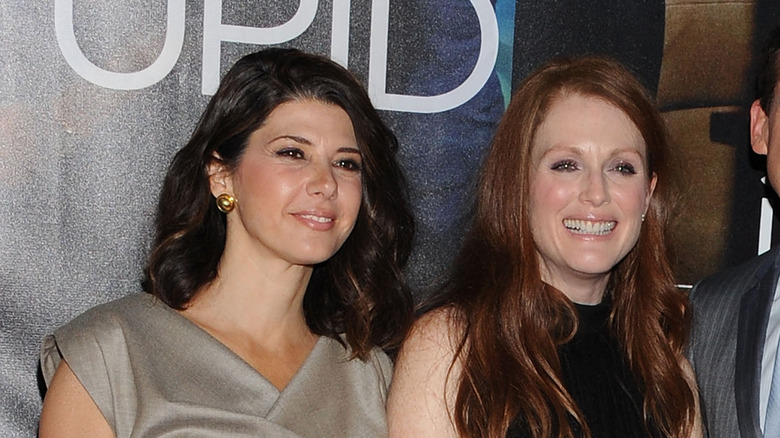 Jason Kempin/Getty Images
Julianne Moore and Marisa Tomei attended Boston University at the same time, and later, in 1985, the Oscar-winning actors appeared together in "As the World Turns." During Tomei's final year on the soap opera, Moore played Frannie Hughes, Marcy's best friend. Because of their characters' friendship, Tomei and Moore often shared scenes. However, it would be over 25 years before they would share the screen again.
Moore and Tomei were co-stars in 2011's "Crazy Stupid Love," a movie where they both found themselves romantically interested in Steve Carell's character. Doing two projects together bonded the women, but it turns out their bond goes even deeper than they imagined. More than 30 years after appearing on "As the World Turns" together, they discovered they share genetic connection.
In 2019, Tomei appeared on the PBS series "Finding Your Roots" to trace her genetic makeup. On the show, she discovered that Moore is her genetic cousin. The news shocked her, but she couldn't wait to tell her new cousin "Jules." Going from TV besties to real-life cousins feels like a plot twist directly taken from a soap opera!